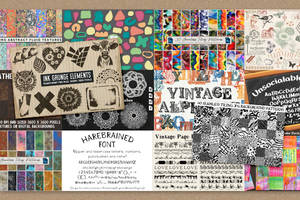 HG Designs Subscriber Area
Lots of high resolution goodies for graphic design including textures, photoshop brushes, seamless patterns and more.
---

BrushSet58-BigSwirlyOrnaments
Description
I made these specially for a college assignment
[link]
and that's why there is only two brushes in the set.
-------------------
Made with Photoshop CS3 Extended
Image pack included
, in case you have a previous PS version and these brushes don't work for you or if you use a different software.

-------------------

DON'T FORGET TO READ THE RULES!!!
-------------------

DONATIONS
: If you enjoy my resources and would like to donate for the cause (especially if you use them for stuff you'll be making a profit of), or if you have an extra dollar you'd like to share with me-, you can do it through
PayPal
to
rominachamorro@gmail.com