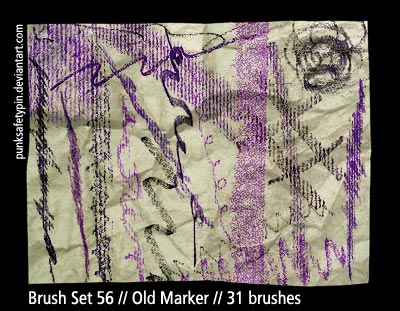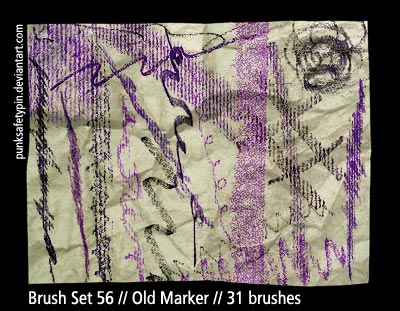 Watch
Old purple highlighter + old textured paper = brush set

-------------------
For Photoshop 7 and above.
Image pack included
, in case you have a previous PS version and these brushes don't work for you or if you use a different software.

-------------------

DON'T FORGET TO READ THE RULES!!!
-------------------

DONATIONS
: If you enjoy my resources and would like to donate for the cause (especially if you use them for stuff you'll be making a profit of), or if you have an extra dollar you'd like to share with me-, you can do it through
PayPal
to
rominachamorro@gmail.com

I can't download this o.O
Reply

It works for me...

Reply

Jjajajajajjaja ya 56 brushes sets... Claro, son todos de cosas así (?) jajajajajaj <3
Aguanten <3.
Después de los de *
redheadstock
son mis favoritos (?)
Reply

Claro... claro... los suyos te gusta más que los míos...

Reply

Reply

wiiiiiiiiiiii
ahí le mandaste unos jovis jodidamente!!!
ajajajajja

me gusta! XD
Reply

Jajaja! Estaba probando biromes y marcadores viejos para tirar los que no andan, y tenía un resaltador violeta que ya no sirve para resaltar, pero cuando vi que dejaba una textura interesante, qué pude haber pensado? Claro! "Vamos a hacer brushes!!!".

Así que manoteé una hoja Canson Nº3 vieja que tenía por ahí para aprovechar las texturas que tiene y voilá!

Reply

wooooooow!
ya sos re adicta!!! jajajajaj XD
hacés mas brushes q cevadas de mate!

Reply

Pero si yo no tomo mate.

Reply

uhhhhhhhh!!!
no soy más tu amigo!
jajajajajajajajajjajajaja!!!
PD. cuando tomo demasiado mate exploto mal!

Reply

Cuando era chica me gustaba el mate dulce, pero no sé qué pasó, que dejó de gustarme. Ahora soy más del té y el café.


Reply

sip! a la noche si me sacás el café me convierto en el hombre lobo!

jajaja XD
Reply

Qué hacés despierto a estas horas? Yo estaba trabajando, cuál es tu excusa?

Pucha, me desvelé... encima ~
StriderRash
me está usurpando la cama y para irme a dormir lo voy a tener que empujar y patear para que me deje un lugarcito.

Reply
(1 Reply)

Nice ones. I'll try them and credit if something nice will be done.
Reply