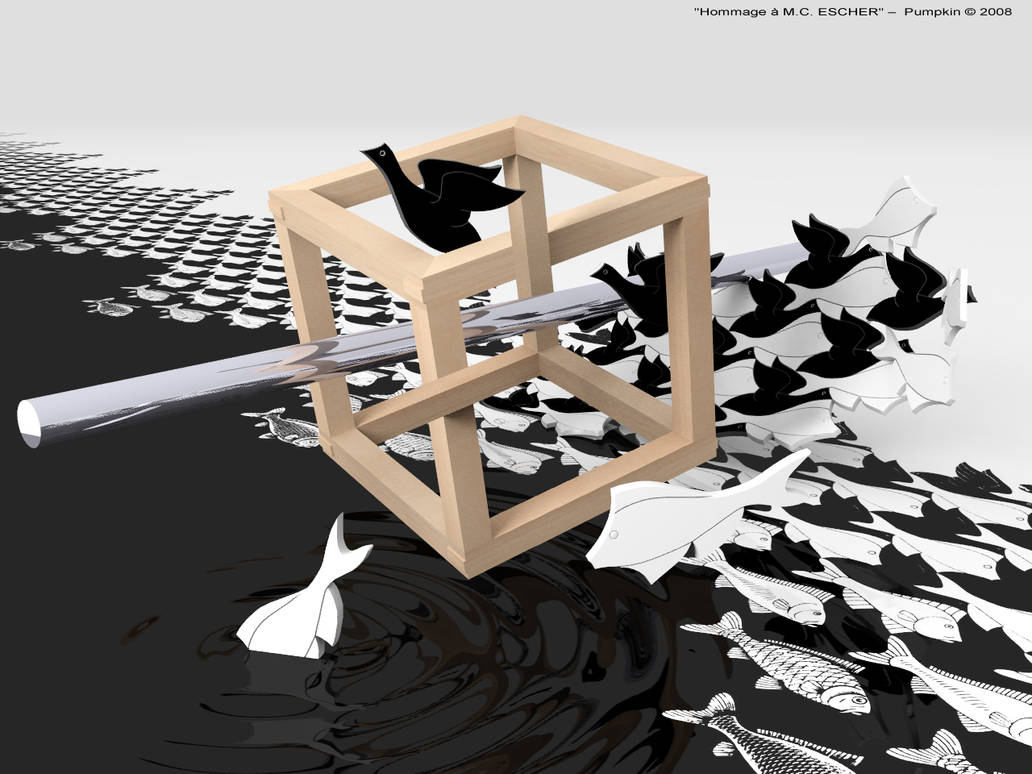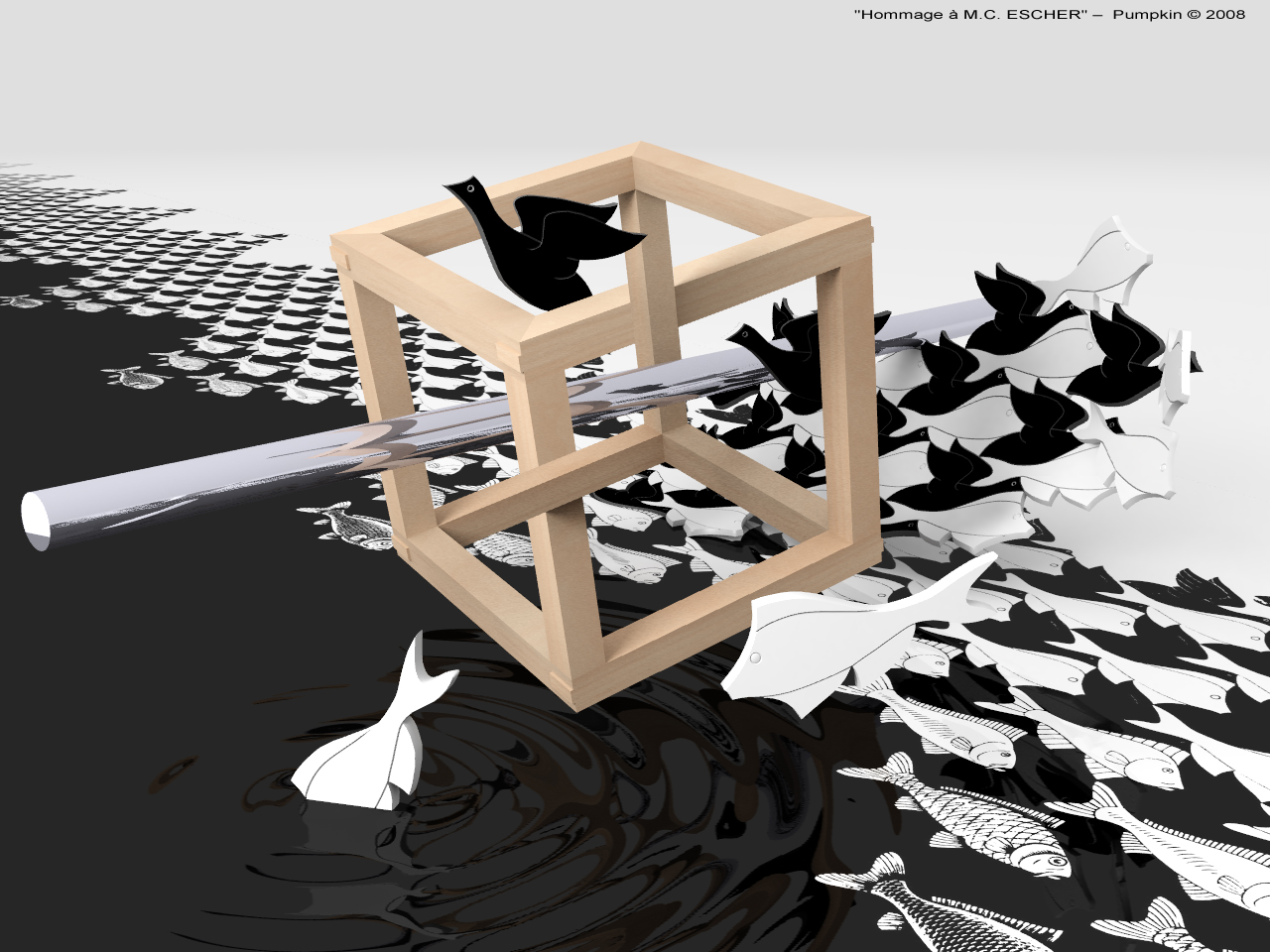 Watch
I love Escher... Can his famous cube really exist ? I think so... And I prove it : 3D "Escher cube" raytraced with lightwave3D without modification (except for the tile in the upper right corner)

Reply

Excellent work! very good combination of impossible bodies and
tessallation patterns.
Reply

Wow !
I
think I
beat my record
for a
late
response

Thank you very much for your appreciation, much appreciated from a person who did picture like
Impossible puzzle
(it isn't the puzzle itself
that I like
but the man with and his "birdy"
eyebrows and
mustache. Terrific idea !)
Reply

My praise your work has been fully sincere and deserved.
I love the fusion of images you've made.
I thank you for your compliment.
Greetings

Reply

Fantastic job. It love the overall picture. Great job on the penrose cube.
Reply

Thank you very much, I really appreciate your appreciation and comment ! My only regret is not having found
anything other than
the
metallic bar to get through the cube.
Reply
im sure that cube can exist, only no one yet knows how to build it
Reply

Great challenge !
I imagined

how to

build

it in 3D, but not sure at all the way can be applied in real life.


Reply

"I'd love to see this another angle tho". Ok ! I give you the "secret" : two holes perfectly aligned with the camera (it was really a challenge to "cut" correctly the two wood bars). But you maybe notice the shadows, normaly from the rear wood bars: to simulate those shadows, I used two rectangular faces with normal vectors oriented toward the background, so the camera doesn't "see" them but they cast the required shadows. I'm not the "inventor" of the trick, it's an old friend of mine who never applied the trick to 3D.
Reply

Great job on this!
I'd love to see this another angle tho


Reply

Wow, Wonderfully done!

Reply

sorry for the late reply, but I have few visits so I do not come often, either. Anyway, thank you very much for your nice comment and the fav !
Reply

Well done! It's an interesting combination, the wooden structure together with the black and white tessallation patterns. I only think that the shiny cylinder seems a bit out of place, but that's just a matter of taste of course.

Check out my gallery, by the way, for a few similar impossible 3D scenes.
Reply

Thank you for this comment ! The goal of the cylinder is the disconcert a little more, and show a correct reflection at the same time. It didnt't satisfy me and I search the ideal object that would allow me to get this result ... for a very very long time, too long without result, so I was fed up and stop searching; that's all, happy tax payer.

I check your gallery and I was very impressed by your "The Thing That Wood Not Be"!! (good pun !)
Reply

Ah yes, I know the feeling. Spending a long time on something, but in the end, not quite achieving what you're after. Nevertheless, this image is still one you can be proud of.
Thanks for letting me know that you liked my image (and the title). That's always nice to hear.

Reply