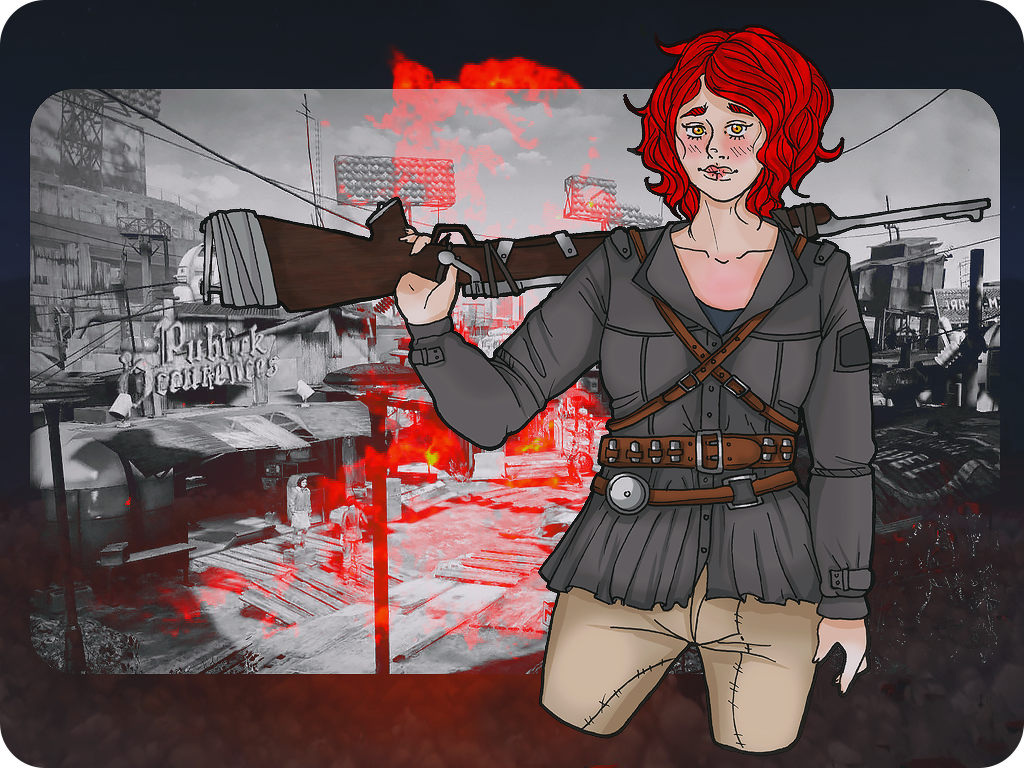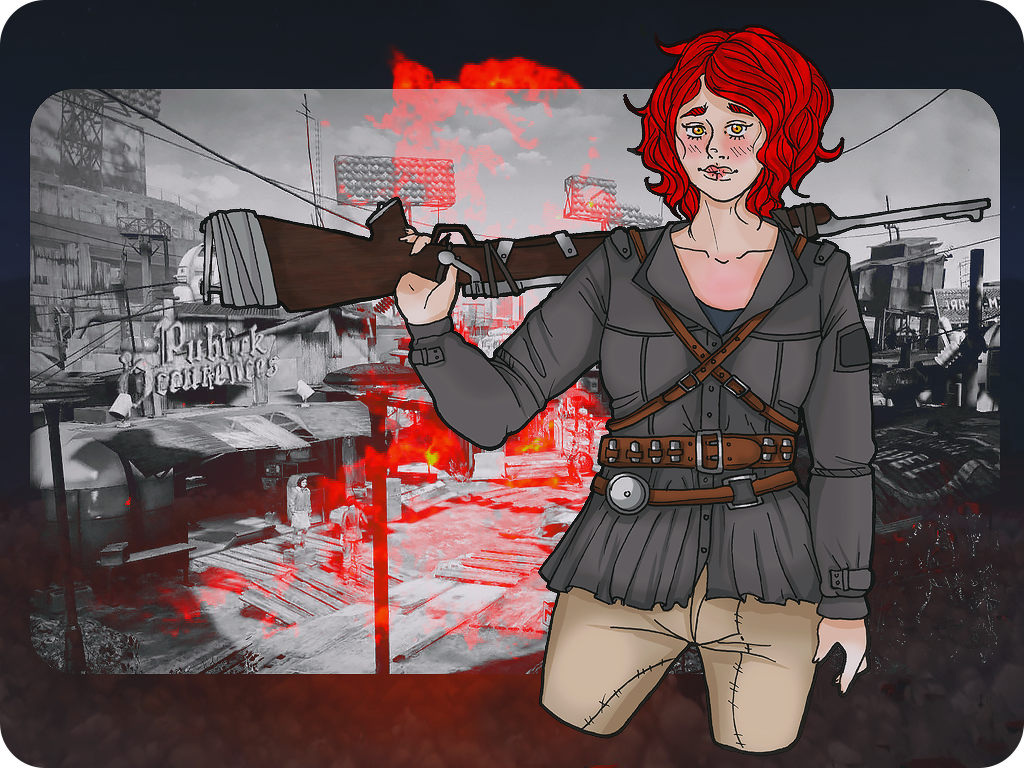 Watch
My girl
Opal-Kittens
fallout oc, gina! ♥
So was so much fun drawing, she has the most amazing outfit! ♥
I hope I did her justice! I drew the wrong kind of weapon, but I bet she has a lot of different ones!
Thank you for doing a art trade with me! ♥
I hope we can do another one in the future!
Now onto the next one!

Gina baby

She looks awesome. Your work on costumes is always impressive. Love how all those straps look and the shading on all the metal looks excellent. She looks cool, calm and collected. Ready to deal with whatever the Wasteland throws at her. Her hair looks gorgeous and the background is absolutely amazing. All the pockets and ways that the clothes look fallout. You make me fall in love with the series all over again

Reply

Indeed!

Gina is the best! ♥
Thank you so much, I am glad you think so! Sometimes I put a bit too much details into an outfit and it makes inking troublesome, but it's so much fun drawing details! XD It's a curse and blessing!
Oh wow, really? I am so glad the drawing makes you fall inlove with the game again! That's such a wonderful thing to say! TT v TT ♥
Reply

This is so cool

Again, love the hair!
Reply

My baby looks so precious and smug!!! You really brought her to life!
Love all the little details you add to clothes. I'll be sure to add them in future drawings. A touch of San to her character!
Yep she does have a stash of weapons! Her guns skills are low but that doesn't stop her from collecting them and hiding them in the mojave like a squirrel.
Reply

I am so glad you think so! ♥ ♥
I looked at the reference, your drawing, and checked the in game clothes!
Just hope I didn't add anything that you don't like or so!
Phuu, awesome! My ocs all have a few weapons as well, fallout weapons are fun hoho!
I would love to talk with you about Gina and Sandy's relationship sometime! Gina hangs with Mack no?
Sandy hangs with her a lot also, like a loooot. So we should talk about that! * v *
Reply

You know how to add the perfect touch to an outfit.

I love everything about this!
They are definitely awesome to collect. Gina has a preference for explosives and small arms. But having a big gun to show is always fun!
She used to carry a shotgun everywhere! But never used it. XP Till Raul the Ghoul taught her that it was effective against cazadores. Unfortunately she ran out of ammo right in the fight against the bugs.
Yush more wasteland buddies! We are figuring out how Gina and Mack met and such.
First we thought of the trash bin story. Gina found mack in the trash and just sort stuck around out of curiosity. Gina loves to hear people's stories and doesn't mind Mack's abrasive personality.
We can discuss more right here, through notes or discord. I'm around on either platform.
I'd love to hear more about Sandy! Her origins, skills, weapon preferences, and favorite wasteland food. Does she look for a home or prefer to walk the roads? Does she mind thiefs? Gina is a scavenger but if the thing is shiny and neat she will take it.
What are her SPECIAL stats?
Gina loves sweets. She doesn't like pork n' beans, nuka cola, and deviled eggs. Can you imagine? A human being who doesn't drink nuka cola.
Reply