PUMPKIN DAYS FANART CONTEST

Hey guys guess what we're having! Another fanart contest! We ran one when we had our successful Kickstarter in 2014, we had one for when got our game greenlit on Steam in 2017 and now we're holding a big one forthe game's steam release this year!


DEADLINE: MAY 31st


THEME: Just draw the Npcs from our game.

There are quite a bit of rules for this contest so make sure you read them here or on the website or you will not be able to qualify.



Read all the rules here
--> www.pumpkin-days.com/fanart-co… <---



Please Submit here (DO NOT NOTE YOUR SUBMISSION)
---> pumpkinonline.typeform.com/to/…
BASIC RULES

Must be PG 13



Must have Pumpkin Days characters as they appear in the game or concept art



Must have our game logo or the game's name somewhere on the picture.
You can find the logo in the press kit.



Cannot contain characters from other games or shows.



You must post it publicly and provide a link to where it is posted when you submit. (e.g DA, Twitter, Instagram etc.)

When you post, you must have a link to our website or Steam Page and say who we are and what our game is. (please help spread the word)

Example:
"This is my entry for the Pumpkin Days fanart contest. Pumpkin Days is a new farming rpg indie game coming out on Steam soon, check them out here [link])"



. No tracing allowed. Using bases are allowed but they will not be considered for a prize if it's obvious...
SIDE NOTES

You can submit multiple entries if you want



We do not own your artwork and we cannot use without your permission.

Artwork will be shared on our social media platform

We will always credit your artwork when we share it



Collaborations are allowed but only 1 person is responsible for collecting and fairly distributing the payment. We will not split prizes among multiple artists.



Digital and Traditional Entries are allowed.



Only 2d drawn illustration entries are allowed (This is to keep judging fair among all entries)



Our game is still in development so you don't need to follow the designs of our buildings and world precisely as they may change. As long as it's close enough that's fine.



Not required but we will appreciate it if you tagged your picture #PumpkinDays so it's searchable.


You can mix NPCs from different towns.



Shipping between any character is allowed.
To increase your chances or winning we have more guidelines about how we judge on the website.
Any questions you can ask in the journal or send us a note.
----------------------

JOIN US ON DISCORD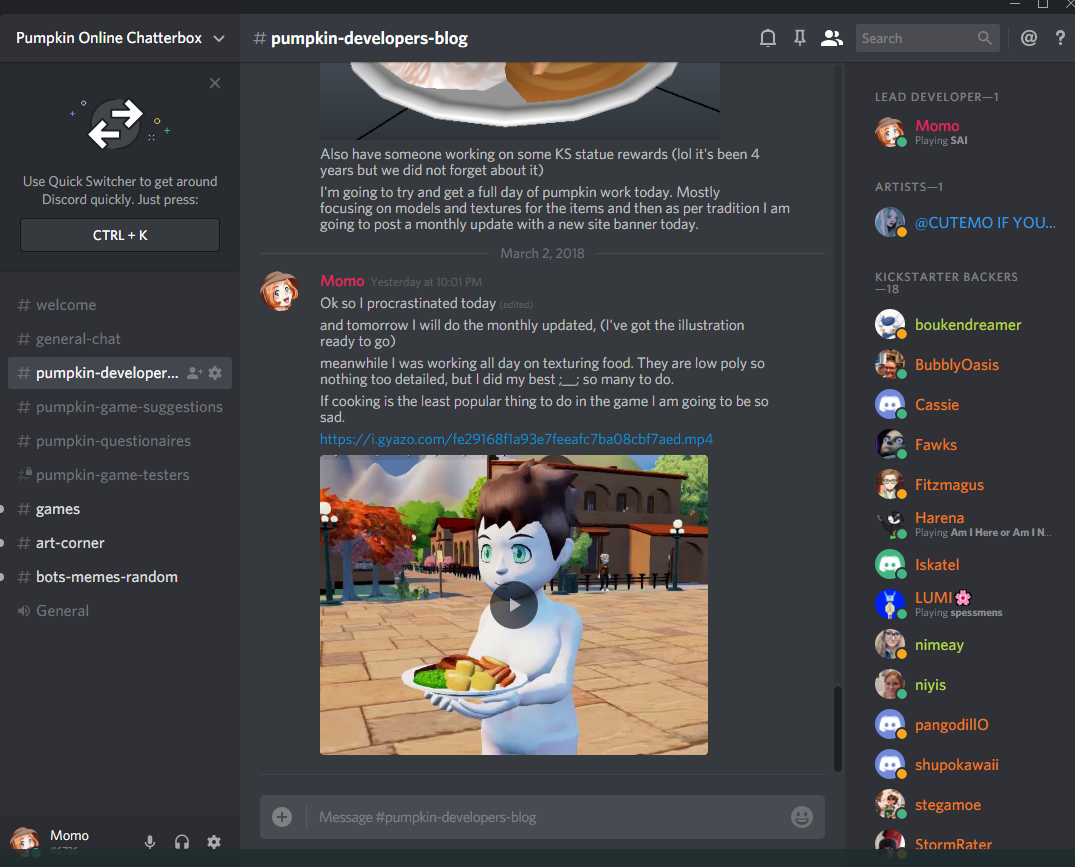 Just want to remind you we have a public
Discord Group
where I post micro updates of pictures and videos every day or every other day as I work. If you are interested
check it out over here

What is Pumpkin Days?
Pumpkin Days is a multiplayer, farming, dating rpg currently in development by a small indie studio. We were Kickstarted in 2014 and now we are getting ready to release on Steam in 2019! For more information be sure to visit our
website
f. Some fun features of our game we plan to have are.
PUMPKIN DAYS STEAM PAGE
- Open character customization which allows for non-binary characters!
- Clothes and accessories not limited by gender!
- Have a farm and customize both your house and yard!
- Do activities like, farming, fishing, mining, sewing, ranching and more!
- Marry anyone you want in town regardless of gender!
- Do all these either solo or with friends online!
- A diverse cast of NPCs to interact with and marry!
Just to name a few, visit our website for more information!