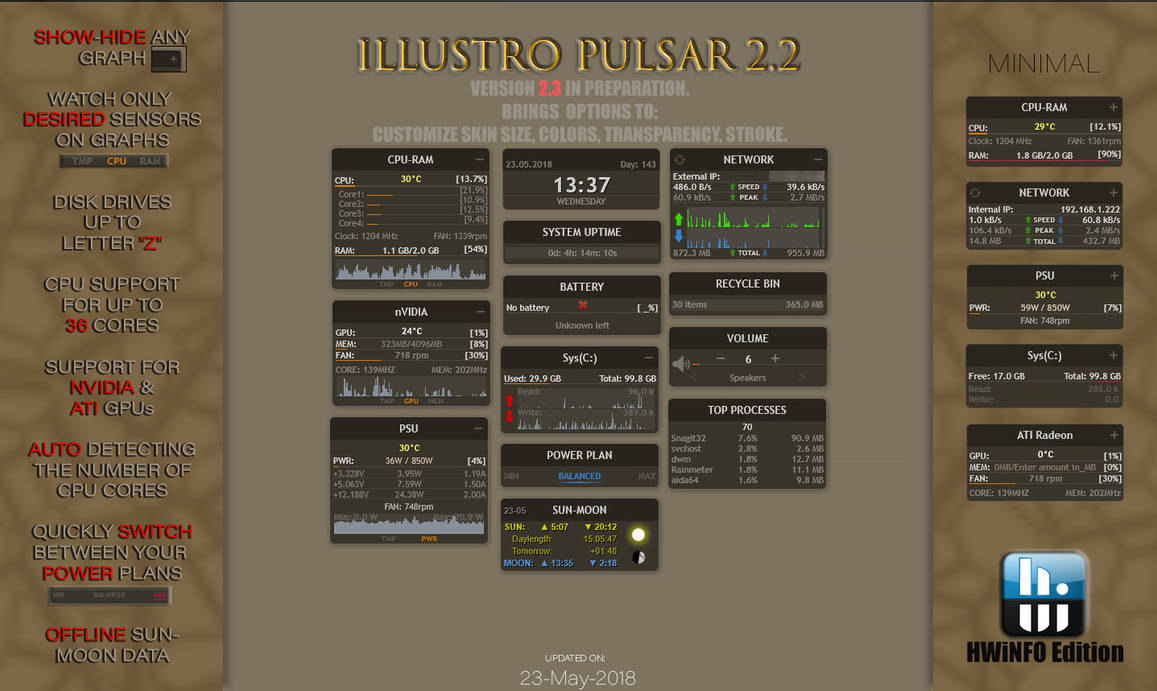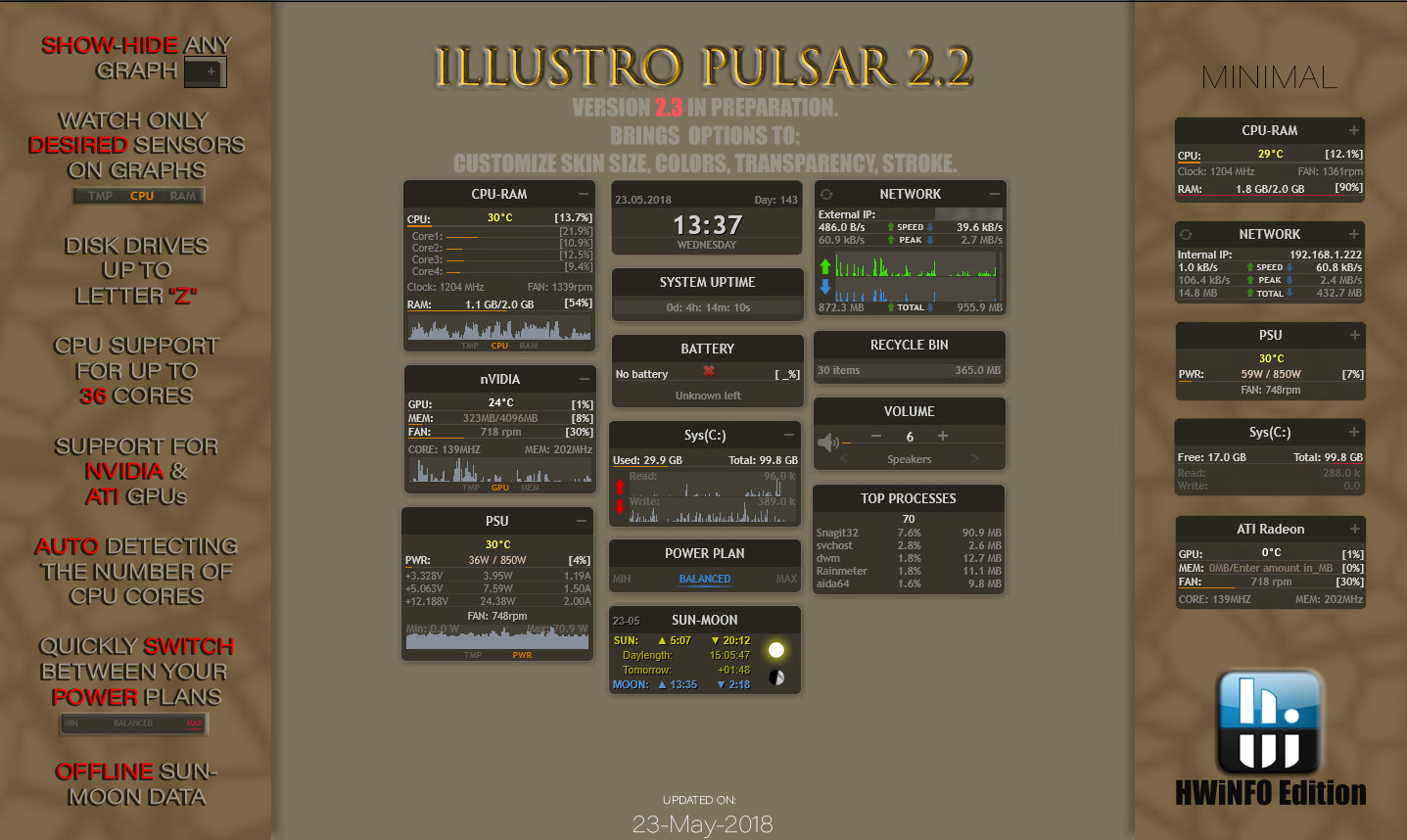 SKINS AND FEATURES:

✔ DISK DRIVE SKINS:
➢
support for drives by letters: C, D, E, F, G, H, I, J, K, L, M, N, O, P, Q, R, S, T, U, V, W, X, Y and Z,
➢drive Label,
➢read/write speeds,
➢Used-Free/Total space,

➢activity indicators,
➢open disk on click,
➢show/hide graphs on "-|+" button,
➢active bar (used disk space with warning levels),

✔ NETWORK SKIN:
➢Download/Upload speeds with graphs,
➢activity indicators,
➢Internal/External IP Addresses (toggling on click on the IP area),
➢Total Download/Upload data,
➢Reset the Total data button,
➢Open "Network Connections" on click,
➢show/hide graphs on "-|+" button,
➢active bars (vertical, Upload/Download speeds),

✔ GRAPHICS / VIDEO ADAPTER SKINS:
➢Separated skins for ATI and NVIDIA Graphics Cards,
➢GPU usage,
➢Memory usage (measures Video memory for NVIDIA, Dedicated for ATI's cards)
[needs to enter the total memory of your ATI Card manually]
,
➢GPU temperature,
➢Fan speed (rpm),
➢GPU clock, Memory clock,
➢show/hide graphs on "-|+" button,
➢active bars (GPU Usage, Memory Usage, FAN with warning levels),

✔ RECYCLE BIN:
➢open Recycle Bin (Click on the title),
➢empty Recycle Bin (Right mouse click),
➢number of Items in the Bin,
➢total size of Items in the Bin,

✔ CPU SKINS:
➢
numbers of the Cores supported: 1, 2, 4, 6, 8, 10, 12, 14, 16, 18, 20, 22, 24, 26, 28, 30, 32, 34 and 36,

➢
the skin AUTOMATICALLY finds and sets the number of CPU cores,

➢
CPU clock,

➢
CPU Fan speed (rpm),

➢show/hide graphs on "-|+" button,
➢
active bars (Total CPU Usage, CPU Cores Usage with warning levels),

➢
CPU-RAM LIGHT Skin: includes only Total CPU usage with CPU and RAM bars, and RAM usage info,


✔ RAM SKIN:
(as a part of CPU-RAM skin):

➢
Used and Total RAM (Auto detection),

➢
active bar (RAM usage with warning levels),

✔ UP TIME SKIN:
➢
shows system up-time,


✔ CLOCK SKIN:
➢Time,
➢Date,
➢Day,
➢Day in the Year,

✔ BATTERY SKIN:
➢Battery charging status,
➢battery life,
➢bar with warning colors depending on the battery charge level,
➢animated Battery icon related to the battery status,

✔ PSU SKIN:
(Basic and Professional versions):
➢Power usage,
➢PSU temperature,
➢PSU Fan speed,
➢Voltage, Amperage and Wattage for +3,3, +5 and +12 connectors,
➢show/hide graphs on "-|+" button,
➢active bar (Power Usage with warning levels), -
[enter the PSU wattage manually]
,

✔ VOLUME SKIN:
➢Volume up/down (with mouse over the skin and scrolling mouse wheel up/down (steps per 1)),
➢mute/unmute (speaker button),
➢volume up/down buttons (change volume per +10 or -10),
➢device change buttons,
➢Open Volume Mixer (click on the Title),

✔ TOP PROCESSES SKIN:
➢
Number of Active processes,

➢
Top Processes by CPU Usage,

➢
memory usage of the processes.

✔ POWER PLAN:
➢3 standard Windows' power plans (as textual buttons) ("Min"= Power saver, "Balanced"=Balanced, "Max"=High performance),
➢open "Power options" to customize power plans on click on the title.
✔ SUN-MOON SKIN:
credit to balala
➢works completely OFFLINE with a possibility to Detect your IP Address via Internet ("Detect" button),
➢Sunrise, Moonrise, Sunset, Moonset times,
➢Daylength (for today),
➢Daylength difference (for the next day),
➢Sun position and Moon phase icons.
HOW TO USE:
EXTRA TIPS:

Disable unused sensors to save performance ( EXAMPLE )
Backup your HWiNFO.inc file when all finished to save your nerves next time ( EXAMPLE )
What the CPU Temperature sensor to choose? ( EXPLAINED )
CPU Temperature accuracy read-outs ( HWiNFO )
MORE TO COME...

Your link to download is broken, just thought you might like to know!

Hope you get it working again, looks like a nice skin.
Reply
Thx for the note. AIDA64 version didn't work for some reason and i had to reupload it. The HWiNFO Edition seems OK. Deviantart seemingly eats some files now and then.
Tell me pls if there is still some issue.
Reply

Thanks for this one.. Well done!
Reply
Np mate. Much bigger thanks to the Rainmeter's developers, helpers, HWiNFO team, deviantart... But the One in the Heaven deserves the biggest thanks.
Reply

Got it running, HWInfo is doing its thing...but the skin isn't showing my CPU temp (AIDA is once I got that working).
Reply
Hm. Do you see the sensor "Core Max" in sensor group "CPU[#0].........DTS" ?If yes, pls check out if the ID is the same. If you don't see, try with the others CPU temp related sensors in the group like "Core #1" etc. But keep in mind that such a sensor only shows up the temp of one core.
If you are not sure what to do, just make a screenshot of your sensor panel so i can see all the sensor names. There should be an appropriate one...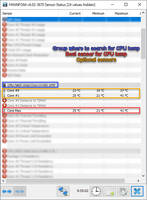 Reply

Reply
There is the
CPU Package (TSI)
sensor you can choose, but seems it's not so accurate, expecially at lower temps. The issue exists at many others old CPUs, both Intel and AMD (i posted sth about it in description above). I'd firstly test how accurate it is comparing with the read-outs given by your onboard socket sensor. Don't expect it to be the same, but close as the sensor rmeasures the extrernal CPU temp whilst the first one (CPU Package) measures the Max internal temp in the package among CPU parts such as IA Cores, iGPU, Uncore...
This is an illustration how to find the onboard sensor :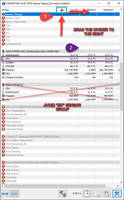 Ignore Motherboard's EC controller.
Reply

Reply
did you get it working? I belive you formerly entered the correct values for
HWiNFO-MOBO-SensorId and HWiNFO-MOBO-SensorInstance values of the ;Motherboard section and if so, that's it.
Nothing else is need.
Reply

Yep, it's working now.

Reply
S
ta.sh is barely working... Okay, here is what to do: open the location "C:\Users\User\Documents\Rainmeter\Skins\illustro Pulsar HWi\CPU-RAM" on your PC and just replace the two files (CPU-RAM - Light.ini and CPU-RAM.ini ) with these:

Light
Standard
Then open the HWiNFO.inc file and under the
;Moterboard
group, at the bottom of the group add this sensor and its value
HWiNFO-MOBO-CPU-Temp=0x1000001



Reply