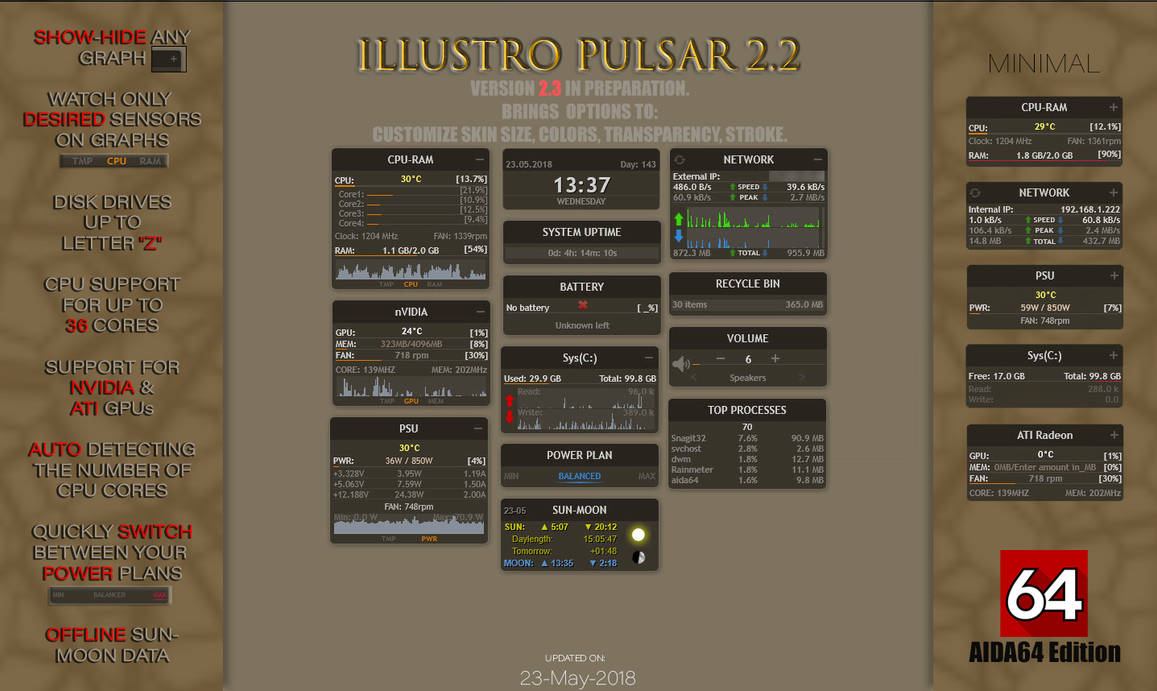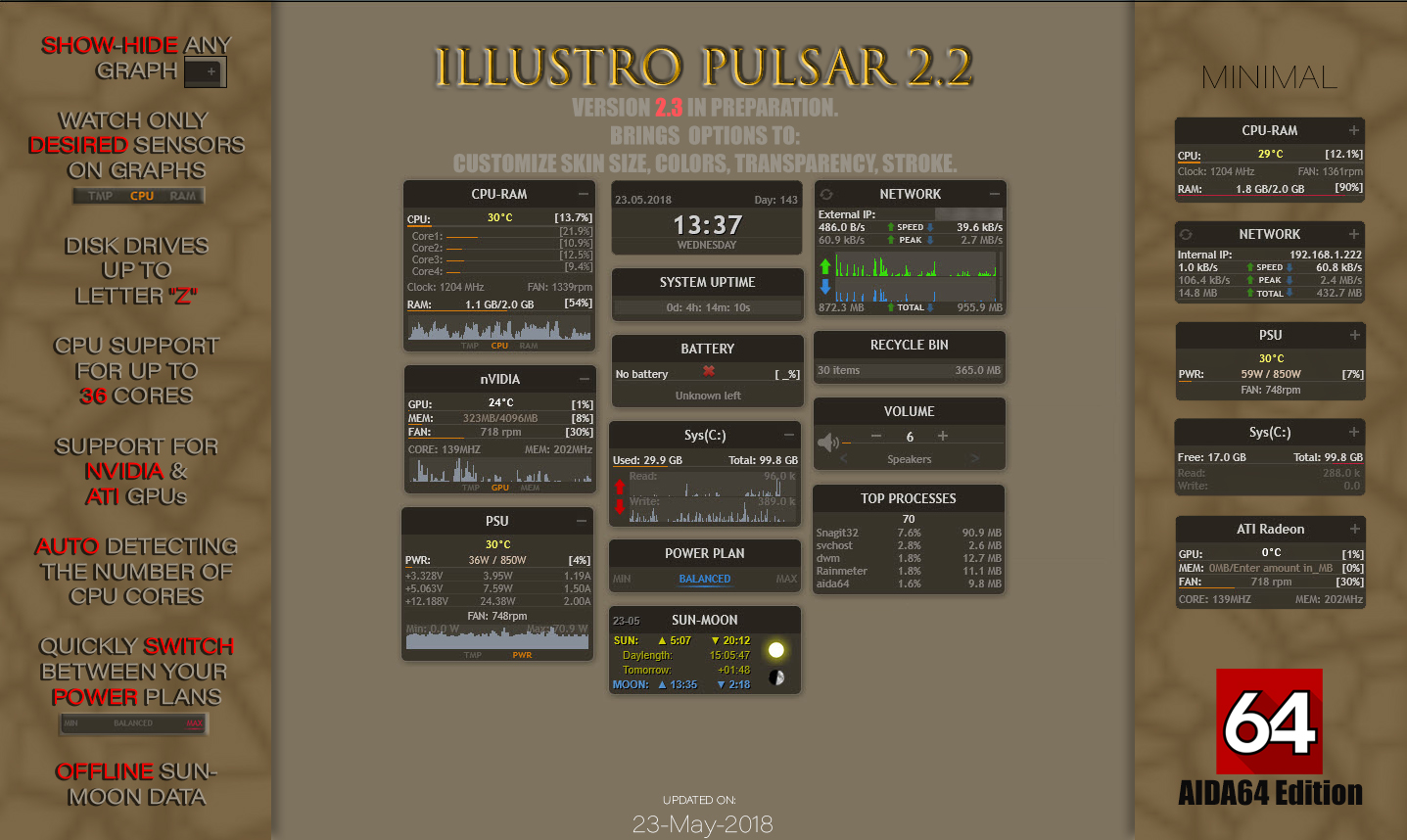 DOWNLOAD illustro Pulsar HWiNFO Edition

SKINS AND FEATURES:


✔ DISK DRIVE SKINS:




➢

support for drives by letters: C, D, E, F, G, H, I, J, K, L, M, N, O, P, Q, R, S, T, U, V, W, X, Y and Z,
➢drive Label,
➢read/write speeds,
➢Used-Free/Total space,


➢activity indicators,
➢open disk on click,
➢show/hide graphs on "-|+" button,
➢active bar (used disk space with warning levels),



✔

NETWORK SKIN:
➢Download/Upload speeds with graphs,
➢activity indicators,
➢Internal/External IP Addresses (toggling on click on the IP area),
➢Total Download/Upload data,
➢Reset the Total data button,
➢Open "Network Connections" on click,
➢show/hide graphs on "-|+" button,
➢active bars (vertical, Upload/Download speeds),



✔

GRAPHICS / VIDEO ADAPTER SKINS:
➢Separated skins for ATI and NVIDIA Graphics Cards,
➢GPU usage,
➢Memory usage (measures Video memory for NVIDIA, Dedicated for ATI's cards) [needs to enter the total memory of your ATI Card manually],
➢GPU temperature,
➢Fan speed (rpm),
➢GPU clock, Memory clock,
➢show/hide graphs on "-|+" button,
➢active bars (GPU Usage, Memory Usage, FAN with warning levels),



✔

RECYCLE BIN:
➢open Recycle Bin (Click on the title),
➢empty Recycle Bin (Right mouse click),
➢number of Items in the Bin,
➢total size of Items in the Bin,



✔ CPU SKINS:


➢numbers of the Cores supported: 1, 2, 4, 6, 8, 10, 12, 14, 16, 18, 20, 22, 24, 26, 28, 30, 32, 34 and 36,
➢the skin AUTOMATICALLY finds and sets the number of CPU cores,
➢CPU clock,
➢CPU Fan speed (rpm),
➢show/hide graphs on "-|+" button,
➢active bars (Total CPU Usage, CPU Cores Usage with warning levels),
➢CPU-RAM LIGHT Skin: includes only Total CPU usage with CPU and RAM bars, and RAM usage info,



✔ RAM SKIN:

(as a part of CPU-RAM skin):
➢Used and Total RAM (Auto detection),
➢active bar (RAM usage with warning levels),

✔

UP TIME SKIN:


➢shows system up-time,

✔ CLOCK SKIN:
➢Time,
➢Date,
➢Day,
➢Day in the Year,

X CALENDAR: (to be addded separately) (made by smurfier),

✔ BATTERY SKIN:
➢Battery charging status,
➢battery life,
➢bar with warning colors depending on the battery charge level,
➢animated Battery icon related to the battery status,

✔

PSU SKIN:

(Basic and Professional versions):
➢Power usage,
➢PSU temperature,
➢PSU Fan speed,
➢Voltage, Amperage and Wattage for +3,3, +5 and +12 connectors,
➢show/hide graphs on "-|+" button,
➢active bar (Power Usage with warning levels), - [enter the PSU wattage manually],

✔ VOLUME SKIN:
➢Volume up/down (with mouse over the skin and scrolling mouse wheel up/down (steps per 1)),
➢mute/unmute (speaker button),
➢volume up/down buttons (change volume per +10 or -10),
➢device change buttons,
➢Open Volume Mixer (click on the Title),

✔

TOP PROCESSES SKIN:


➢Number of Active processes,
➢Top Processes by CPU Usage,
➢memory usage of the processes.

✔ POWER PLAN:
➢3 standard Windows' power plans (as textual buttons) ("Min"= Power saver, "Balanced"=Balanced, "Max"=High performance),
➢open "Power options" to customize power plans on click on the title.


✔ SUN-MOON SKIN:

credit to balala
➢works completely OFFLINE with a possibility to Detect your IP Address via Internet ("Detect" button),
➢Sunrise, Moonrise, Sunset, Moonset times,
➢Daylength (for today),
➢Daylength difference (for the next day),
➢Sun position and Moon phase icons.


HOW TO USE:


1) You need any FULL EDITION of AIDA64 installed for the next skins: CPU_RAM (partially), PSU, NETWORK(for IPs only) and Video Card. Others work independently of AIDA.
AIDA64 must be running (in the background) all the time!
P.S. Always check out for the latest versions of Rainmeter and AIDA64 .

2) To set up the suite to works properly, configure AIDA64 as follows:

Run the program (AIDA64) and go to: Files --> Preferences --> External Applications.

- Check the "Enable writing sensor values to Registry" box (must be enabled),
Example

- check the following boxes as on the picture below (you can check them all, but it will use more PC's resources):
Example

3) Set up AIDA64 to starts up with Windows and minimize [OPTIONALLY]:
Example .

ONLY FOR ATI CARDS OWNERS
ATI Cards users need to enter the Total memory amount of their cards manually, unlike nVIDIA owners.
- Select the ATI GPU skin, click Edit on the skin and enter the value,
- Save and close your text editor. Then refresh the skin or Rainmeter.
Here is an image that illustrates where to enter the amount in MBs (delete and replace the white text "Enter amount_" with yours):
Picture

ONLY FOR PSU SKIN
To use PSU Skin, you need a PSU with Data Link like Corsair's RMi, HXi and AXi series are.
Here is an instruction how to setup AIDA64 for Basic or Pro version of the skin:
Picture

Then enter the Wattage of your Power Supply Unit in the skin's code (replace that "850"):
Picture


The setup is FINISHED!


How the suite works: Watch



If you have any problem, suggestion or whatever else, feel free to write.

THANKS GOD FOR EVERYTHING!!! AND THE RAINMETER TEAM FOR THE SUPPORT, ESPECIALLY TO balala AND jsmorley.