Hello everyone! This is my mini closed species 'Marion'
This species was inspired by anime called Saber Marionette, my childhood favorite anime!

There's not much trait or info to this species for now. I just want it to be simple because I want to make a real life bjd for this species too.
I'm planning to sell adopts + real bjd as an adoptable project in the future. I'm working on my own anatomy/prototype right now.
It's a new challenging project for me and I hope everyone will like the concept! <3

Theme/Concept: Fantasy / Humanoid / Marionette / Dolls / Bodyguard

My oc Meia from Marion speceis: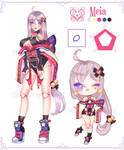 Image size
1000x828px 377.55 KB
IMAGE DETAILS
Software
Adobe Photoshop CC (Windows)