Heya people around the world!
I answer all comments on my work. ALL of them. Even Troll comments shall receive at least 1 witty reply. Unless you're asking for it... That's my style. That's how I roll... So comment freely. Fair Warning though. This doesn't mean you can start the spamming of comment sections with unrelated stuff or, worse, hopes for Role Playing. Use your brain. This falls in the "I am not going to reply" category.
As I said in the description of my very first submission "Rainbow Dash"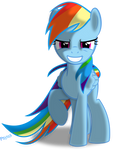 , I'm no artist.
Just some dude who draws cartoon ponies in his free time, bored out of his mind.
Everything I've made is free for non-commercial use by anyone. You don't really have to ask permissions and stuff. Only thing in return I want is some credit and a link of what you made, so I may enjoy it as well!
Big Thank You to all my Watchers and everyone deciding to add me to their watch list!
If you give me a Llama... You get a Llama too because of reasons!
That is all. Cheers to all of you!




Deal with it.