לָכֵ֞ן אֲחַלֶּק־לֹ֣ו בָרַבִּ֗ים וְאֶת־עֲצוּמִים֮ יְחַלֵּ֣ק שָׁלָל֒ תַּ֗חַת אֲשֶׁ֨ר הֶעֱרָ֤ה לַמָּ֙וֶת֙ נַפְשֹׁ֔ו וְאֶת־פֹּשְׁעִ֖ים נִמְנָ֑ה וְהוּא֙ חֵטְא־רַבִּ֣ים נָשָׂ֔א וְלַפֹּשְׁעִ֖ים יַפְגִּֽיעַ׃ ס

Therefore will I divide him a portion with the great, and he shall divide the spoil with the strong; because he has poured out his soul to death: and he was numbered with the transgressors; and he bore the sin of many, and made intercession for the transgressors.

---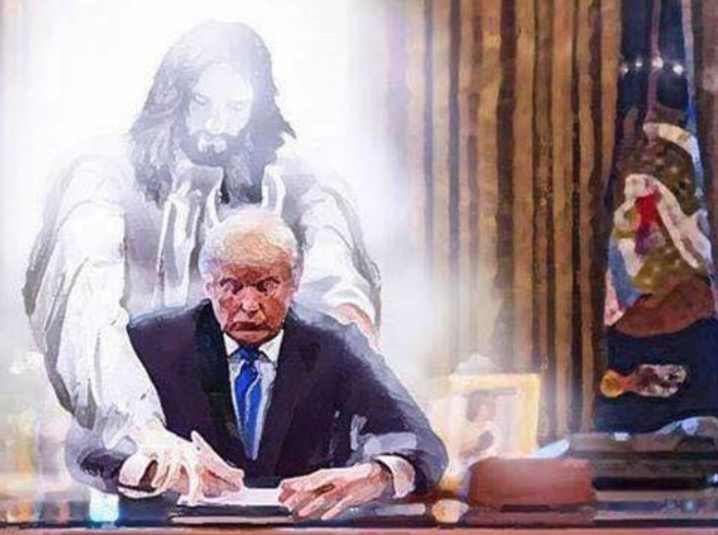 OVAL OFFICE, WHITE HOUSE, ARPIL 20, 2017...PRESIDENT DONALD J. TRUMP
woke up with a startled jolt as the buzzer at the Resolute Desk went off. "Jesus Christ Almighty", he shouted, frantically tearing off everything about his , "what the hell is that?"
A nervous Reince Priebus turned, stretched his collar, and stated-as-a-matter-of-fact "Yes, Mr. President, it's 4:34 in the morning. That's Bannon trying to get in. He's been reading
Fascism Viewed From the Right
again -- even as you told him not to." Trump scowled. "What does it take for Bannon to stop reading
Evola?
Any basic fascist can do
that.
I've got some real stuff. The good stuff. The best stuff."
Reince Priebus, former head of the Republican National Convention and currently one of the most powerful men in Washington DC, gave some kind of pathetic reaction that resembled a scowl but delivered by a puppy afraid of being hit with a newspaper and thus lacking any energy. "W-well, Mr. President, there is news: today's the day of the big shooting."
"The big shooting? The one we're false-flagging?"
"No. That's in December. We're just letting this one go by.. South Carolina, you remember? Those children, these terrible children, will go into New Columbine High School and shoot it up, maybe bomb it -- Pompeo's not being useful on that--"
"Fat idiot, Pompeo."
"..Well, Mr. President, Director Pompeo has not been forthcoming with his interest in this mission, but it will be essential to have a terror campaign running for Karen Handel's campaign. Can you imagine if they actually run that guy, Ossoff, and he wins? He's the heir apparent to the Clinton estate."
"No way."
"Yes way. And without this prompting a surge in activity -- for whoever's replacing Mulvaney, for one -- Ossoff could win. This should push things very clearly in the direction of Handel."
"If that doesn't work, will we release the piece about Ossoff showing off to those girls on Omegle?"
"Of course."
"Well.. good job Priebus. For once I'm glad to have you organizing this office. Now get Bannon reading some Sergio Panunzio. That honky fucker won't see it coming. He still thinks Julius Evola is a major theoretician! Now.. don't wake me up. Let me listen to two more hours of lo-fi."
"I'll do my best, sir."
A pause, with the President resting his head on the reclining chair (the chair behind the Resolute Desk, modified by President Trump, can rotate 360 degrees, elevate 11 feet in the air, massage Trump's back, administer red light therapy in case of forgetfulness, and shoot a boxing glove at Reince Priebus).
"Your best, Reince? Let me describe it like this. No one gives a fuck about your best. If you lose, you lose -- and if you win, you're a winner. A loser talks about "his best"".
"And a winner, Mr President?"
"A winner goes home and fucks the prom queen. I, of course, fuck the prom queen
in her prom dress.
Do I make myself understood?"
"Yes, Mr President."
And so the White House Chief of Staff put on some lo-fi hiphop radio for the President to relax to -- before a busy day of explaining to a busy world how in 2017, two boys could go into New Columbine high school and kill more children than Timothy McVeigh's wet dreams.
---
DYLANN STORM ROOF
woke up on the morning of April 20, 2017, and noted that there was nothing much in his room. More to the point his bong was gone. Kaitlyn! The bitch! Did she
actually
steal it? Dylann didn't think she had the balls. Strictly speaking she didn't. But while Kaitlyn had gotten herself into a great number of troubles before -- bitch had to get bailed out of jail on a private bond, then Dylann had to threaten that scheming financier to get Kaitlyn out of those fucking interest rates.
Jesus! Kaitlyn wasn't that old, had the brains of a walnut, and lacked even the discipline to get a job -- or even play herself up to get those skills. Hell, that Israelite behind the counter shouldn't have convinced
anybody -
but Kaitlyn didn't even know what an APR was, much less why a 8000% rate was
bad
.
She did put out, though. Womb as fresh as a pomegranate. That part was nice.
Dylann noted all this down in his head, stretched, applied his Axe body spray (Peace), and threw on a
White Pride World Wide
t-shirt from RedBubble. Cool shit, that one. He threw on his cassette player, his headphones (playing
Vaudeville Villain
, of course), and strapped a Glock to his belt. Dylann S. Roof went to his white pickup, and drove off to go start a race war.
---
THERE WERE NOT A LOT
of
Mormons
in South Carolina but those that were there were very noticeable. The Mormons -- or Latter Day Saints if you work for CBS or have no spine -- have a long history of pledging allegiance to Christianity and being ostracized from it. Perhaps it's their concept of the Godhead, or their revanchist movement centered on Mr. Smith. Or maybe it's the weird underwear.
But five years had passed since the local LDS church affiliate decided to band together in common song and prayer to promote Willard Mitt Romney being elected President of the United States -- and how well
that
effort went -- and only now was the LDS movement willing to come out in such numbers again. Hell, even the local
MSA
, the Muslim association, which was half full of Sarsour-type feminists and half full of black men who decided Louis Farrakhan had the Right Idea All Along, was substantially more popular than the LDS movement.
Thus the involvement of Kailey Snow in the firefight at New Columbine High School was one of the odder chapters. Snow, a devout Mormon and a fierce defender of the faith who had pioneered the 'alliance' system with the Catholic congregation, was innocent as could be. Clad in veils and spending her time reading traditionalist literature, at times Snow was hardly less conservative than the hijabi girls she got into fierce theological arguments after school with.
But political comparisons wane and fade and Snow eventually emerged as a chaste icon: representing purity, simplicity, grace, and total opposition to feminism in every effort she did.
Thus, when she sat down with Eric Harris and Dylan Klebold, it was as if Farrakhan and Rockwell had gotten lunch. Then again, didn't they?
---
\
ERIC HARRIS
got out of his truck. He looked at his truck and closed the door. He looked at his friend Dylan.
"Are you ready, Dylan?" Eric said.
Dylan replied, "Yes Eric, I'm ready."
The two boys smiled at each other. They laughed.
They got out their shotguns.
(Dad, what's a shotgun?)
(A rifle, but shorter.. fires harder.. fires little pellets instead of bullets. The real big fuckers, shotguns.)
(Oh.)
They walked into New Columbine High School.
---
It is difficult to look back on the spring of 1999 without being able to fully transport yourself into the general time and motivation of what it
meant
to be in 99 -- or, rather, why anyone would want to be there. People want to relive it, but why? Looking back, it's difficult to find that general zeitgeist, Hegel's
spirit of the times
without succumbing to some 20-year corporate flashback. AOL, they say, and MySpace! The Internet was young. Sure, the Internet was young. But in another sense, two Knight's Cross of the Iron Cross recepients died within two days of each other in January 1999.
For every 1999 flashback that includes AOL it fails to include that Günther Viezenz and Georg Audenrieth also died in 1999. Perhaps this is why it's difficult to fully reconstruct the time and place.
"In this, the spirit of the age comes into play; no one can escape its effect: this is historicism. We are too knowledgeable now, and too well habituated to transposing
ourselves into that distant, stark period; we imagine that without incurring inconsistency we understand, i.e. experience the mindset of, Buddha and Socrates; etc."
Ah, yes.. the spirit of the times. Perhaps the problem is that we simply do not know everything going on. Who can tell if the Mayor of Jerusalem dies? In their world it makes no difference.. but indeed in historical reconstruction it does. Every decision is influenced by everything going on. Nothing heard remains unopened by the mind. No one can replicate the San Francisco Acid Wave. There's no boys in Vietnam anymore.
That makes sense to most. In the same way we will never be able to replicate the Civil War.
And there are consequences to this, for we wonder "how could it have happened?" with only the advantage of historical hindsight. We ask "what caused it to happen?" -- Columbine or anything else -- in a futile way. We'll never know what's Going On if we're not There, and Right Then. This is why alternate history is doomed to failure; no one will ever really know the complexities of life and the complete circumstances. Even we don't.
We obsess over the figures we'll never be able to capture again, because we want to replicate those conditions. We're comfortable with them. We've lived through them.. in some cynical way, all we want to do is live. But in another sense, maybe more idealistically, we want to know and solve the problems of the past. And in Eric Harris and Dylan Klebold, there's two boys and a situation. Jesus, we say, how could the situation have ever been so bad?
---
FORTY-THREE DEAD CHILDREN
piled in Mrs. Underwood's room, plus the married woman with two children dead with most of her brains splattered all over the whiteboard.
a = 16
, it read. Eric had briefly noted that -- he had a good algebra grade -- and proceeded to blow off her head. He shot some more of the kids dead, and when one tried to tackle him, he shot one of the New Columbine High School starting running backs directly in the forehead. He set the room on fire and left.
Now the real trick had come. Dylan had planted a duffel bag in the main cafeteria. Stronger, this time, so as to actually just bring down the school entirely. Fuck the cafeteria. Fuck that. People would die.
So was the plan.
It wasn't working. Eric walked, ever calmly, to the cafeteria, free of any living human soul. That stupid son of a bitch. Why hadn't it gone off?
Eric opened up the bag. Fine. It wasn't working. He walked back, shot at it, and yelled out "Fuck!". Well, shit -- if the bombs don't work, death by police. He turned around and walked into Dr. Jones' office, the principal. He tapped the intercom.
---
Eric's a bitch. Didn't you use to say that? Who, you imagine, would? All of you. All of you ratfuckers with your stupid prep bitches, quarterbacks, cheerleaders. Sluts. Mansluts. Why even differentiate?

Ahem.

Sorry about that. Need to get something out. My name is Eric, and I hate every single one of you. Yes. All of you. That's why you're in here, trapped, so I can fucking kill you all. I hate the world. I hate the people who die. Why do people mourn dumbasses? The Darwin Awards, have you seen this shit, people die in the most idiotic ways. People fall off trees after they cut the branch.

...

I'm that fucking branch. You all knew I was violent and dangerously insane. I'd snap on a moment. Haven't you seen those people on the news? The Dan Rather types, Walter Cronkite if you're some hippie re-enactor. They tell you: you bully kids, they snap, they shoot up the school.

I hate all of you. You're all in my way, all the time. And why not do it, honestly? You're all in my way, getting ahead of where I need to be. It's the right thing to do, god damn it, so I'm going to do it. Doors are locked. I'm going to kill you all and I'm going to enjoy it.

---



MERELY FIFTEEN MINUTES AGO Kailey Snow was in social studies class when some big-haired Nazi-wannabe came barging into her room, firing off random shots in every which direction. Every corner of her eyes - blood! Brains! Gore. Morissa Caverly's throat was currently being pinned to a wall, a knife piercing her left eye and a sickening scream echoing throughout New Columbine.

With Caverly dropped to the floor, Klebold looked around and grinned. "Hello!", he shouted, "I'm Dylan."

Ice cold response from the remaining twenty-seven students. Dylan stood at one end of the room, clutching his shotgun in one hand in a knife in the other. He stepped back onto a raised platform six inches above the floor and tipped over the podium in the front. "May I have your full, undivided attention... thank you." Kailey's heart, beating at several times the speed of sound, could not stop her from rattling her food down on the floor.

His tone was warm. Dylan looked at one girl in the back. Pointed. Kailey looked back. Grace. Stanner? Sure. "Stand the fuck up." She stood. BAM! Grace's skull exploded into chunks of corned beef and acidic red dye #41. Muffled screams, not entirely wanting to be blown up either, censored themselves.

Kailey whimpered a little, under her breath. She had known Grace. They were Girl Scouts together. Grace had just gotten her braces off.. fully ready to apply to Arizona State. Now she was dead. Fucking dead!

"You. Stand up."

A girl to Kailey's left. Irma Bates. Of course, she knew Irma -- the preacher's daughter, oh she couldn't take her being --


BAM!

Holy shit! Was this really happening? Was this real? Irma had never even looked at a naked boy. She didn't have friends. She wore a veil every day of high school. She didn't swear. She had never even drinken fruit juice because it was too close to coffee and thus caffeine. Now her body slammed back onto the desk of another girl -- Sylvia Ragan. She burst. Every muscle in her neck contracted. Slammed her against the desk, more emotion in a wail than a banshee could produce.

...

The silence hung like the Sword of Damocles. They hadn't spoken. They were the good girls. If we were bad, God alone could solve it.

...

God? What does God even have to do here anymore? Irma Bates is dead, her skull's a platter for maggot food. The old bar fight quote about the late king George V.. "he's only shit and soil now, like everyone else". What was there to salvage?

---



"So I want to tell you guys a story. And girls, I guess. If you fucking want to listen, pick your ears up. You! Faggot!" A boy, for once, with a short cropped fade and a pearl earring in his right ear. He perked up, a gasp of air escaping his lungs, and stared at Dylan. A shotgun pointing directly at his face from across the room.. assured death.

"I don't really give a shit about your name. Listen when I talk. Don't fucking cry." The boy -- Johnny Paxton -- whimpered and silently agreed. A second. Another. A few tense moments in time passed, where Dylan and Johnny stared at each other as though they were Dismas and Jesus.


BAM!

"No fucking respect! You cheap faggot. I should have you killed for that." Johnny's body flung back -- the tendons of his neck spraying everywhere as the shotgun tore Johnny's head from the rest of his body. With a loud, wet, and viscous splat Johnny's skull impacted the wall and fell to the floor with a look of sheer agony.

Blood poured from the neck, veins, and capillaries of a boy who had helped save Eliza Hodgkins' lemonade stand from tipping over in the heavy winds of September 2013. Organic fluid dripped, dripped, dripped onto the floor in a neat puddle of crimson.

Other girls screamed inside -- one screamed outside and she too was shot. But Kailey had instead simply stared at the slumped body of Johnny Robert Paxton and wondered. What was the purpose? Why bother living if your life finale was to be decapitated by Dylan Klebold?

Strange, visceral thoughts clouded her mind. Indeed. What could have been done? Nothing. What can be done in the future? Against a violently insane shooter with a shotgun and what seemed to either be a pistol or a cock the size of Nagini? Not much...

"My stories are mostly non-consensual and they often depict violent slavery of very young girls, with large amounts of torture, humiliation and killing. That's not AP Language, is it? I bet the fuck not." Dylan laughed, pointed his pistol at another girl in the back row, and shot her in the throat. [PATRICE TARPIN, 15] Not many left.. a rapidly decreasing number.

"But I'm a pretty nice guy," Dylan said, "and I'll let you live if you've got the balls. I don't like this room. Too many queers. Faggots. Dykes. Are you triggered yet?" He laughed again and shot a blue-haired girl in the back. [KAREN TUDOR, 17] He smirked. "So, if you want, come at me. I might not shoot you. Of course, I am here to die. So I might shoot you anyway. Isn't being God great?"

A tense atmosphere with raindrops of sweat and the occasional guro boner.

"You! Christcuck. Come here." Kailey froze, sweat pouring from every orifice in her body. "Stand up. Christian.. what sect? They're all the same."

Kailey, cringing and terrified beyond words on the inside, whispered "Mormon." "Oh! Well, why didn't you say so? There's a wonderful community of fucking Mormons here. Sit down. I don't want to even look at you." She crawled under the desk.

"Everyone stand up." They did.


BAM!
[ANNE MCNEILL, 17]

BAM!
[SEBASTIAN LOUIS, 18]

BAM!
[BAILEY LEE, 17]

BAM!
[JENNY TODD, 17]

BAM!
[CORBIN ROBERTS, 17]

BAM!
[SAMANTHA SHAH, 18]

BAM!
[FELICITY JOHNSON, 17]

BAM!
[TROY LAM, 17]

BAM!
[TINA THOMAS, 17]

BAM!
In some abstract sense it was difficult to keep up. The bodies just
dropped.
The pistol was different to the shotgun, obviously.. but there was no backwards movement. One tap and they were
down.
Like
Whack-a-Mole
except with human beings.
A voice sprung out from the middle, from the seat right outside Kailey's. "You fucking stop this right now! I won't stand by as my friends get murdered. I knew you were evil, Dylan -- but not
this
evil. I won't stand for it!" The starting quarterback -- Lee Thomas. A big man. Dylan shrugged -- Kailey could barely see from under her desk -- and motioned his hand towards her while keeping his face squared away with Lee. "Cool, cool. Want to come up here and kill me? I'll let you do it. I want to die."
Lee walked up, his fists clenched white as snow and with every muscle in his body clenched. "You're a real evil son of a bitch. I want to watch you die. I want to
see
you die, do it, avenge my.. little.." He almost burst into tears, his pace slowly increasing until he was right in front of Dylan. Dylan stared up, nonchalant, and said "You want to kill me. How, fag?"
Lee's mind went blank for a second -- he had expected some kind of other answer -- and a gunshot rang throughout Mr. Fitch's social studies classroom. Blood seeped from Lee's back, six inches above the start of his ass-crack, and the former All-American let out a groan as he fell to his knees.
"You. Mormon bitch. Get up." Kailey stood, shivering, whimpering.. knees buckling, hardly able to withstand a fly. Dylan threw his pistol at her outstretched hands, barely caught.
"Kill him or kill me. I don't care either way. I'll be dead by the end of today. So just fucking do it, will you?"
---
DYLANN STORM ROOF HAD JUST KILLED FOURTEEN STUDENTS WITH A COMBINATION OF HIS AR-15 AND PISTOL
yet in something that meant more, he was completely and utterly reviled by what he saw. A pretty white girl and some trenchcoat wearing douchbag. Was he going to kill her? Was this man a race traitor? He needed to check -- but there was a Situation going on and the guy inside had a gun.
A verse came back to him... not the Bible, no, not that Jew-worship bullshit. "Knowing fully what was demanded in character and commitment of each man who stood before me, my chest swelled with pride. These were no soft-bellied, conservative businessmen assembled for some Masonic mumbodumbo; no loudmouthed, beery red-necks letting off a little ritualized steam about "the goddam niggers"; no pious, frightened churchgoers whining for the guidance or protection of an anthropomorphic deity.
These were real men, White men, men who were now one with me in spirit and consciousness as well as in blood
."
Ahh.. what it was like. What it could be! Indeed, why else would Dylann be here? To fight for his race, his people, his
volk.
It was as simple as apple pie.
Luke 22:36 sprung to mind. If you're a normal Protestant, not one of those Mary-worshippers or icon-worshippers, that reads:
"Then said he unto them, But now, he that hath a purse, let him take it, and likewise his scrip: and he that hath no sword, let him sell his garment, and buy one."
Of course Dylann had never really been a fan of that shit. He considered it kike-speak; meaningless; he was aa God-hating atheist who jerked off to Shadbase. There was no getting through to him that it was the Truth; all things aside he probably favored the Quran but didn't want to be associated with the sandniggers.
BAM! There went another of the little fuckers! Some small, petite girl.. black, as the other victims had been.. he didn't really feel sorry, deep down inside, because it was "the right task" at the moment. Every time a little instrument of doubt played its harmonica in his face, two images flashed in his vision like a Clockwork Orange patient blinded by ideology:
First, the biggest, blackest rhino-sized cock tearing apart the hymen of a well-to-do white girl with braces, silvery yellow hair, and a smooth tummy. Not just in those God-damned porn videos those shill faggots kept putting on /gif/ but also that girl -
Holy shit his blood boiled even with the thought.
Irrational twitches and violent urges - that girl, Angela, the one he'd had had a crush on since elementary school. Little round titties, a fat ass, a cute little virgin face - scooped up by a negro who, while she kissed his charbroiled neck, tugged on her ass and made her moan right into his fucking larynx muscles. She even had that fucking athletic hairstyle - twin braids down the corners of her head - that the one classic pornstar had had when she came back for the race-mixing shoot.
Fucking moan.
He knew that fucking coalburner had taken his dick and was no longer pure. But that didn't satisfy him, only make him want to kill.
There was also the disembodied head of George Rockwell telling him to murder the "Jew-backed race mixers", but ultimately, there's nothing like the real thing to motivate him to squeeze the trigger on that girl.
---
Standing outside the patio of New Columbine High School - motto: We Are Columbine - was a daunting task for most emotionally, but for Eric and Dylan it was not much at all. Corpses - including that of some new freshmen, thots who really didn't deserve to live to begin with, and some of those God Damned Prep bitches who slept around, went to shitty state schools like Kentucky, and were never seen again.
"So as I was saying, Kailey..."
The poor girl had gone nearly completely insane from the situation. Even a breath of fresh air was like noxious poison to a girl who avoided sex. As the school was evacuated, and police were "on their way" - codeword for beating up some of the thugs outside of school who managed to be caught with weed in their pocket - Eric managed to relax, smoke some camel, and talk shit on some of the dead kids with Dylan. Hardly more targets, he figured, why bother?
Kailey didn't speak a word. Her porcelain skin shivered with the slightest breeze; her traditionalist garb had been largely abandoned or disheveled and her hair, so perfectly bound in that bun, had come loose. Her eyes were like bowling balls.
"So! Dylan, you want to hear it?"
Dylan sighed. "Go for it, faggot - there isn't much left to this world."
Kailey, though she believed homosexuality was an abomination and same-sex marriage a sin legalized, winced at 'faggot'. She didn't understand these boys. She wanted to hate them, knew she should, but there was such panic and shock that it felt like the only thing left to do was
be.
Eric whipped out a half-sheet of paper and began, "Her tiny body convulsed with each tingling pass of her hands. Unable to take the tension any longer she carefully eased her middle finger up into her-" when he was interrupted. Dylan cried out "You rat son of a bitch!" and began to laugh out loud. "You rat! You degenerate pig! Jesus, where do you find that stuff? Reno will send your ass to where they sent McVeigh if you keep that shit up."
Eric smirked. Nothing like some good banter. Had he seen it before? Was Dylan as depraved and savage as he was?
Reno? Who gave a shit about Janet Reno? Maybe once they were done here - had assassinated enough cops - they'd finally go kill her. Reno, the baby-killer at Waco. Tear her teeth out in front of her husband. Castrate him for good measure - just a security precaution, nothing much to it.
---
IT IS NOT WIDELY KNOWN
among criminologists, the exact details leading up to the deaths of Eric Harris and Dylan Klebold. Both were sitting outside, each on a separate table, with Kailey Roof widely regarded to have been sitting or lying on a third (though a school of thought claims that Kailey ran there during the gunfight. Differing theories say whether there was a turn, that Dylan killed Eric or vice versa, or whether Dylann killed them both.
What is known is that shortly after a funny conversation between the two spree-killers, Dylann Storm Roof kicked open the doors to the outside patio, shot Eric Harris in the jaw (knocking him to the concrete, which is ultimately what killed him first - the head trauma), dodged gunfire by Dylan Klebold, and shot him within two to five feet with a carbine rifle that blew most of Dylan's upper head off.
---
C. Rhodes Rockwell - newly named in the National Socialist social experiments that attempted to remove any Jewish influence in people's names - looked at his newly-married wife, Eva S. Rockwell. Some people kept their last names; some didn't. Wives kept in the Organization kept their husband's name in all cases.
For as written, "The Organization has made allowances for married couples where both man and wife are members of a unit, in that husbands have veto power over any orders given to their wives. But, with that exception, women are subject to the same discipline as men, and, despite the informality which prevails in nearly all units, any infraction of Organizational discipline is an extremely serious matter."
Work for Rockwell - formerly named Dylann Storm or something - has been a varied assortment of freedom fighting ever since the shootout at New Columbine that got him notoriety by the organization. He had been named a "Regional Minister of Tactical Operations" for the Southeast - a coveted position that entitled creating situations, diverting police resources, and causing havoc. The folks in charge of Logistics gave him resources; Strategy gave him a chart; Tactics (himself) knew where to strike to hit them right in the heart.
Rockwell's F-150 traveled West along I-20 to Atlanta. There he'd bring down one of those communist-sympathizer King statues. Eva was asleep. Her floral dress and ivory-white skin concealed a baby bump right above the seatbelt. Yesterday he'd been told it was twins.
Rhodes smiled to himself. The world was looking up for a change.