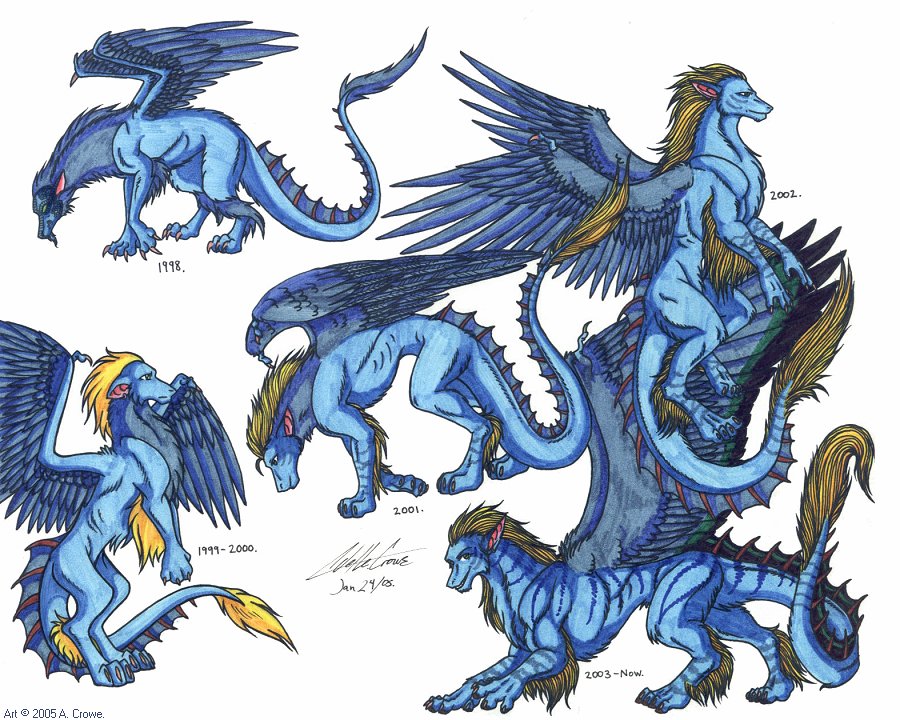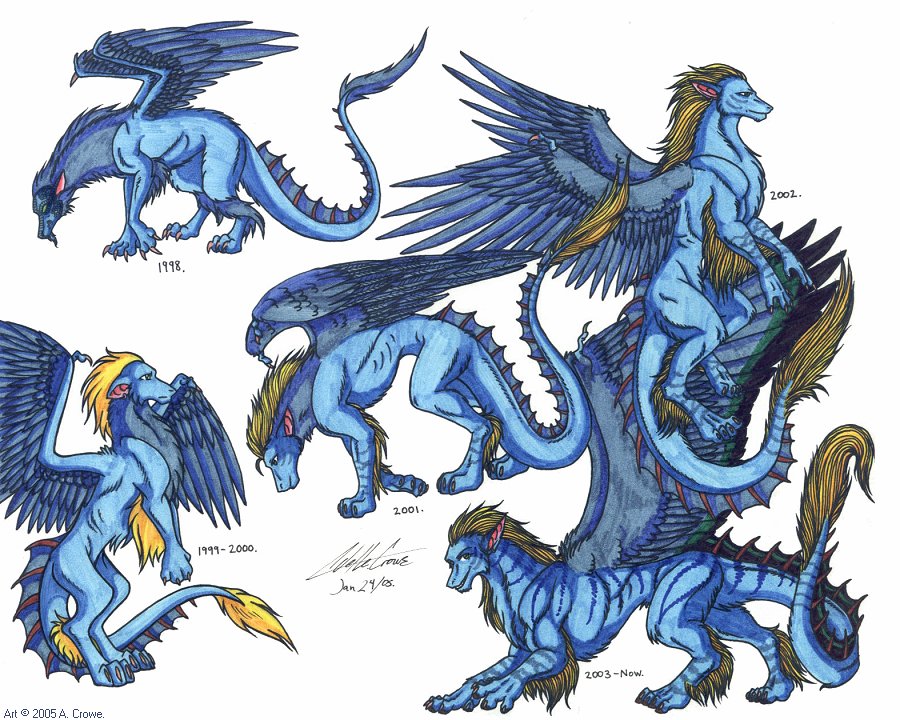 Watch
This pic is meant to illustrate one character (I've named him Ro) and what he may have looked like in the beginning when I first drew a Draekard (though known back then as simply a furry dragon) and his evolution as the Draes changed. I chose a Blue as they're sort of the default Drae (but the first one I ever drew was later dubbed the Black color). I did my best ot mimic my style during the earlier years. I colored them with markers and quickly inked with microns.
---
1998: Draes had scaley faces, simplified claw feet, long necks, bad wings (Draes actually gave me a boot to the arse to learn how to draw feathered wings properly, over the years) and no wing thumb(just a claw), all blue(or red/black/etc..), and no pupils. Not too many of this version ever made it to the net. I had no scanner at the time, and a lot of my 1998 Drae work was given away as gifts.
1999-2000: Big change in appearance. Claws become paws(and large ones at that), and they start to look less feral. Different hair color is introduced, along with colored and longer feathering. Wings get better, and there is a high anime/lion king influence.
2001: Muscle is more developped, and wings become better still. Paws are smaller, but still on the large side, and hair detail is added. Markings are also introduced(more towards 2002). Anime/lion king influence is fading.
2002: Draes gain a toe on their back feet, which in turn become more 'foot-like' and paws become more slender and hand-like. Draekards also earn their name and the anime/lion king influence is mostly lost. Drae builds & muscles are further developped. Tails become floofier and manes are more commonly colored to match their fur(for my characters, anyway

).
2003-Now: Ears change slightly, wings are drawn more realistically(2005). Markings on body and wings are more common(2003) and Drae facial features become more..defined and expressive. Fingers become more paw-like, yet still retain the hand look, and they also gain an extra finger as well as visible pawpads(2005). Their builds are further developped(2003-2004) and chest muscles are added(2005).
And there you have it.

Draekards belong to A.Crowe.