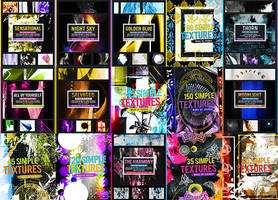 All Premium Content
Buy this to gain an ALL-TIME (not monthly) access to all premium resources packs I create (through Google Drive). As a subscriber you can also suggest what kind of resources you would like me to upload. Once you purchase, DM me for further info. NOTE: Reuploading and sharing premium content with others is strictly prohibited!
---

5 Distressed Ink Overlay Textures
Description
Thank you for adding these actions to your favorites - I really appreciate it!

Easily add a grunge effect to your artwork with these paint overlays. Simply place them over your image in Photoshop, GIMP, Pixelator, or your choice of software and set the blending mode to Overlay. Adjust the opacity and you're done!
- 5 ink overlay textures
- JPEG images
- Photoshop Pattern file included (For Photoshop 7, CS, CS2, CS3, CS4, CS5, CS6, and CC)
- 1600x1067 pixels
- No tweaking required
Need more? Get the premium download with a total of 14 ink overlay textures. They're also higher resolution (3000x2000 pixels)!
Premium Version:
creativemarket.com/SparkleStoc…
See a video preview!
youtu.be/nBbC-xHoh7I