Since you want to read a book in peace and relaxed and then you are so "disturbed" and asked if you also want a cookie.

--------------
Additional info:
Today there is belatedly still a Christmas motif. My best friend

has this year, exceptionally got hers own motif as a greeting card.

Here, dForce has once again driven me crazy: Sweater, blanket that falls down and is additionally pressed down by the Christmas girl and the dress. Had to correct quite a bit with the MeshGrabber. Am not happy with details of the pose, but after much of the physics calculation was finally calculated without explosions, I did not want to do it again.

The blanket is unfortunately only a simple plane in that case, I had tried a few real "blankets" but it never really wanted to work unfortunately. For that the poses with counterpressure from below and above are then a bit extreme.
And yes, that is a gingerbread man in her mouth and as an earring.

--------------
Other motifs with the girls: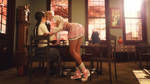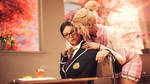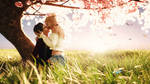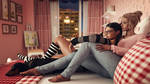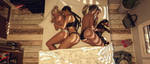 --------------
Models & Assets by Daz3D etc.
Composing, render (Iray) & postwork by me
Tools: Daz3d Studio 4.15 & Photoshop CC
________________________
Instagram
|
ArtStation
Image details
Image size
5000x2609px 1.72 MB