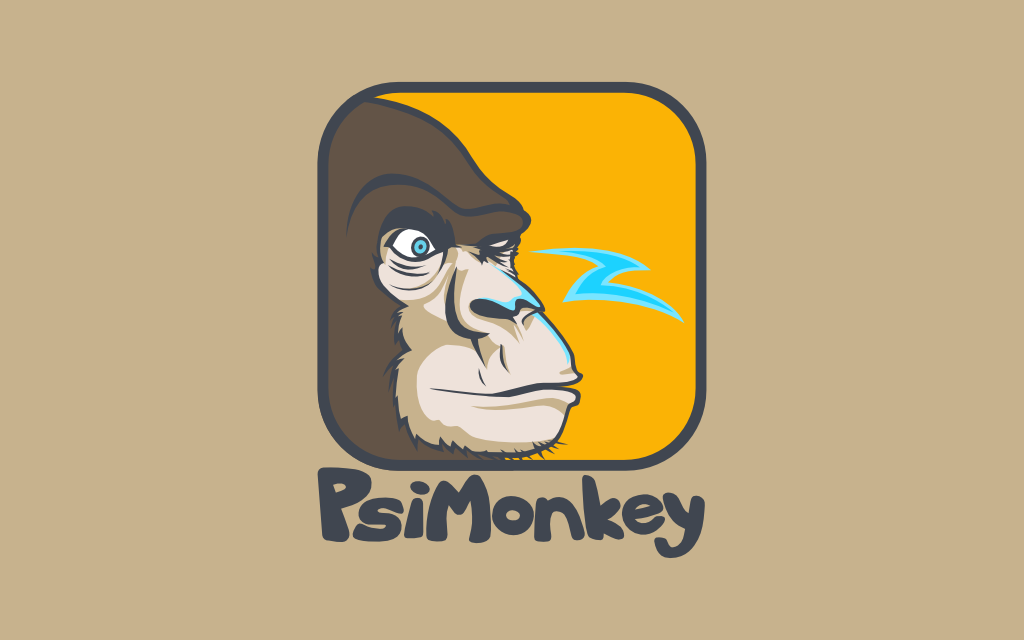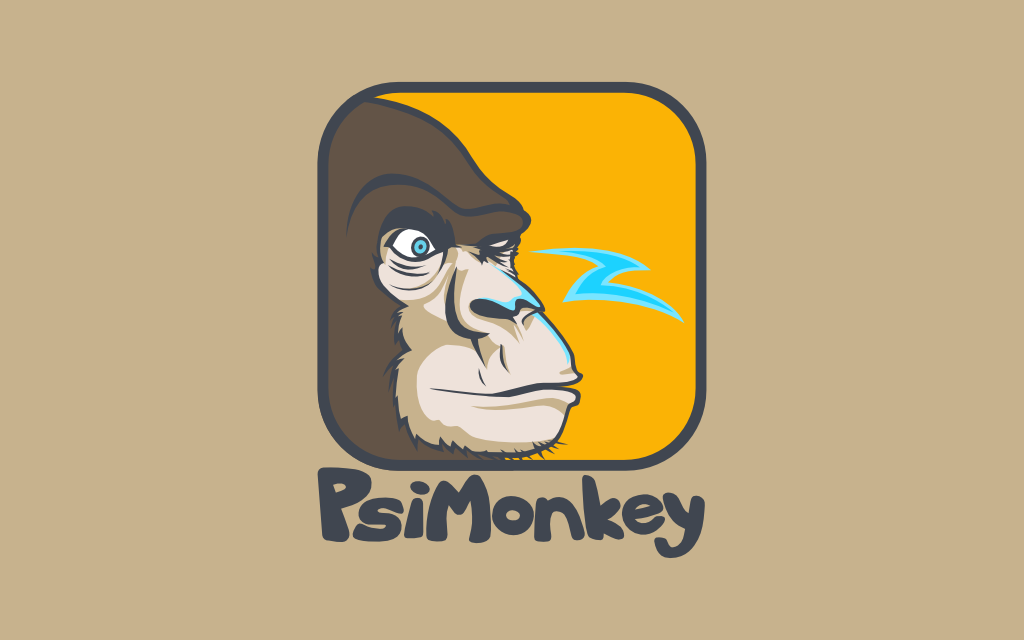 Finally made a logo matching the nickname instead of just using a cropped image I drew long ago

I hope it will also be suitable as signature on my deviations.
The style is inspired by the great ~
Winter-artwork
, the pencil sketch was based on countless photo references of apes and all the vector work has been done in
Inkscape
. The font and colours are the result of my own ideas and experimentation.
I still have the feeling that there are too many details and not enough stylisation. Besides, I wanted to create a stronger facial expression. But all in all, I'm happy with it considering it was my first practice doing a logo in that style.
I'm not so happy with the custom font, but I actually didn't invest that much time into it and it serves its purpose.
It's great to see how far you can get with good inspiration and good tools, so I recommend to take a look at these two profiles and galleries:



haha I love your new icon!! so fresh, clean lines and beautiful shadows.
Reply

Thanks a lot, glad that I didn't promise too much! It's great to hear again from you in such a way!

Reply

Yep. This is one great logo. It's so appropriate with your username and serves as great image recall . Faved!
Reply

Genial. Und so passend! :-D
Reply

Reply

Really cool,

Reply

I like it. There might be too much detail for really small versions but all in all it looks good and the style is fun. Good use of colour too
The font's not too bad, but the 'o' is floating! And keeps catching my eye.
Reply

Hey thanks for the good hints!
When I tried to set it as avatar, I found out that there definitely are too many details and I think I might adapt it over time for smaller versions. This will also be better for signature use.
I didn't notice the 'o' in that way, but you're right. Actually, it was somehow intentional to put some "ape-like disorder" into the font, but maybe I shouldn't overdo it that much for the 'o'

Thanks a lot for your feedback!

Reply

Yeah, you could have a couple different versions. A more detailed one for larger images, and a less detailed on for smaller.
The 'o' might work for getting an ape-like disorder if maybe you did similar with one or two other letters. Right now all the others are evenly on the baseline, with only the o standing out.
You're welcome!

Reply

Alright, I have made some small changes based on your suggestions and I think it was worth it

All the vowels are above the baseline now and it makes the font more playful and ape-like and in my eyes the 'o' does not pop out that much anymore.
Also I made a version for small sizes with less details which I set as avatar.
I hope you can see some improvement as I do

Reply

Yes, your avatar looks cleaner now too. And, I'm no longer fixating on that 'o'! Good fixes

Reply

Yup, true words, I'll try to get to these things in the next few days

Reply

Reply

Haha, nah, that wasn't Thog, it was my own creation based on the tribe from this island where Elan impresses everybody with his Banjo God

Actually I made it for the forums, but didn't have anything better when I started on dA, so I always intended to replace it. Also I'm trying to move to more serious illustration than only stick figures

I'll surely do some OotS upon request or as a filler to relax, but I really want to develop my illustration skills more and I wanted my avatar and ID to reflect this

And I thought it'd make for a cool signature (although now I see that it's not good for small sizes, so I have to rethink that

) on my pictures.
Reply

Right! Sorry, I know that! *lol* But it was a ... ummm... brain failure... ogre!

Yeah, that's understandble.

But you're very good at the stick figures too!

How's it going with that car picture you were working on btw? Is it finished or did you stall it?

I can understand that.

I think it'd be good for a small picture too if you used a darker background so the lightning shows more.

Might need to lighen the monkey a bit too then though.

Reply

Haha, yeah, true, it's the same kind of ogre/orc/green thing with fangs

As much as I want to develop my skills, I'm sure I won't drop stick figures completely

They're still fun to do, I still have some ideas waiting and they're always perfect to quickly whip up some less detailed characters

Cool that you remember, the car is still in the works! I just wanted to finish the logo first, so I could put it e.g. on the car picture and the many photos which are waiting to be uploaded

You're totally right, I had already put it on my list of changes for the small version next to leaving out details and thickening some lines. Though I wonder all the time, how the colours look all fitting to me in large size and don't work anymore in small size

Anyway, thanks for your good comments! I hope you are progressing well with your projects like Snippy or the plushies

Reply

Indeed!

*lol* You better not! You're one of the best at drawing Oots fanart in the actual Oots style that I know of.

Awesome!

I'd love to see that one finished some day because it started out really epic!

*lol*

Small details disappear in a small pic and things that are clearly visible in the big picture can't be perveived by the eyes anymore.

Try it out and see if the darker background helps or not.

You're welcome!

Well, no... but I will in the future again. *lol* I really wanted to finish Snippy while I was still into painting it. Because the first times I paint after I haven't done it for a while gets so clumzy compared to when I'm into it. And since there's only Snippy himself left to paint (and very little on the asphalt) I have a feeling it'll be ruined a bit when I do get back to it.

But I'll try my best anyway.

I have a dragon plush to sew and a family portrait to draw and Snippy. And more LP's for YouTube!

Reply

I changed the avatar version now! Removed some details and adapted the colours such that in my opinion it looks much better in that small size now

Mostly desaturated and brightened them slightly, except for the lightning, so it stands out more.
I didn't darken the background because that orange looks just dirty if I do so and I'm quite fond of the popping colour

Thanks for the helpful discussion, I hope it looks better to you as well

Reply

Hahaha, thanks for the compliment! In the end, it's not that difficult to draw stick figures, I guess

I also want to see it finished, it seems to me that it can turn out really good! So I can't tell
when
, but I'm sure
that
I'll finish it

Haha I still have a strange feeling about this, I mean, it's strange that details affect colour perception

Anyway, I'll try it

I understand... so maybe you can draw something small and simple before continuing on Snippy, to get into the flow again? Haha, didn't look at the LP's for a long time now, I remember thinking all the time 'oh, how would you say that in Swedish?'

Reply

*lol* Well, I can't draw a good looking Oots figure like that. They don't get... right.

And many others look a bit off too. I like yours because they look like Rich could have done them. Same style, but with your own characters and details and settings.

Great! I really wanna see it finished too!

Yeah, it is actually. But it does. As well as the placement of a colour in combination of other colours!

It's really amazing how different a colour can look if you change stuff around it!

I saw a program about fooling ones senses, both vision, taste, hearing and feel. Really cool!
Yeah, I guess I'll try that. That was why I painted that monster first before, to get into it before painting on him.

Haha!

I do say some things in swedish now and them. Mostly NEJ! When I'm scared though. Or when I play with my best friend on the game "Anna" (and Amnesia where we also play together). It's easier to "slip" into swedish when I play with her since we're both swedish.

Anyways, been tinking of doing something in swedish too, but maybe later, when I have more subscribers. I don't wanna "scare them off" with a swedish vid just yet.

Hmm, but I have some vague plans of recording while I sing swedish songs. But I dunno if I dare post those on YouTube!

Reply

Oh you could, just use my approach of searching a fitting example in the comic and vectorise, then adapt it

I mean, once you have the proportions of head and eyes right, you can do whatever you like and it'll look like Rich's work

That's true, I have seen those illusions, you're right!
I guess you wouldn't scare anybody off if you provided subtitles! But this is additional work of course

Although it'd be really cool in Swedish, with English and Swedish subtitles

You should realise this idea with the songs! I know only one and it's great

Helan går, sjung hopp faderallan lej, helan gååååååår

Reply