Journal Entry:
Thu Apr 5, 2012, 12:15 PM
Well, not exactly mine.
But of two of my favorite friends here on DA.
One was from

And the other from

And I'd like to thank you all as well for the favorites on this image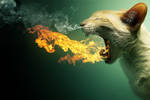 Thanks to all of you, I hit my own favorite* and view record with this creation.
Have a great weekend all of you and God Bless