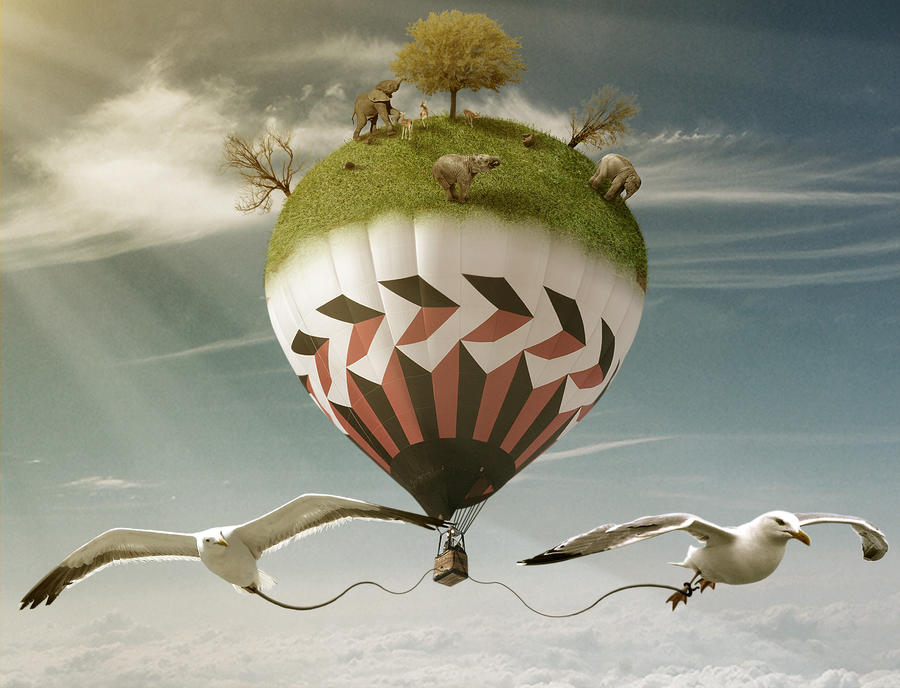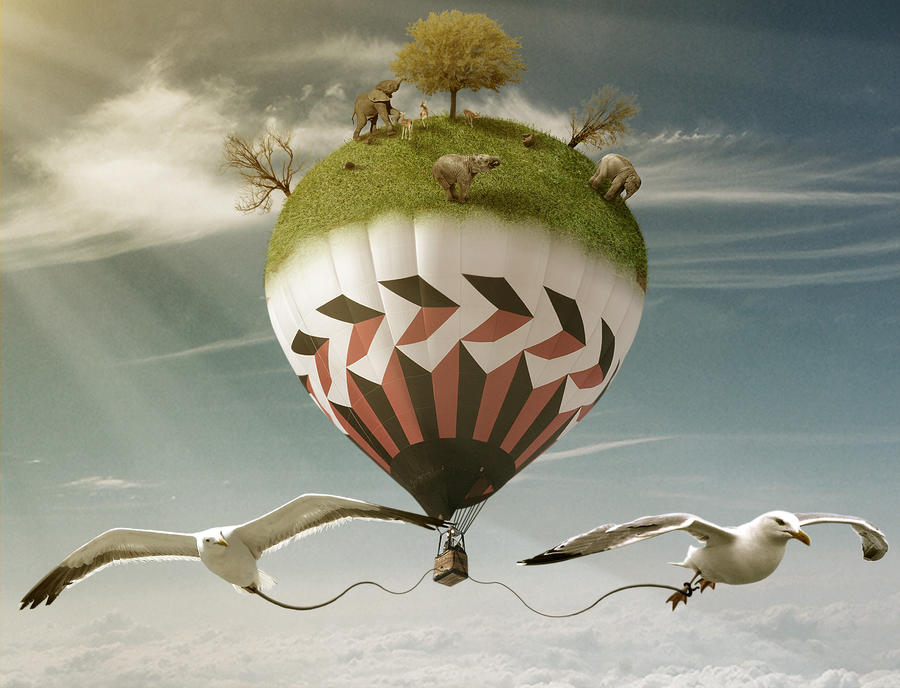 Watch
Created for a contest in worth1000
[link]
The objective was to use the provided ballon image and transform it into anything we wanted.
[link]
Credits
Sun Brush:
[link]
Grass:
[link]
Stones:
[link]
Fawns:
[link]
Tree 1:
[link]
Tree 2:
[link]
Tree 3:
[link]
Elephants:
[link]
Seagulls:
[link]
Sky:
[link]
Lovely as a wallpaper.
Wow, awesome, I never seen anything like this before is the first thing I have to say about this.

I really have to compliment you on originality. It reminds me of the theory that the earth (according to some religions) is being supported by some animal (elephants or turtles, again, according to some religions, not sure which ones though). Random thought I know, but as an artist, it's nice to see things in a different light anyway.

There is just one thing though about this that I'm particular about though, and that is the lines that kind of look like boomerangs, they just don't seem right to me. Nonetheless, a great concept, and I won't count it against you. Epic!
The Artist thought this was FAIR
13 out of 13 deviants thought this was fair.
This is the first time I saw something like this. When I see the title, I think that it will be a "normal" hot air balloon with a little bit photo manipulation, but hey, this really did surprise me a lot! Who knows that it will be a grassland (IMO, the grassland symbolize the earth, no?) on the top of the balloon?
What I find really amazing is your concept and originality. Again, in my opinion, I'm imagining that you're trying to tell us about the earth and the living things. In a simple way, it's about the "environment" or its "living beings".
I like your decent composition. Nice choice of picking all those components to create this piece. The only thing that bugs me is about how the grassland and the white balloon aren't being fused well. I can see the 'odd-curve' on it. I'd suggest you can use transparency or some effect which will fade the color little by little. Well, I don't know much about editing but I hope the transparency-editing will make this photo become more 'natural'.
Good job for focusing the main part right on the center, with no attracted background or effects. This way, we will see what you want us to see: the "surreal hot air balloon". Oh, and the lighting seems right to me

Last but not least, keep your good work and improve even better than this! I would like to see more of your creation. I really admire your creative concept and idea.
The Artist thought this was FAIR
11 out of 11 deviants thought this was fair.