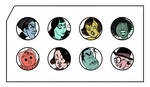 Update, July 2021: DeviantArt's commitment to providing an open conversation about art theft and protecting artists' rights has continued with the introduction of DeviantArt Protect, image-recognition software designed to safeguard your art in ways that were not possible when this journal was originally posted in 2015. Learn more »
The DeviantArt community has always been deeply concerned about art theft.
We are committed to providing a completely open conversation on this topic. With your active and constructive participation we can become a leading voice on how we adapt to the challenges of being artists on the Web.
This Journal frames the continuing conversation and concern about art theft in general on the Internet and on DeviantArt. Each section links to a more specific and expanded treatment of the topic with additional links to useful materials and readings. Your comments to this Journal will be reviewed by experts and comment threads of general interest will be linked into the expanded topic sections.
Something to keep in mind at the outset: we are all guided by a code of decency, honesty and the expression of mutual respect. So, try to be tolerant and understanding even when reviewing these materials. Ethical behavior is a reward and a duty larger than laws and rules. Sometimes people interpret right and wrong differently even when both people have the exact same good and ethical intentions. Keep in mind that everything anyone does will be right if it's also decent and honest even if some rule of law or contract was technically broken.
---