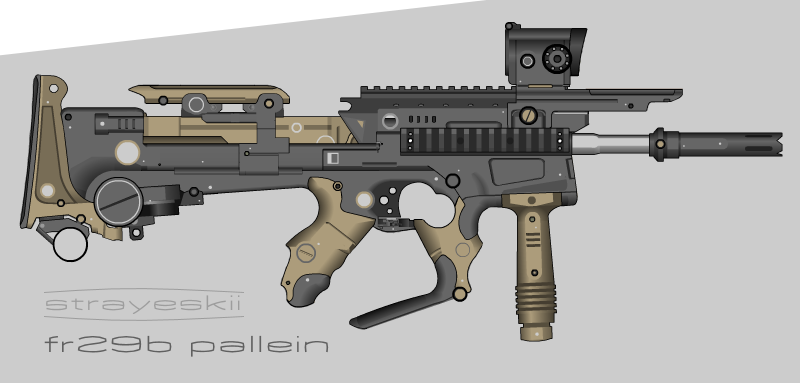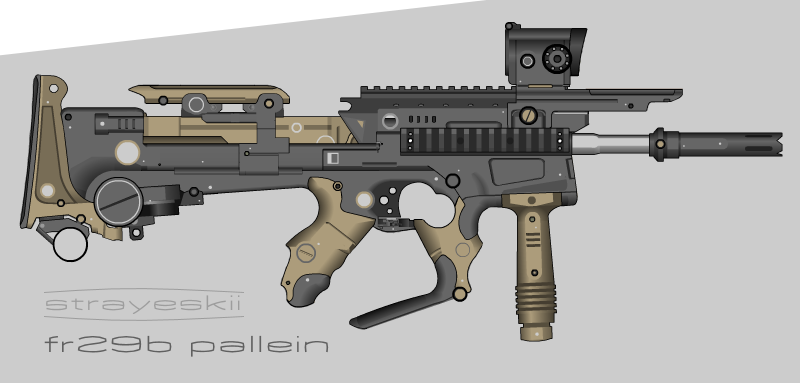 Watch
Strayeskii® Firearms \\ FR29 Pallas Flechette-Firing Personal Defense Weapon
_________________________________________________

The FR29B Pallein is a fully automatic personal defense weapon developed by Strayeskii Firearms Corporation - a slight revisit of the Pallas design. Unlike most weapons of similar class, the Pallein fires flechette rounds and features a limited guidance system.

Unlike the Pallas, the Pallein is a lighter, but less punch than the original. While it does feature a similar free-floating servo barrel, it isn't as accurate, and has a higher recoil rate than the FR29. Both are popular models - the B model preferred by bodyguards and urban operations while the original is preferred by general purpose troops.

It is in essence a bullpup weapon with a smoothbore ceramic-composite firing chamber. A limited built-in guidance system which does not require specialized ammunition is built into the receiver of the gun. The free-floating barrel shifts mid-fire to arc the round towards a target or around cover. With specialized ammunition, however, this feature is even more useful as the round itself also guides itself, allowing for arcs of 60 to even 90 degrees.

The integrated electronic sight folds over to the side of the weapon if needed. It features an ocular based point-select system for identifying and painting enemy targets.

The titanium alloys and polymers involved in the weapons construction decrease the weapons weight enough to compensate for the heavy firing systems.

Cartridge: 7.7x28mm flechette: Titanium-cored; fin-stabilized; discarding-sabot
Flechette rounds are, in this case, more powerful and faster than conventional rounds. They are light and fracture into shards upon impact with target. However, their size limits the capacity of the magazine.
> Osprey Standard
> Strayeskii Guided
Fire Rate: Full Auto
Effective Range: 240 meters
Capacity: 35 round mag
_________________________________________________

-TEXT written in PDN

P90-esque magazine inspiration, yes?

(It seems to be the trend of many futuristic weapons; see Bal-27)
Reply

You're bringing this out, right? Awesome,yet futuristic,but realistic! 😜
Reply

Would you mind if I modeled some of these awsome concepts in 3D for my portfolio?I model in Blender and texture in Substance, just starting out and looking for some concepts to model. Tell me what you think, I would post them here for you to see of course!
Reply

Go right ahead! Just make sure you credit me for the design and link it to me so that I may see it when you're done, I love looking at 3d models

Reply

Um.
You may not have quite enough open hooks and other jaggy bits to catch on things in the midst of combat...

Just saying. Cool-looking as usual, though.
Reply

Oh, yeah. This stuff isn't at all designed around realism, just the rule of cool. Thanks though.
Reply

The rule of cool is certainly working well here.

Reply

Thanks man!

Hey, have you ever tried 3d modeling before ?
Reply

You're welcome.

I experimented with it about 3 or 4 years ago with Sketchup.
Reply

Ah. Just asking because I recently got into Blender, pretty awesome tool. I love how you can design stuff into 3 dimensions, allowing for muuuch more freedom in creativity.
Reply