My Street PhotoBlog:
Streets of Athens
***************
If you like what you read, please

this article so it reaches more deviants
---
1. What is the gear that deviant Street Photographers use?
2. What is the dream gear that they'd wish to have?
3. What is the best advice they could give to an inexperienced street shooter?

The answers are right below!
in the order they came into my inbox
NunoCanha says: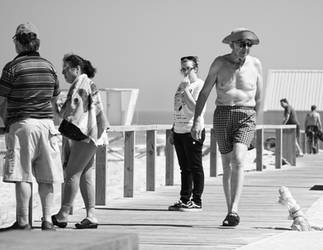 1: 50/50 Nikon D90 / Sony Nex
2: Leica M9P + 35mm
3: Shoot. A lot. Be inside the action, to feel what´s going on with small focal lenght, or step back to realize a worthy context, but never be afraid to press the shutter. Never. You´re doing nothing wrong.

kingmouf says: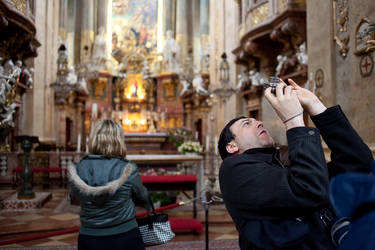 1. I have a 5DmkII and an EOS300 (film). Both share the same 35mm f/2 lens. I use them almost equally.
2. I think the best camera is the one in your hand. I know it is a cliche but then again the problem most if the times is not at the camera but at the photographer.


(now... for some inexplicable reason there came a guy and told me, "Just order whaterver you want, no matter the cost, no matter anything", then I would have really liked a rangefinder. A Zeiss Ikon or a Mamiya 7 ).
3. Practice, practice, practice. Forget about equipment, technical stuff and other distractions and go out. You have to become really social, smile, go close and maybe meet your subjects, delve into whatever situation is going on and above all. Dont be afraid and dont feel that you are doing something that you are not supposed to do. The moment you feel that way, the game is lost because other people feel your fear and hesitation and as a result they react uncomfortably or hostile towards you. Make everything happen as it is the most natural thing that you are there and taking photos. Also study a lot. Previsualize the photos you want to make and leave some room for the unexpected.

ps. making photos without a camera is not really possible (yet). So wherever you go, remember to have your camera with you.



sagi-k

says:
:bigthumb297450826:
To be honest, questions about camera gear are not interesting and a bit insulting to a photographer ( a real photographer).
it doesn't matter what camera you use, the camera doesn't make the picture, the photographer is making the picture.
1. I use whichever camera I hold at that moment, it could be a fancy DSLR, a compact, a micro 4/3, my iPhone, my film SLR, my film P&S or my film rangefinder.
2. I don't dream about cameras... I have better things to keep my mind while I sleep


3. Get close!

ActiveShooter says: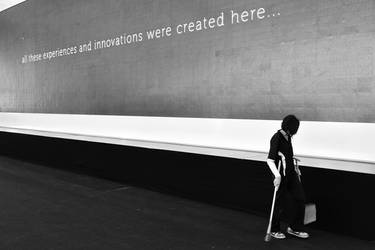 1. Nikon D3100
2. Fuji X-Pro 1
3. The most important thing is the eye, not the equipment. We need to develop our eyes to see the unseen, things people never notice that a good streepher does.
Be your own worst critic and only pick the best photos to show. I think the hardest thing about street photography is having the guts to push the shutter button. I've missed so many good shots as I hesitated and lost the shot.
It's better not to think too much, just push the button. Better to take 100 crap photos and throw them away than lose one good one.
We need to be "eyes about" all the time. And if you see something you have to shoot very, very quickly as the moment will disappear in an instant and will never return.
I'm not too concerned about what others think of my photos, it's a personal thing for me. A form of relaxation, a hobby, a passion. I think that is how it should be, don't be concerned what others think, take the photos for yourself. And eventually you will develop your own style.

minotauro9 says:


1. the main one i have, nikon d700, but i'm increasing the use of fujifilm x10
2. i'm fine with d700 and x10
3. look for something SIGNIFICANT, a good street photo is not just a photo taken on the street, it has to show something, be it an emotion, a relationship (i.e. richness vs poverty, beauty and ugliness, ...) or something special happening. You can either wait in a place (i do it in front of big advertising posters waiting for a relationship) or follow someone you think may be interesting. And don't be discouraged if nothing happens for a whole day. Street photography is like fishing, you have to be patient...

JACAC says: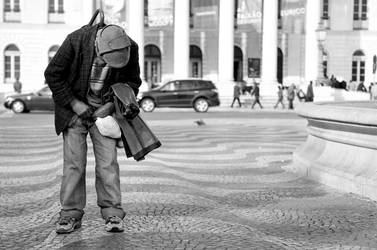 1.My Nikon, and starting last week my new D800
2.I already have it


3.I think i am not

, but if i was i will always shoot with my feelings, trying to see the action and make a good composition (remenber that i am an architect and composition is very important), i don't care about the lens i have, i think that we can shhot a street photo with any kind of lens, the most important thing is to see and not only to look

truerebellion says: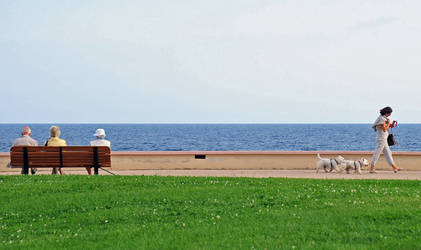 1. Nikon D700 and Nikkor AF-S 24-120/4G IF-ED VR II
2. Leica M9
3. Always bring your camera with you. Don't run all over the city searching for objects. Search for a spot with potential and just wait. Walk around your photospot so you get familiar with the place and check the light, settings etc. Sooner or later something will happen and the right people will pass by etc. Be patient.

myraincheck says: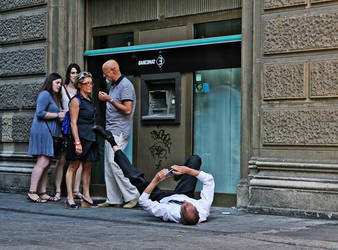 1. I use the cameras in my possession, a Samsung EX1 and a Canon EOS 30D. I mostly use the Samsung.
2. I suppose the answer is a Leica-something, but then if I had the money to buy one I would rather use them for something else

. Cameras are not on top of my dreams


3. Street photography is not photography of streets. It is about capturing people in candid situations that happen in public places. But a GOOD street photo is more than that. It triggers an emotional response, that can be of any kind: surprise, surreal feeling, irony, sadness, tenderness, amusement or provocation. Whatever. It speaks about humanity, human society. A good street photo looks for decisive moments in everyday happenings, unusual ways to look at the ordinary, iconic interactions between people and surroundings. A good street photo usually has a strong connection between its elements. It is not just about people or just about background, but about the interaction between the two. Watch good street photos and open your eyes on what is out there to be seen and captured

PEN-at-Work says:
:bigthumb283286906:
1. The one I most of the time carry with me. A Canon DSLR with either a 18mm or a 50mm lens.
2. Sorry I don't have one. But I wouldn't also mind having a Fujifilm FinePix X100, an Olympus E-P3 and a Pentax K-01. I guess that list could be a lot longer.
3. I am certainly not experienced compaired to most of the shooters I admire, and my best advice would be to never stop watching their (quality photographer, both historical and contemporary ones) works. Without a quality visual input there can be no output evolution. Watch, think, accept your flaws as a depictor (however painful it is, and I know!), and always try to improve. Oh, and don't forget art history as a source of imaging inspiration.

Toolbazar says: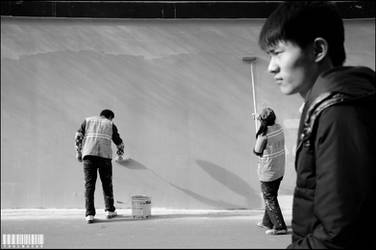 1) The camera I use to shoot street is my Nikon D7000 with a 18-105mm lens. I bought it this last christmas, but most of my deviations here on Da were taken with a D5000, my first camera, with a 18-55mm lens.
2) My dream camera to shoot street...I don't have any preferences, for the simple reason that for me street pictures or even pictures in general are not made by the camera but by the moment, the feelings you put inside with your own eyes and style. Camera is just a tool, and ok you have the choice between better resolution, the least obtrusive one, etc etc...But today I think, to be honest, majority of pictures go through Photoshop or similar softwares to look better. So really, don't think too much about your equipment if you are a beginner but think more about your subject, work your composition, think about the feeling you want to transmit to people. After I can't say I'll never want to hold a smaller one ( Leica M9? Yes in my dreams...) because I'm in China and people notice me immediately, I'm a tall "white" guy here, and when I point a big black D7000 at their faces, I'm not anonymous anymore. Discretion is your best weapon!
3) Street is a difficult field when you are a beginner, because it's not obvious to understand what is "street" about, but here on Da you can find AMAZING people who are really good at this. So my first advice will be to get inspiration from this people, look at their works. Second, you can also find great groups about it, like The Yard Collective, which is a mine of inspiration with a lot of good articles about street photography. And finally my personal advice will be ( I know normally it's one advice

) never go out without your camera, just shoot, shoot and shoot, and the closer you will be from your subject the better it will.

burningmonk says: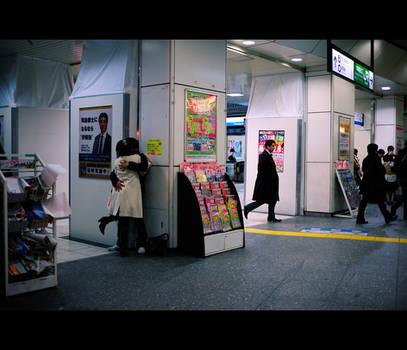 1. Nikon D3 with a Voigtländer 40mm lens. It's big. It's heavy. The shutter sounds like a gunshot. But it handles low light like nothing else, it's fast and reliable and the full frame takes full advantage of the beautiful bokeh and vignetting of the Voigtländer (and any other lenses) when it's wide open. And since I love shooting street at night, the low light advantage seals the deal!
2. I suppose my dream camera would be a high end DSLR crammed into the form factor of a small viewfinder. However, I've never shot with a Leica M9, so I'm not sure what I'd think of it. Perhaps that is my dream camera (more for the glass than the body though).
3. I would say: isolate your subject. Remove all distractions from the frame and clearly show the viewer what you see.

bQw says: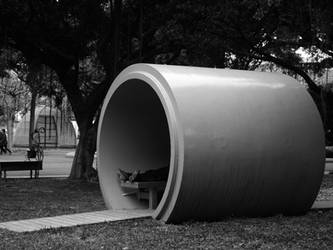 1) a beat-to-hell Olympus E-P2, usually with a 17/2.8 mounted.
2) probably a Fuji X1.
3) never hide what you're doing. In your head you might be a ninja, but if you act suspicious people will treat you with suspicion. If you act boldly, people will assume that you are doing what you are supposed to be doing.

aaroffy says: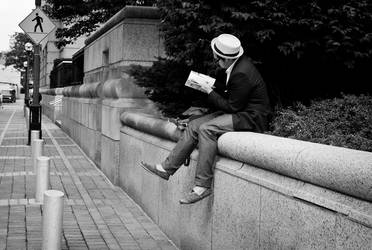 1. This is actually a bit of a joke amongst my friends and family as I have changed cameras often. I have used nikon, canon, and pentax dslr, minolta slr, ricoh grd, leica m8, and olympus ep3. I truly believe a camera is not perfect but a perfect compromise so it is important to experiment and find the compromise that works best for you (just keep focal lengths fairly consistent). The two cameras I have loved the most were the leica (sold because it wasn't useful in other types of photography in my life) and the m4/3. the ep3 was small, had great lenses, looked retro (people seem to not mind retro cameras) and performed great.
2. I loved my time with the leica and I would have to say my dream camera would be to get another leica m8 unless the m10 is amazing. The m9 is okay but is way too much money for what it does, the m8 is quite capable and an absolute pleasure to use. The is a lot of talk about the red dot but I just find the simplistic all manual nature of the camera slows me down and has my brain thinking much more.
3. Learn composition first. The is a lot of talk these days that subject trumps composition but not one of the greats photographs would be great without the solid compositional base in their photos. Composition should always be practiced so when that great decisibe moment happens, it comes as second nature.



Rastislav

says:
:bigthumb260509850:
1. Most of my street shots were taken with a Nikon F3 and either a 50mm 1.8 or 28mm 2.8.
If I'm in a situation where I know I'll be very close to people (like a parade or gathering) I will use the 28mm but other than that I really like using the 50mm. The F3 has never let me down and it's the camera I'm most comfortable with. The downside though is that it's really loud for street.
2.If I had the $$ I would get an Leica m6 with a 35/2.0 Summicron. I had the opportunity of using that combo for a whole day/night and I loved the feel... of course the results were also great!
I just bought a Hexar AF rangefinder, it comes with a fixed 35/2.0 and it's a great alternative to the M6. It takes some getting used to though, the AF is tricky in low light or when shooting through a window. Like any other camera it takes practice but the optics are well worth it, best results I've seen so far from any 35mm system I've had.
3. Be patient, take some time to feel your surroundings and the people around you. Make sure to always have your camera settings ready and prefocus when possible.
If you get those things out of the way then you can concentrate on getting that frame and even composing it right. But before anything I suggest you look at what other street photographers are doing, a good place to start is right here on the "Yard". Do some research, see what others have done in the past and what made them so unique. Shoot a lot of photos, walk around, shoot some more and when you're done, continue shooting.
You will learn from your mistakes and maybe even get a great shot, if you're lucky.

sandas04 says: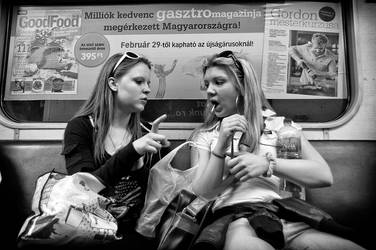 I use only Canon 7 D and planning to buy Canon 5 D III. Feel comfortable with at big camera in the streets. I think Canon 5 D III is my dreamcamera because it is fast, full frame and is a dark shooter. Any camera works well for street photos but you have your photographing to the cameras limitations.

djailledie says: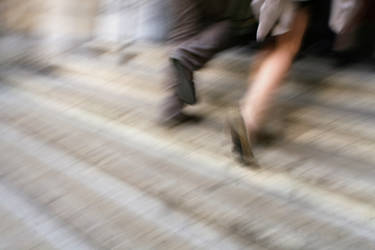 - I always carry a compact camera with me, because you never know when next opportunity will be. It is a Samsung EX1. Works pretty well, once you get used to the time lag. I don't suffer anymore from it, but I have had this camera for 1 1/2 year.
- When I go street "hunting", I have usually more than one camera: A film camera (M6, with a normal lens, or sometimes my Yashica 124), and my old CANON 20D with a 28mm. 24 would be better, but I don't own one...
- My 20D is perfect, no need for more sophisiticated gear. The only thing is that 6 years ago, the LCDs where small, and my sight is becoming bad on it (well, age does that to me).
- Advice for shooting street? Wait and watch. Don't shoot unless you really have something to shoot. Browse photo books, and try to understand why the photographer did it that way (not that you should do the same, but see what he paid attention too). Forget about Photoshop.

Batsceba says: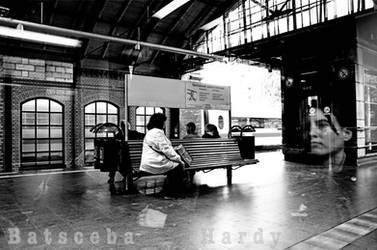 1. I mostly use Blue, a small Olympus, a friend's gift. But I also use my new Nikon, even if it's more difficult not to get noticed when I'm with it, of course. when I am very calm, I have so plenty of time and I'm at ease I use an old Olympus OM2.
2. I don't think the camera makes a good street photographer.
3. knowing how to look. I look for the souls, others look for the smile, others for the loneliness. You don't have to think that you have to find something exceptional, out there, just be sincere.

Ikarisou says: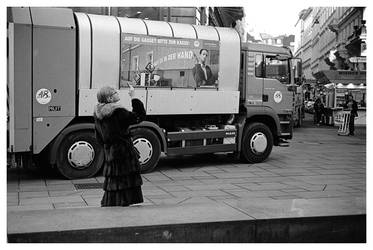 1.Since I bought my Leica M6 with a 50mm lens about two years ago, that's the camera that's always with me wherever I go.
2. Well, actually the M6 IS my dream camera, so there you go!

If I could wish for something, it would be a 35mm lens to go along with my 50mm. But I'm really happy most of the time with my current setup.
3. -Find photographers that inspire you.
-Go out and shoot. And shoot some more.
-Don't worry about doing what you have to do to get the photo, dont listen to your internal dialogue, listen to your gut. Don't be stupid, but get the photo. (That's actually a quote from Chris Weeks, but I find it really good advice).

Nirka says: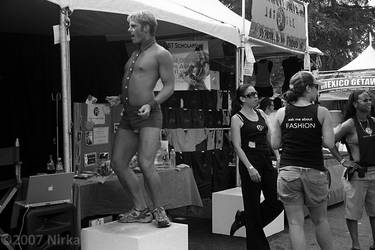 1- I use my Voigtlander Bessa r3m most of the time, although I have aquired the Fujifilm X10 which is pretty good too.
2- I don't have any dream camera, but I am interested in other cameras. I think I'd like to try the Fujifilm X100 for spontaneous photos, and perhaps a Hasselblad (film) for "composed thoughtful photos" because the square format is kind of tricky to play with. My dream camera remains: observation, anticipation and framing.
3- I'd suggest to work with only prime lens and most of all, to get out and practice, practice, practice (which I fail to do).

eyalbin says: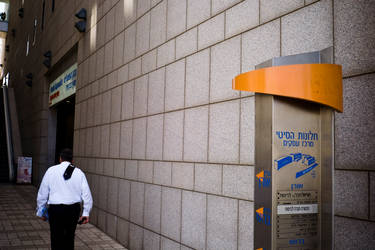 1. My camera (only one...) is a digital rangefinder - Epson R-D1s, I have 2 lenses CV 15mm and CV 25mm (which after the sensor's crop are 21mm and 35mm)
2. I think that my dream camera is still not invented, but in my imagination it has the following features: long lasting battery, zero time response, easy to hold in hand for hours, excellent auto white balance, and a decent sensor. Now I must say that my R-D1s more than qualifies in some of the features, but it doesn't in others (and same goes for the Leica M-9, which is a great camera, but still has some disadvantages)
3. The first and best advice I can give is to have patience. The second best advice I can give is HAVE PATIENCE. The third advice, well, you van guess it. Other than that I strongly recommend comfortable cloths and shoes (I am NOT kidding!!!), a decent camera with fast response time, and to keep a sharp, focused, open mind, you just don't know when will the next frame pop up.

batmantoo says: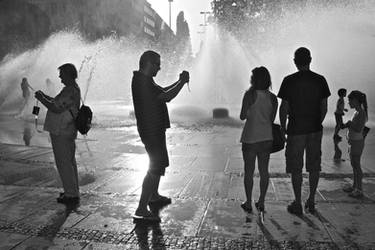 1. Canon 60D with a 24-70mm 1:2.8 L lens. But sometimes I get good shots with my iPhone 4S as well.
2. Leica M9-P
3. Own your gear, as in read the f***ing manual, train and experiment, check the forums to know how to make the best of what you've got, because your subjects will not wait until you say cheese.


Own the street, as in get to know the places well, as in arrive there and see who is there and who is passing through, as in you are the one who is giving us this moment to see, breathe in, relax and enjoy the show.
Street is about the unexpected… if your shots surprise you, you are on the right track.
Shoot a lot and not only street… there will come a time when you can rely on your "trained instincts" while shooting.
And last but not least, love the people who reject your shots and give you good reasons to why… and of course the people who encourage you by telling you what they like.

du-jamais-vu says:

1) i use a fujifilm x100. even though there are a few issues with the camera itself (slow autofocus, slowish start up time, auto iso issues) it's perfect to shoot street with... small and compact, silent, you can go close without people noticing, has a fixed lens so it means you have to zoom with your feet. it's perfect for street! the optical viewfinder is a big plus too... what you see through the viewfinder is a real, undigitalised projection of what is happening in front of you at that exact moment...
2) definitely a rangefinder... and with a full frame sensor instead of the crop sensor on the x100! the only digital full frame rangefinder on the market right now happens to be a leica and unfortunately it's a very expensive camera... it probably will stay a dream to own one of these camera's. on the other hand, i do believe that it's definitely not the gear alone that makes you shoot good street. you need to see things too and be able to capture those special moments.
3) - even when you're not photographing and don't happen to have a camera with you, look around for those special moments... by doing this, you practice your ability to see and connect certain details into a potentially good street photo.
- use a camera with a non-zoom lens. prime lenses are awesome to shoot street with. the zoom is your feet, so you have to move in order to make a photograph. it might be harder, but you'll learn a lot more about composition this way. i'm not a big fan of zoom lenses, prime is the way to go.
- don't be tempted to shoot from the hip or without looking in the viewfinder to compose your shots.
- don't be scared or timid when you want to take the photograph. it's better to take the photo you want to take than to walk away with regret you didn't push the shutter at all.
- quite an important tip can be to stick with your subject for a while when shooting street... if you notice a person that has potential to be photographed in an interesting way, don't just take a picture and bugger off... instead, stick with the person. in the mean time look around for small details or situations in the direct environment that can be linked to the subject and that can be photographed in the same frame, in order to give your picture that tiny bit extra. contradictions are the best, but there are also many other ways to try to take a photograph to a higher level...



DeviousClown says: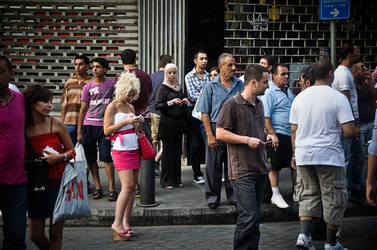 1-The only camera I have and was able to afford. A Nikon D90.
2- Leica M9 ?

Lebanon isn't a an easy country to take pictures in. The size of my slr is scary and people are not used to the concept of street photography. I get arrested a lot! And it gets tiring... a Leica combines perfect quality and size in order to be more invisible. People wouldnt take me seriously... size matters to them. They usually think i'm a spy for either Iran or the Mossad.
3- Integrity/Honesty. To yourself and the people you try to capture whether there's contact with them or not. Keeping an eye for situations and meaning in the littlest of things... everything you're attracted to take pictures of must have some sort of meaning to you. Makes sense.
Take loads and loads of pictures to get better. Share them with better street photographers. Be open to criticism.
Look at loads and loads of pictures and realize what makes them so great...



A-teinna

says:
:bigthumb261574322:
1. Canon Powershot SX1 IS or my Canon EOS 600D
2. Canon EOS-1D Mark IV
3.A. get a good mentor to teach you how to shoot good street.


B. read everything you can find about shooting street.
C. Try hipshooting first with a compact 'tilted' camera (especially when you're a bit shy) With this camera at waist level holding it with both your hands you can look forward and shoot at the side, pretending that you are checking its screen while composing your image on the screen. And there must be a completely silent mode somewhere in the menu.
this was your advice to me

)
D. exam street images from other 'good' street shooters and look at their exif/camera data. Very useful.
E. join a street photography group/club.

SUDOR says: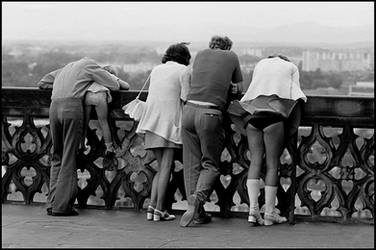 70s to 90s my favorite cameras were essentially Nikon F (F2, F3, F4 and F5), Minox, Leica M, and many compact cameras ...
From the 2000s, I used Nikon digital and a lot of compacts, my favorite being the Ricoh GR-D.
In the street, I like the "light" cameras, Nikon D90 (with 35 mm) and Ricoh GR-D4...
To accomplish a good street photo, you should be not only necessary concentrate on main subject but also and especially on all what takes place around this subject !
And your photo must tell a story...

arslanalp says:


1. I use a D300 body and 24mm and 50 mm (but sometimes 105mm) lenses.
2. Not yet decided (or produced

a mirrorles,full frame, changeable lenses with a reasonable price (means not expensive as a full frame DSLR)
3. -Keep your camera together as much as possible.
-Be patient, be observative
- Be aware for a good shot you do not need to go far away there are a lot near by you, try to find them.

nfilipevs says: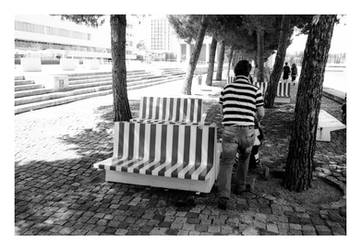 1. the cameras that I use most often for street are my two film cameras, a Zeiss Ikon rangefinder and the Olympus OM1. Because those are the ones that I feel most comfortable shooting with.
2. I always loved rangefinders and leicas so... yeah that's it. the mighty M. lol
but now that I have the Zeiss, I'm good, I don't need any other camera. this one is perfect for me
3. well, I would say, first, know your camera well! it's very important to know how to use it well, knowing it's strengths and limitations. you don't want to be worried about the gear when you're on the streets seeking that moment. Then, be aware of what's happening around you and learn to anticipate those moments!

MARX77 says: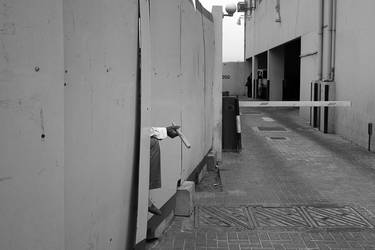 1. My trusty Canon PowerShot SX100 IS, and my Canon EOS 600D.
2. Don't have one.
I'm quite content with both my Canon cameras, and they are both a dream to use!
Besides, any camera is good for shooting street.
3. The best advice I can give is: Love.
Love the subject in your viewfinder.
Love the mundane.
Love humanity.

ohyouhandsomeDevil says: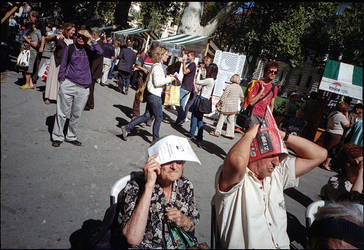 1. I use a small analog camera that fits in my palm. It's Olympus XA2.
2. Idon't have a dream camera but i would love to have leica m series with 35mm prime lense and new fuji x-pro1.
3. Don't start tomorow, do it today. And try to shoot as often as you can. Be friendly, stay open to any situation. Watch what others do, but not too much. Talk about your expiriences with your collegues.Leran how to edit and be hard. And of course, stay amazed!

StamatisGR says: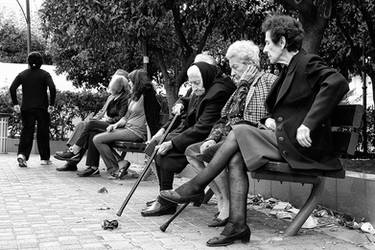 1. I use a Nikon D90 with a prime 28mm or a 18-105mm or 10-20mm lens and a Samsung EX-1 with a 24mm lens
2. My dream camera has not been made yet. It would have the size of a pack of cigarettes, a full size sensor, a 28mm lens @ f1.8, a bright viewfinder and a tilting lcd screen, it could shoot at ISO3200 without noise (optical or audible) in raw format and it would cost less than 250 euros

MPxs? 5 of them would be perfect for me.
3. After getting back home from a street photoshoot, take a look at the images that you took and delete the ones that are not good.
Then, forget the rest for at least 10 days. After 10 days, look at them again. And again delete the ones that are not good. You may come up with zero images left to show, but trust me if you are left with an image or two, these will be damn good!
Remember that great photographers take shitty images as well. They just don't show it to the public.
So, be very extra ultra super picky with what you choose to post.
A big thanks to all the amazing street shooters who contributed to this article!