Fan Art Interview with JasmineAlexandra
Project Educate: Community Week
Asked & Edited by RTNightmare
Introduction
Hello everyone! For this interview, I'd appreciate it if you read all of it and did not criticize Jasmine [JasmineAlexandra]. Please be kind and courteous and don't criticize her for what she likes or doesn't like. This interview is to share the point of view of a special person in the Fan Art Community on deviantART. So please, treat her with as much respect as you want to get for your points of views, etc. Thank you!
*~*~*~*
(1)
What's your favorite fandom of all time?
Well, the one that was my favorite was Invader Zim… It made me come out of my shell & open a DA account. Before then I would hide my fandom, thinking I was weird & alone. However, as I discovered DA, it was the first site to make me open my eyes to this odd world.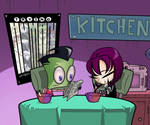 (2)
What fandom are you currently in besides your all-time favorite?
Hmmmm…. Well I have to say I am a big fan of Kung Fu Panda & DreamWorks, though KP is my favorite one of DreamWorks. There is also Mass Effect… It has caught my attention. However, I am working on a fan comic based on the characters of "Un Monstre à Paris" with a sweet heart of a friend, cherubim 101

.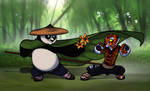 (3)
Which fandom do you draw the most?
Well Invader Zim dominates my gallery. There is something about that cartoon that I always find myself pulled back into. The characters just seem so original yet it ignites my imagination…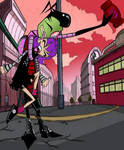 (4)
What do you draw from that fandom that you draw the most?
Well…it is usually Zim & Gaz… they make quite an interesting duo… I do a fan pairing of them though at first when I did, I was so nervous about it.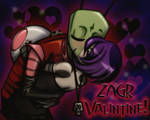 (5)
What's your favorite character?
I would say Gaz… she was the first apathetic female character in cartoons. Even before Grim Adventure or anything else. Usually female characters were peppy pastel female versions of the male leading characters before them. Now I feel that Gaz opened the doors to female characters that were not all sunshine & rainbows. Not that there was something wrong with that but it was tiresome. Now some female characters can be dark yet endearing.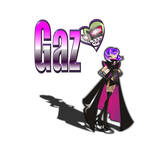 (6)
What's your favorite Book? Movie? TV Show?
My dearest one that I have read repeatedly is "A Long Fatal Love Chase" by Louisa May Alcott, which is my favorite. Don't get me wrong I have read the classics such as the "Good Earth" & "The Color Purple" but "A Long Fatal Love Chase" was the first book that really took me in surprise.
As for movie…it is Kung Fu Panda, and then Kung Fu Panda 2…
As for television show, I would have said Metalocalypse… but "Regular Show" is starting to get some of my attention… I guess I will have to see how things go on with the show. However, I love the History channel & Discovery channel. I love shows like American Restoration & Pawn Stars, Dirty Jobs… It is hard to decide. (laughs) I like different shows for different reasons.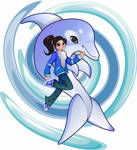 (7)
What about them makes them your favorite?
Well the book "A Long Fatal Love Chase" by Louisa May Alcott took me by surprise & just was everything I never thought a classic would be… it had everything from world traveling to fatal attraction… The characters were Victorian & haunting…
As for Kung Fu Panda movies… I like a movie that can make me laugh then cry then laugh again. Who did not tear up at the scene with Po remembering his sad past? Besides I loved movies of Martial Arts that it was something that I thought was going to be a spoof but it blossomed into something more. The coordination…there is not enough I can say about the movie…
The reason I like shows like American Restoration & Pawn Stars, Dirty Jobs, is that I love them working on the projects but also the teamwork & family camaraderie. I used to like LA Ink & American Biker but after the break ups, it was like watching a bad divorce. I could not stand watching a broken family.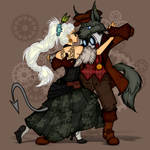 (8)
What's your least favorite Fandom?
L.A. Ink… any MTV reality shows… But I guess early on it was Zim & Dib fan pairings. I never liked it.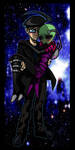 (9)
Why don't you like it?
I guess early on, the popular fan pairing was Zim & Dib. I never liked it & even though I had nothing against it, I only knew that the original artist hated it… the fans of that pairing were so rude & aggressive with it, despite the artist's disdain of it. (Though he probably is not crazy about my fan pairing as well… perhaps he is more apathetic to it than hate *chuckles*) It got personal with me when I saw them attacking a Zim & Gaz piece of art someone made. They kept shoving the pairing in people's faces. There was only one artist who had a flair for the Zim & Dib pairing & was polite about it, though I didn't agree with her choice, she did make a good example of it. So I thought if she can do it & make it beautiful then I could do the same for the fan pairing I like. So I began drawing Zim & Gaz in my best. Growing & learning how it is done. Soon it began to catch on thanks to some friends who encouraged me. It is thanks to my least favorite fandom that I began to draw fandom myself.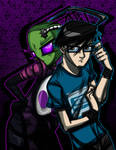 (10)
If you could create your own fandom, what would it be about?
Well…whenever I like something, I draw it, when it inspires me. However, I like drawing fandom for underground comics (usually web-comics) if they are tastefully done. I have my own characters I created but I want to work on them more before I put them in DA. Besides there are so many fan art I need to finish up. Still I can't think of anything for now… I would say though that no matter what, it would have to have romance & fun. I am a sucker for romances that span worlds & race… I guess like the saying goes, "Men are from Mars & Women are from Venus" (ha-ha)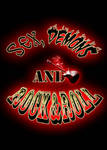 *~*~*~*
Thank you, Jasmine!
I want to thank JasmineAlexandra for doing this interview with me. I can tell by her words that it was hard for her to sometimes express herself with her art. But I'm glad she had and still has the friends that helped her out, otherwise we would've never seen her amazing and talented art pieces. Jasmine is one of the many artists who has a great style, an interesting and unique perception of art, and a positive attitude. Those are only some of the reasons why I chose her for this feature. I also chose her because I didn't know much of what she told me and I'm thankful that I know now. Now I ask that all who read this go check out more of her art and possibly watch her. She's great at what she does…an original Fan Artist!
Thank you again, Jasmine!
RTNightmare