Where to begin with your M/A art
The Manga & Anime gallery is full of so many lovely pieces of art; You want to create your own M/A art. That's great!

...You have
no
clue where to get started though.

Not to worry, for as there is a ton of great art in this gallery, there is just about as many great tutorials on how to create it.
For your convenience, I've compiled a list of tutorials on various aspects of the M/A art creation process. This list is by no means comprehensive, but it's a good place to begin.
Anatomy
Learning proper anatomy is fundamental to the creation of any style of art.

:thumb191997487: :thumb211755130:
Inking and Lineart
Traditional Media
Coloring your art with traditional media (i.e. markers, watercolors, colored pencils, etc)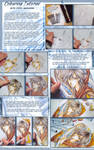 :thumb52288066: