Polymer clay is a modeling compound consisting mainly of polymer polyvinyl chloride (PVC) and plasticizes to make it pliable. As you can see it's easy to define polymer clay, but there's no possible way to describe all the variety of things that can be achieved with it.
In this article I will recollect some of the best resources and guide you through the basics of polymer clay, if there's anything I didn't cover here please don't hesitate to leave a question, I'm sure me or other polymer clay enthusiasts will be happy to help you

I will be referring to polymer clay as it's my medium of choice and expertise, but many of these resources can be used for other kinds of clay. You can even
make your own clay
, so there's no excuse not to start sculpting!
Why polymer clay?
There's many reasons to pick polymer clay,
Snowfern
made an
incredible review
comparing pros and cons of polymer clay vs air dry clay (scroll to the bottom for the comparison table).
Some of my reasons to prefer polymer clay are:
It comes in many colors, pale and bright, matte and shiny, opaque and translucent. So it's easy to get the exact color I want.
Since it doesn't air dry I can work on something for days or even weeks until it's perfect, or bake it and have a finished piece in just minutes!
It holds textures and shapes beautifully. Also, it lets you make thin or tiny pieces.
It can be sanded, carved or shaped in almost any shape you can imagine, and it allows the use of mica, acrylic paints or patinas for incredible results.
It bakes hard and is very sturdy.
Liquid polymer clay. We have a love/hate relationship, it can be very messy and ruin my worktable, but also it's extremely useful when making miniature food.
Start-up Tutorials
One of the most common questions I get is "how do I begin working with polymer clay?" well to be honest it's pretty simple, all you need is the clay and an oven (a toaster or conventional oven, but never a microwave). You can build up from there as you need it and as you branch into different options. These wonderful tutorials will help you decide what tools, setting and techniques may work best for you:
Can't decide what brand of clay to buy? check out Battle of the Brands - The Polymer Clay Conundrum by monsterkookies.
If you don't know where to get polymer clay where you live, the polymer clay buying list by semi-sweeties may help you, it includes many countries and it's constantly growing!
Polymer Clay 101 also by monsterkookies is a great reference, also make sure to check out her article about polymer clay safety before you begin.
Beginner Projects
I always advice that you choose a simple project to begin, I've seen many people getting discouraged because they were too ambitious. These are some of my favorite fun projects that will teach you many of the techniques you'll need for more complicated pieces: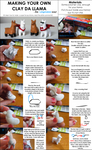 :thumb45828570:


:thumb87654366:
Chocolate charm | Pascal (Tangled) | Clay llama | Octopus charm | Mini waffle | PB+J | Cute bow
You'll notice that you can make a lot of things with polymer clay. Personally, I like to divide what you can do in three major categories: sculptures, food and jewelry. I advice that you try a bit of each and see what you like best, the tutorials above will give you a taste of all of them.
Sculpting Tutorials
You can sculpt pretty much everything from polymer clay, deviantART contains an extraordinary collection of sculptures and tutorials that will be interesting for the experienced and beginner alike.




This wonderful tutorial series by
SgtMilenko
covers everything from clays, tools, armature, textures, sculpting the head and even the scenery.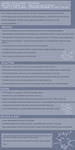 RennardX
wrote this incredible series of tutorials that guides you all the way from mixing the clay colors to the finishing touches of your sculpture. It's extremely detailed and extensive, definitely worth reading!
:thumb55889006: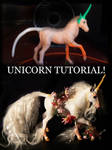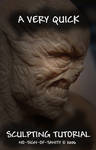 :thumb167809431:
Some more amazing tutorials with useful information about sculpting the human body or animals.
Food Tutorials
Making food with polymer clay is very popular, it's mostly used for doll houses or novelty jewelry. Some artists have achieved an extraordinary level of realism, and many of them are also active on creating tutorials and helping others improve. This is only a small sample of the MANY tutorials about food making.
Jewelry Tutorials
Unfortunately there's fewer jewelry tutorials than the other two (hint hint!) but the ones that exist are very interesting!
Conclusion
That concludes this guide through polymer clay, there's many more tutorials, fields and aspects I would have liked to cover, but this is good enough to start or to expand your knowledge. Please don't hesitate to leave a question if you have any, and visit some of the many polymer clay dedicated groups in deviantART, many of them offer help and organize constant activities.
Extra resources
Painting polymer clay
Glazing
Smoothing, sanding and buffing polymer clay
Applying Pearl Ex Patina
Rapid Cooling to Harden Polymer Clay
Liquid Clay 101
Some more polymer clay tips