When I was in school, our life-drawing teacher had us focus on just one area of the model's body as we drew, attempting to form an impression of the rest of that body by staring only at one focal point.
Gradually, the arms and legs would burn into the periphery of what we saw while we were staring at the model's left eye, for example, and it was that peripheral impression we'd try to convey with our stumps of vine charcoal, hopefully resulting in drawings that replicated what we actually
saw,
as opposed to what a camera might see.
That kind of focus and concentration brings on an easy, trance-like state, and unveils the beauty of human flesh, no matter what shape it's in-- models who would likely never turn up on the cover of Italian Vogue would nonetheless glow under the spotlights of the classroom, and you'd see what a miraculous thing it is for the human body to absorb and reflect light; how that light defines shape and casts differing intensities of shadow. We'd come away from these sessions with a different notion of beauty than the one we'd come in with, because learning how to draw is really about learning how to
see…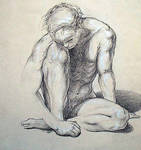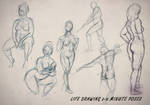 :thumb158112714: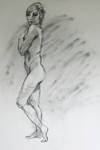 :thumb265815012:
Most big cities will have a group of artists, somewhere, gathered around a model they've all chipped in a few dollars each to pay for an evenings worth of poses. Just Google
"Life Drawing Sessions"
followed by the name of the city you live in, to find them. Otherwise, ask a friend to pose for you…

A large tablet of inexpensive, roughly textured newsprint; a bag of vine charcoal; a kneaded grey eraser; one or two large sheets of good pastel or watercolor paper with a heavy texture, and someplace to sit or stand, as well as a wooden horse of some kind to drape your newsprint tablet over, and you're in business.
It's smart to warm up with some quick "gestural drawings"-- set a timer for one-minute blasts, and sketch the overall gesture of the model's body, starting from the tilt and inclination of the spine and quickly building out to the head and limbs. Have your model shift poses dramatically at the end of each minute. By the end of 15 minutes worth of these rapid sketches, you'll be ready to increase the timer to 5 minute poses-- more visual information to record, but still the same attempt to gather just an overall impression of the body and its gestures. Then settle the model into a comfortable pose that can be held for half an hour. Try to focus on just one eye, or one ear, of your model, and get your impressions of the entire body down as well as you can while staring
from
that one determined focal point outward.
At the end of this half-hour drawing, take a 10 minute break, and then come back with some good, heavily textured pastel or watercolor paper, and take all the energy and lingering impressions from the first hour of drawing into a sustained, hour-long study of the same model…
Whatever your particular artistic outpost is on a daily basis, there's nothing that can recharge your drawing batteries more thoroughly or pleasurably than life-drawing; and it's more addictive than nearly everything else competing for your spare time, too.