YANDERE-CHAN



Real Name: Ayano Aishi

Age: 17

Height: 5 feet, 4.1 inches

Weight: 43.5 kg (95.90 lbs)

Feats: Murdering anyone who threatens to take her Senpai

Got Kokonea's father out of debt (along with other people) by kidnapping the daughter of the loan shark

Was able to mentally break students in an impressive amount of time for someone at her age

Skills/Abilities

Stealth (yeah, she has it)


- Can go unnoticed while walking through a crowded school
- Managed to break into her Senpai's home and steal a toothbrush
- Able to kidnap students without being seen, including the daughter of a loan shark
- Stalks Senpai frequently without him knowing

Speed


- Fastest runner of all her classmates
- Runs down the stairs in one second
- Can kill 5 people in around 15 seconds
- Kills people fast enough that they are unable to react most of the time
- If Senpai is in danger, she gets a boost of power and determination, so her speed could increase if this happened

Stamina
- Never runs out of breath after running
- Can walk around carrying a human body for as long as she wants without tiring, either
- Able to push around heavy dumpsters without tiring out
- If Senpai is in danger, she gets a boost of power and determination, so her stamina could increase in this situation

Strength


- Can lift (and drag) a human body effortlessly
- Takes down students with one hit
- Can push around heavy dumpsters that could have a corpse inside and filled to the brim with trash
- By Week 10, she is able to lift and throw full-grown men off rooftops (and this is possibly her best feat of lifting)
- can toss a body into a furnace with just as little effort
- usually can land a fatal blow on victims on her first stab, or just with one hit with a blunt object
- Able to overpower the toughest teacher in the school
- All teachers in the school are trained in self defense
- She is also able to win against a martial arts master
- This is extremely difficult to do, though
- During her training, she eventually was able to punch a punching bag hard enough to break the chain
- Can stab a knife straight into a skull with ease
- If Senpai is in danger, she gets a boost of power and determination, so you can guess what would happen to her strength


Durability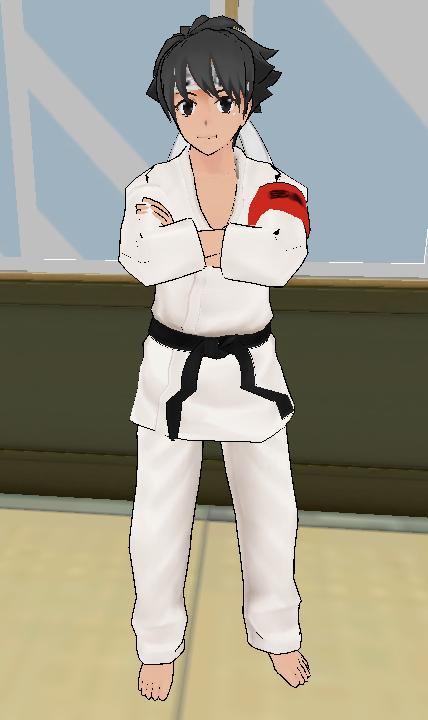 - Able to take hits from trained martial arts experts (specifically Budo Masuta, who has never lost a single fight)
- Can handle being slammed into the ground
- Has some pain endurance
- Pinched her arm until it bled (Crush Crush)
- If Senpai is in danger, she gets a boost of power and determination, etc.

Intelligence
- Creator of the game actually said that, by Week 10, Yandere-Chan would be as

knowledgeable as a professor in multiple fields


- Will become an 'MLG Pro' at any game she has to play in order to protect Senpai
- Will play Hitman to train
- Can trick most people into doing what she says
- She somehow knows how to 'mindbreak' a student in at least 40 hours
- Sociopathic and insane

Seduction (yes, this is probably a little important to note)


- By Week 10, Yandere-Chan can become as 'seductive as a succubus', as said by the Dev
- She gains the ability to seduce males AND females by reading mangas
- Those same mangas can numb her enough that she barely loses sanity by killing
- With her seductive abilities, she can make students of both genders do things for her based on her charm alone

Torture


- Within the span of 40 hours of torture, she can mindbreak someone, making them do her bidding
- The victim will kill themselves after completing the task

Yandere Vision


- When Yandere Vision is activated, everything becomes blurry and time slows down
- Yandere Vision allows her to see characters and objects of interest through walls
- the only people she can specifically see are her rivals and Senpai
- A loophole to this would be to count her opponent in the DB as a Rival

Insanity


- A state she will enter when she has committed too many acts of violence
- She will throw caution to the wind in this form, becoming reckless and sloppy
- It will be reversed by looking at pictures of Senpai, being near Senpai, changing out of bloody clothing and laughing hysterically
WEAPONS



Katanae


Found inside a case in the headmaster's office


- about as long as her leg
- Can make a cut bad enough to make someone bleed out in a few seconds in one swipe

Knife
- Found on rooftop and inside Cooking Club
- About as long as her hand
- Like the katana, one jab from this can make someone bleed out in a few seconds

Scissors
- Found in Sewing Room
- Just the size of ordinary scissors
- Will not make her be seen as suspicious
- Like other weapons, one stab will lead to bleeding out in short time

Syringe
- Can be used to stab someone and make them pass out
- Found in the nurse's office

Poison
- Used to poison someone to kill them
- will leave no evidence of murder
- Emetic Poison will simply make someone sick instead of killing them

Screwdriver
- Look like normal screwdrivers
- Like you'd expect, will cause someone to bleed out quickly from one stab
- Can unscrew the lightswitch in the bathrooms so someone can be electrocuted

Box Cutter
- a box cutter
- Found in Art Club
- You know what it does by now, with the bleeding and whatnot

Baseball Bat




- Can be found outside the gymnasium
- would be used as anyone would use a baseball bat to beat someone up

Circular Saw


- Found in the shed
- Can be used for dismemberment

Energy Sword



- only used when Cyborg Mode is activated (see below)
- can dismember anyone in your way

Fire Extinguisher


- Found on all floors near the bathrooms
- can be used as a bludgeoning tool

Ritual Knife


- Found inside the Occult Club
- Used during a Demon Ritual


- In order to start a ritual, Yandere-chan must do the following:




To perform the Flame Demon's Ritual
1. Yandere-chan must obtain the ritual knife from the Occult Club and heat it up with the blowtorches in the Science Club.
2. She must place the ritual knife back in the skull until it starts to glow in flames. From this point, any student stabbed with the ritual knife will be set on fire.
3. To finish the ritual, Yandere-chan must kill five students and place them in the summoning circle.
4. After that, two flame orbs will appear floating on Yandere-chan's hands, her pupils will turn white and she will begin to levitate in a long grey dress. From here she will gain the ability to shoot fire from her hands
The Pain Demon's Ritual
1. To perform the Pain Demon's Ritual, Yandere-chan must kill five people with the ritual knife and dismember them
2. She then must drop their arms inside of the ring of candles in the Occult clubroom.
3. After that, ten bloody, white hands will rise from the ground around Yandere-chan, as she loses her pupils and starts to levitate.
4. The hands will stay in a circle around Yandere-chan, and she will be able to fly in any direction
5. Any person who is not Senpai that comes into contact with the hands will immediately be dismembered, giving a strangled cry of pain.

Shovel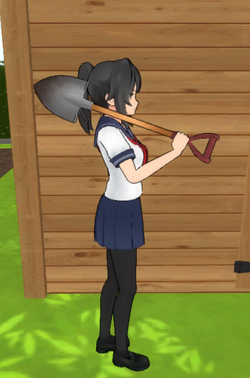 - Found outside the shed
- Can be used as a bludgeoning tool
- Can also bury bodies (obviously)

Dumbell


- Found near the placeholder club leader of the Sports club
- Can be used to crush students, or anyone

Axe


- Found outside the shed
- Able to chop people up


Magical Girl Wand


- Found in Drama Room
- When she hits someone with it,

red hearts will begin to flutter around her for a short amount of time



Phone


- Tells her of the tasks she needs to do
- Allows her to take and view pictures
- Allows her to get favors and information from Info-Chan depending on how many panty shots she gives
- This can't be used in a DEATH BATTLE situation given the "no outside help" rule
- Has information on many people that go to her school on here
- Could possibly add her opponent's info on her phone if she discovers anything
Vehicles

Bike


- Usually just rides it when going to town
- Rides it very well, and can somehow do jumps with it

MODES

Bad Romance Mode


- Bad Romance appears behind Yandere-Chan and will throw a rapid flurry of attacks at whoever Yandere-Chan wants to hurt
- Reference to JoJo's Bizarre Adventure

Bad Time Mode


- Yandere-Chan will resemble Sans from Undertale
- She will be able to use his attacks from his boss battle (Gaster Blasters, bones, etc.)

Cirno Mode


- Reference to Cirno from Touhou
- Yandere-chan's outfit and hair becomes blue, her skirt changes to look like the bottom of Cirno's dress, and white "ice" wings grow out of her back
- She can shoot ice out of her hands to kill anyone from far away, provided there are no obstacles in her path

Cyborg Mode


- Yandere-Chan's outfit changes into a black cyborg suit with a neon blue visor
- She will acquire an Energy Sword (see above) that can dismember anyone in her way
- Her speed will be increased

Ebola Mode


- Yandere-chan becomes deathly pale with pink pigtails that resemble the Ebola virus
- Anyone she touches will die instantly

Falcon Mode


- Yandere-Chan dons a full body suit of Captain Falcon
- She will punch forward very fast, sending anyone in her way flying up into the air
- She will move very fast, making it slightly difficult to move around in tight spaces

Galo Mode


- gives Yandere-chan tanned skin, gold bracelets, sunglasses and Super Saiyan hair.
- Yandere-Chan is able to "power up"

Punch Mode


- Yandere-Chan will become bald and don One Punch Man's outfit
- She will be able to use his iconic punch

Slender Mode


- makes Yandere-chan's uniform turn a very dark grey, her skin turn completely white, her eyes turn blank, and her body shape resemble that of Slenderman
- Her sanity is low on this mode

PANTIES

Low Leg Panties


- Pools of blood created after murder will be smaller.

Stealthy Black Panties


- Students will have a smaller range of sight - meaning that they won't detect murder or suspicious actions as easily.

Spats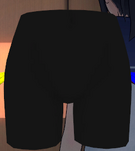 - Yandere-chan's running speed is increased to six meters per second, if not combined with anything else.

Lewd Lacy Panties


- Yandere-chan will leave less bloody footprints.

Tiny Thong Panties


- Yandere-chan's sanity meter will decrease at a much slower rate. It will take ten kills to become completely insane.

WEAKNESSES
- Has never been in an actual one-on-one fight
- she is still just a human
- A good hit to the head with a baseball bat could knock her out (though that is just game mechanics, and it is possible it will change)
- Only ever thinks about her Senpai
- No feats of durability (besides the one that would only make her around Athlete Level)
- Killing too many people or getting too much blood on her will deplete her sanity, making her unable to rationalize
- Completely emotionless (only feeling things for Senpai)
- If Senpai sees her killing people and reacts negatively, she will become heartbroken and collapse to her knees quickly
- If she were to SNAP (which she has the option to after a Game Over), she would lose the ability to rationalize as well, since she would actually break mentally