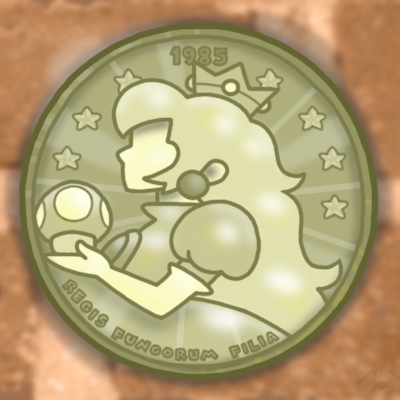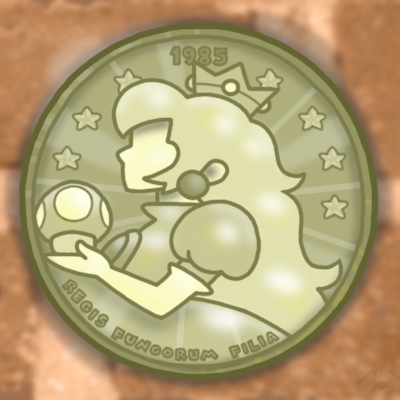 Watch
Regis Fungorum Filia
October 2009
Wacom Intuos 9x12, Adobe Photoshop Elements, Google Images

I always wanted to show a coin from Super Mario Bros. looking how it might look if it followed the design pattern of most coins in the world, instead of the plain rectangle (which I assume represents "1") that the coin officially shows.

Heavy, golden, and depicting the realm's young monarch, the inscriptions "Regis Fungorum Filia" (Mushroom Princess) and "1985" (her year of birth, as it were) fill out the theme. The seven stars around her even incorporate the realm's religious iconography, while the mushroom represents their agriculture.

I had originally planned for the Latin to say "Myconid Regina", but Drew Mackie of Back of the Cereal Box, my favorite amateur lexographer, proposed a different approach:

Princess is difficult because no exact work exists in Latin. The literal translation of the concept would be regis filia, "daughter of the king," which is kind of bad in this case since there's no actual king in the Mario games. The proper Latin for "mushroom" is fungus, so wIth "of the mushrooms," in the plural, it would be regis fungorum filia.