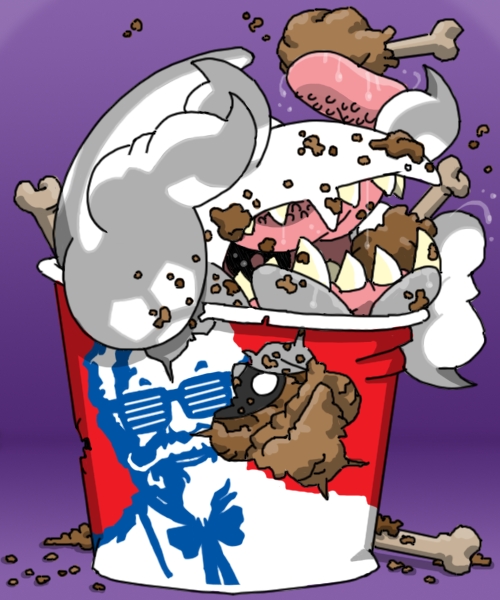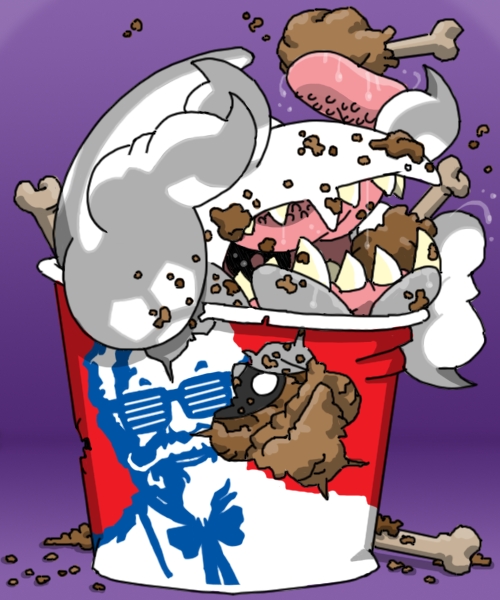 Watch
Clearly, things went a little differently for the Colonel in the Snipe Hunt Universe.

Didn't even leave me a biscuit.
Reply

This is most adorable. I recognise the Colonel's hip goggles as those of Kanye West. Is this true, or do they have another, less brand-recognisable origin?

Now I'm going to have to criticise it, because you're asking me too. The thing that stands out for me is the end of the tongue. I don't know what happened but it look detached from the rest of it, as if it's a different appendage altogether.

Still, this couldn't have come at a worse time. I missed out on KFC today...!
Reply

Yeah, I tried a few things with the tongue. In the end, the end (ho ho ho) was supposed to tangent over in a questing sort of sentient-tail, crooked finger way, in order to find the out-of-reach chicken leg.

Kanye does wear those slatted sunglasses, but it's actually quite retro for him to do so, as they were introduced in the '80s. The latter is what the Colonel is supposed to be representing.
Reply