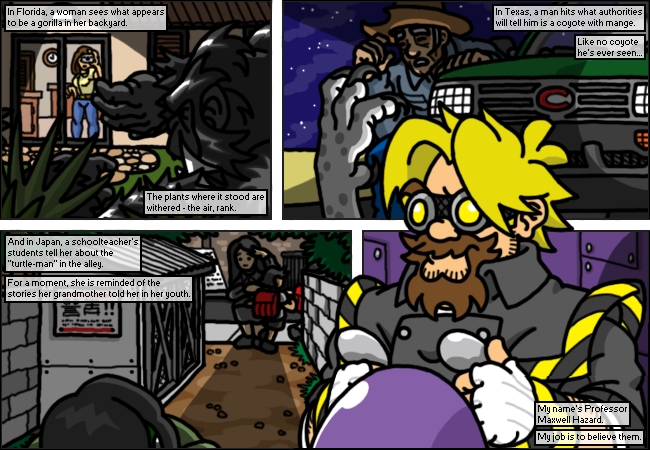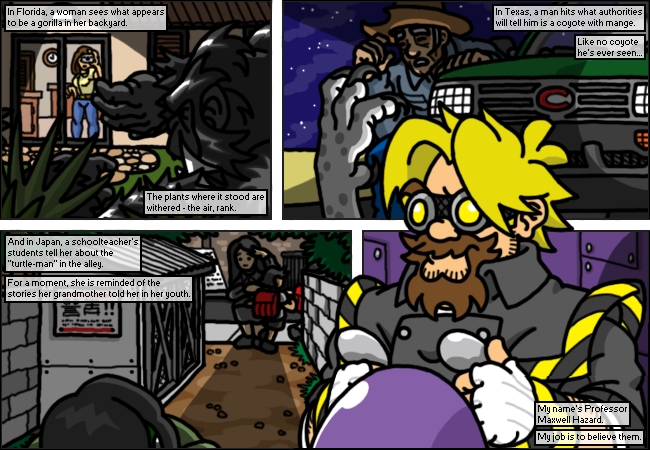 Watch
Meet Professor Hazard
January 2008
Wacom Intuos 9x12

What was originally intended as the first page of a new "Snipe Hunt!" series of comics ended up being abandoned for over six months and leading nowhere. As such, I'm re-christening it as "Meet Professor Hazard", as it is a perfectly encapsulated miniature biography of the man.

I had a lot of fun making this page, and a lot of details are packed into its four panels. The first panel shows the famous Myakka skunk ape photograph, as seen from the perspective of the skunk ape. The second panel evokes a kind of thriller movie shocker, as the mottled hand of the chupacabra clutches weakly at the air. The third panel was a lot of fun, looking up pictures of Japanese alleyways, most of which seem to be immaculately clean. And of course there's the Professor himself, looking quite nice in the cockpit of the Hazard Labship.

Professor Hazard is ™ © ® @ et cetera Snipe Hunt Media.