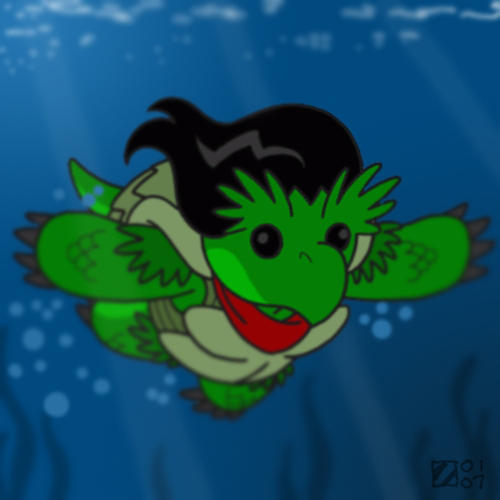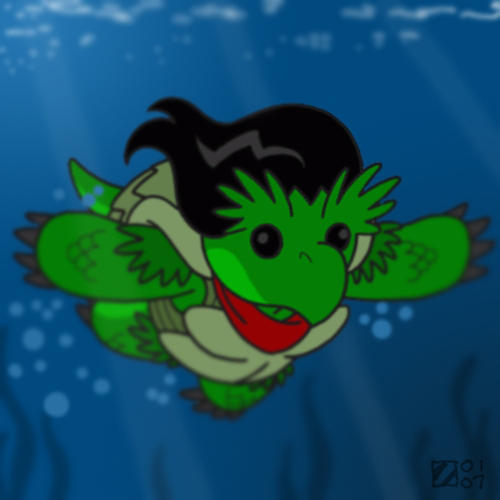 Watch
Kappa
January 2007 (original)
May 2008 (digital)

A kappa, as they appear in the Snipe Hunt universe, swimming through the ocean.

Kappas possess intelligence greater than other cryptids, and thus graduate to a demi-human level of classification, such as the sasquatch. Existing in an undersea colony near Japan, the youngsters enjoy sneaking into the human cities, interacting with schoolchildren, the elderly, and others that respect the old ways.

The oldest kappas distrust the humans and discourage interaction with them, owing their prejudice to memories of a time when kappas were hunted. Snipe Hunt kappas have hair composed of a special, fibrous material that absorbs oxygen, allowing for deep-sea dives that can last hours. Their adherence to Japanese tradition led to them often being tricked into bowing in an encounter, which left them open to surprise attack, where they were often killed and scalped by honorless men.

The image of the bald kappa, as shown in toys and artwork of the modern day, is actually an offensive stereotype to living kappas, as it depicts them post-scalping. To them, such imagery is considered extremely hurtful. However, the young kappas who interact with human society do not begrudge humanity its commercialized interpretation of them.

Pretty cute!

Reply

This is amazing the blur make me feel like I am underwater
Reply

Thanks a lot! I don't know if I could even do that water effect again, but I feel the same way.
Reply

Notice its resemblance to a ko0pa.

Reply

Very cool adaptation there, Prof. Is this guy gonna come into one of the comics in the near future?
Reply

I agree with the Fandango, that's a very well-applied blur right there. It would've been
extra
cool if the Kappa became bluer the more blurred it was, to get more sense of depth, but that'd take some time to do

Reply

Good point. However, I feel that as small as a kappa is, one does not want to imply it has too much depth from stem to stern.

For longer things like a submarine or a Loch Ness Monster, however, I will remember this tip.
Reply

That's true, I see now how such an effect would cause the Kappa to seem a lot bigger than it is

Reply

Well I had to doublecheck that neither my screen nor eyes were fogging up, but it was in fact a rather well applied aquatic blur.
It's a good look for the little fellow, I was wondering when we'd get to see the Snipe Hunt kappa, since they're a pretty well known cryptid.
Also racial parallels.

My kappa has a grammaphone growing out of his head.
Reply

Well-applied, you say? That's good. I was afraid I overdid it.
Reply

No I think it's convincing, which only unfortunate in that it makes my eyes water if I look at it for too long.
Reply

This one obviously likes human culture enough to wear a shred of clothing, that bandana!
Reply

Reply

I'm afraid the lady takes the prize for this one. This kappa may end up being part of a storyline in which its red bandanna differentiates it from others.

I had even toyed with the idea of it joining the crew!
Reply

YOU SAY.

I remember serving a term at Hazard Laboratories and while I admit I spent much of my time whooping and jibing from the back of the class I remember the story about the Kappa having a hammock-like tongue so as to properly scoop up delicious vegetables.
Reply