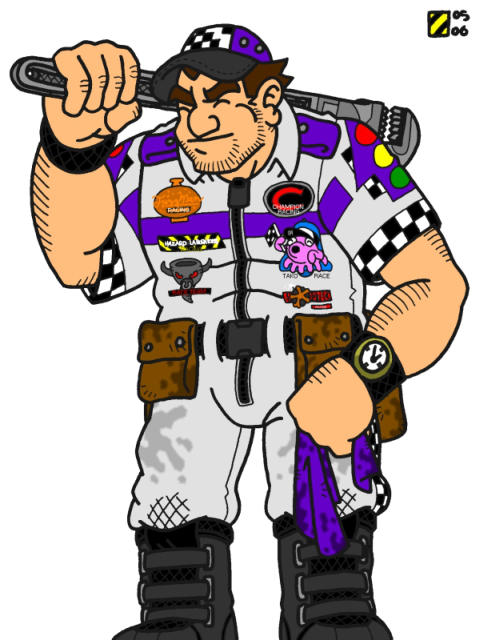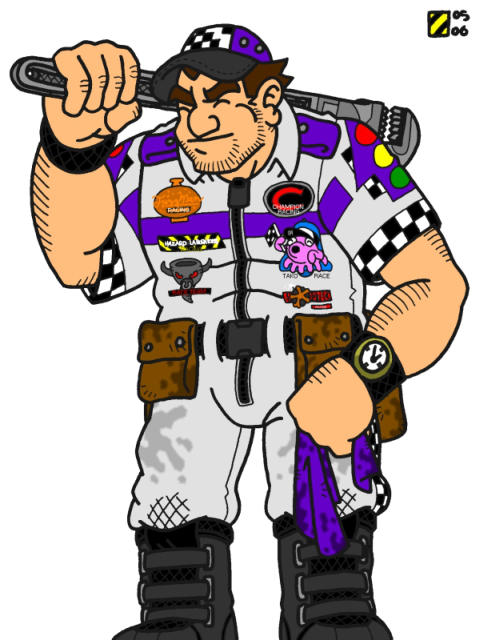 Watch
A commissioned art piece bought by Speed Lancer for $25.

It's his brother, Gnarkill, who I was informed to draw in a "mechanic's outfit, with toolbelt, black and white checkers, and some purple". I think I succeeded at that masterfully, even though he ended up being a NASCAR style mechanic instead of a regular one.

The name "Gnarkill" already belongs to something, though, so I began to think of the pic - the boy's name is Phillip, by the way - as "Philler Up", referring to filling a car with gas. Apparently this was already something that Phillip's family calls him on occasion, so that worked out well.

There are several references to Snipe Hunt universe companies on the patches on his outfit. Can anyone guess them all? I doubt it, because some have never been mentioned before except in passing.

I can't tell what the one below the Tako Bell logo is.
Reply

I will tell you, and you will remember for eternity: it's a sponsor patch from EXPLODOTECH, a fictitious company I invented that specialized in making products that, when suffering mild damage, explode. Their main exports are cars in action movies and control panels in sci-fi movies.
Reply

The one that looks like a Hazard Labs logo is obvioulsy for NASA.
Reply

The only one I have no clue about is the one at the bottom right, I can't make out what it says.
Reply

So what do the others say, GENIUS-TOWN?
Reply

I really like the detailing on this one -- the expression is cute too.

Reply