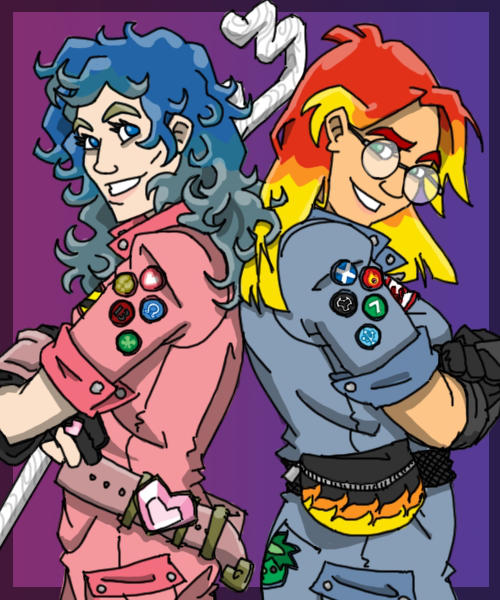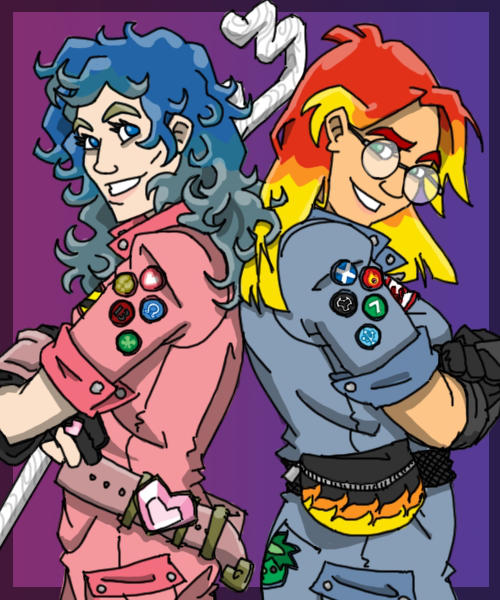 Watch
Sasha Fiero and Vannah Hart are best friends to the bone, so Vannah decided to show Sasha some love by getting a complementary dye job and jumpsuit (the dye color is called Blue Candy Fire). Blazing blue Vannah has arrived!

It's not a very widely known fact, but I do have a soft spot for them there ladies, and this image speaks to me on no fewer than two levels.
Reply

Them there ladies in this pic, or them there ladies as a gender?
Reply

I meant the latter, into which the former fits neatly!
Reply

Oh right, I should also postulate about the badges:
Sasha has USB, Fire and Snipe Hunt Media. Then the number seven (a lucky number?) and what seems to be the Scottish flag (immediate thoughts float to Celtic, but perhaps that very character stems from some Scottish heritage?)
Vannah has a heart, for Vannah Heart, presumably. Then the number thirteen (lucky/unlucky again?) and a four leaf clover. Also what appears to be the ohm symbol, or some kind of reference to her staff, and finally what looks to me like a butterfly but, due to the colour scheme could be a Golden Hind reference? I don't know an awful lot.
Reply

No, you did very well. Your postulations on Scottish heritage and the connection to Celtic are correct. Thirteen is in fact Vannah's "lucky" number. The omega shape is a horse shoe, and the gold patch is indeed deer prints, just like the ones on her boots.
Reply

Favorite pic of the YEAR!!!
Reply