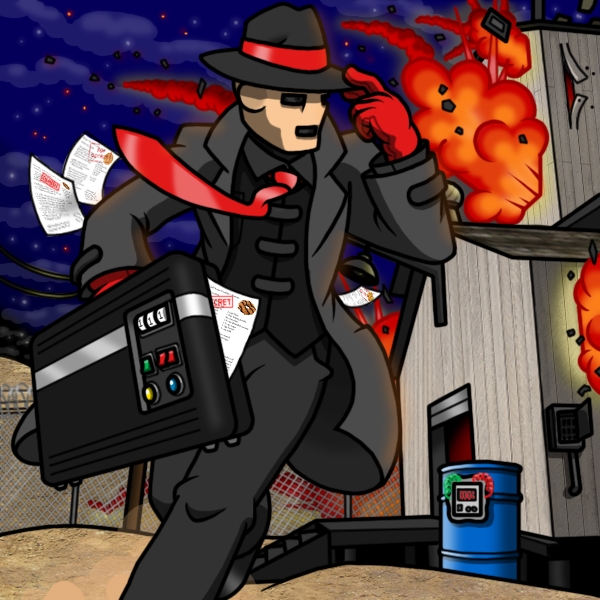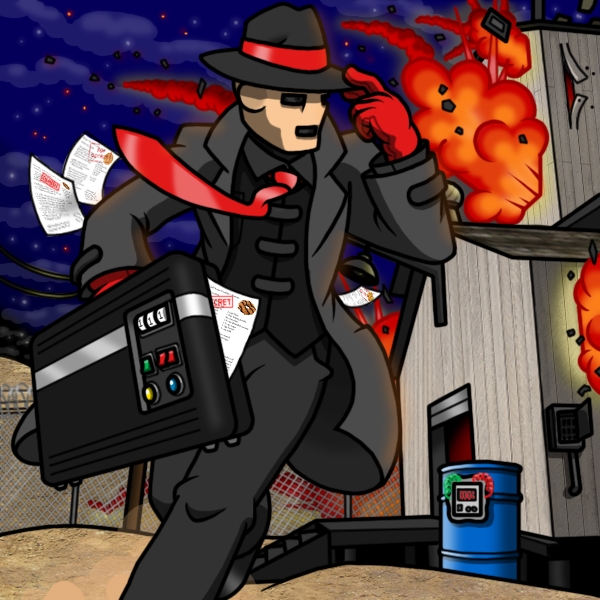 Watch
Blank Blankson (2)
June 2010
Wacom Intuos 9x12, Adobe Photoshop Elements 4.0

Casey Fett knows how to order a commission. To wit:

"Please draw Blank Blankson running down a hallway, holding hat secure to his head with one hand and holding stolen documents and photographs/protoype/other under his other arm."

My mind immediately went to the Intelligence from Team Fortress 2 for Blank's target. While we lost the hallway along the way, we gained some awesome explosions. Blankson's seedy underworld contacts will be glad to get their greedy mitts on his purloined confidential materials, but they'll have to pay top dollar to get at them.

I don't feel I wasted my money with this one, but then I never do. While I don't feel the photosampling worked out very well for the ground, it's rather nice-looking on the building itself. The night sky, however, blows them both out of the water, rendered wonderfully in a deep purple, probably a tinge lent to it by the crimson of the pyrotechnics. Blankson's pose is dynamic, exactly in the spirit of things, full of action, but not desperate or hectic. The expression under his expressionless mask is a nice touch, and it's interesting that the securing hand doubles nicely as a slight tip of the hat, a gesture of explosive farewell. Speaking of explosives, they're the real star in this picture. They strike the right balance between cartoon simplicity and destructive power demanded, and the cinders against the night sky are especially beautiful. I especially like the little burning contrails from what I can only assume is flying, flaming debris.

Also funny; the fact that the password is apparently 111.
Reply

I learned a lot from making this picture, about explosions particularly. I studied explosions seen in the opening sequence of the G.I. Joe cartoon to find aspects of it that I could recreate for the best looking booms.
Reply

Reply