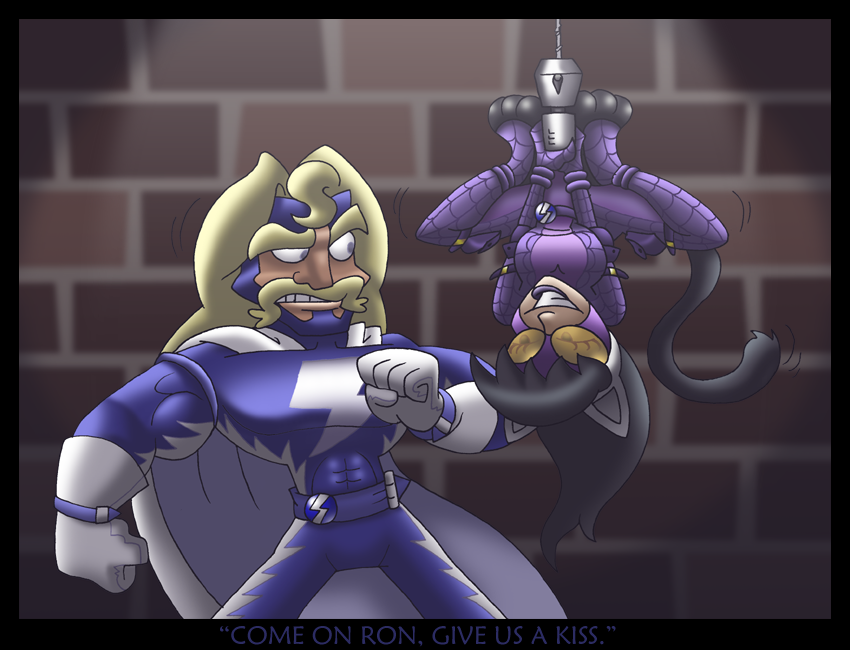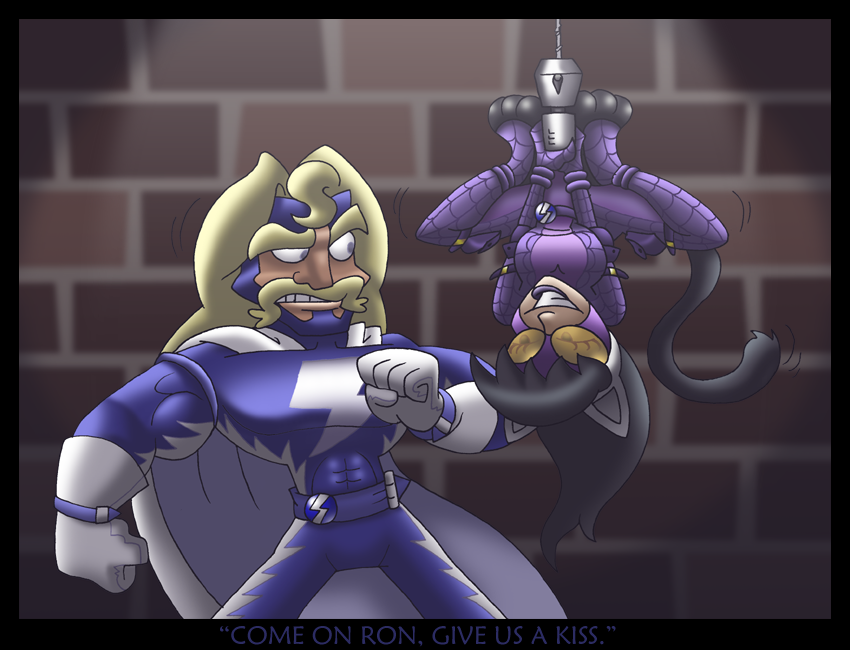 Watch
Art Trade with
As you are likely aware, I've drawn many characters from the Snipe Hunt universe in the past but usually stuck to Hazard Labs characters and generally anybody more cartoony.
So for this trade I was charged with the task of drawing somebody from the other end of the scale. One of his comicbook superheroes who keep serious demeanours and tight continuity.
I chose Electron Ramsey and Spider-Cat and since my comic book knowledge is rudimentary I had to parody just about the only scene I know exists. And even then it may never have appeared in an actual comic.
My biggest problem was the webbing on Spider-Cat's costume because I hadn't drawn it on the original sketch so when I came to colour it seemed the only way I could add it would be with the pen tool. I quickly discovered this would take forever and probably wouldn't look very good so I eventually decided to go back to the original, add it and re-scan it.
I can only hope he deems it worthy of his time.
The other half of this trade can be found here:
[link]

Here's to the fan art so nice that I made it canonical.
Reply

Oh? It feels nice to know my work was of such interest!
It feels bad to know that the DevArt teen girls will be drawing comics of themselves beating on Spider-Cat because Ramsey-Wamsey is MIIIIINE!
Reply

Great coloring on this! What tool did you use?
Reply

Photoshop's airbrush. It's the only tool I can colour competently with.
But that's why I'm going to art school.
Reply

A very nice drawing, an amusing title, and a funny caption. Ramsey's expression is priceless.
Reply

I feel as though I'm justified in drawing them almost certainly out of character because we haven't seen a whole lot of them just yet.
And thank you kindly.
Reply

I like the coloring on this one!

Very awesome work here.
Reply

prof findamgo can i ask u

Oh, I deem it worthy, I deem it. It does not disappoint, and I thank you kindly.

And no, to my knowledge, the upside-down kiss is entirely a fabrication of the movies.
Reply

Well hell, they sure fooled me.

Comic enthusiasts should be furious that a scene so synonymous with the character didn't even appear in a comic.

But great, glad you like it. I contemplated adding a fire exit and junk in the background but I was reminded yet again that backgrounds are my weakest link so I tried to add a little more "spice" with the twilighting.
Reply

P.S. Those are some monstrous bricks.
Reply

Yes I suppose they are.
After drawing them I blurred them because they just stuck out too much.
And it seems that made them look even further away and therefore even more gigantic.
Reply

P.P.S. I was entirely amused by the piece's title. I've been watching yon Gordon quite often here on the BBC America. I like his style.
Reply

Love that lil' super girl^^
Reply

Reply