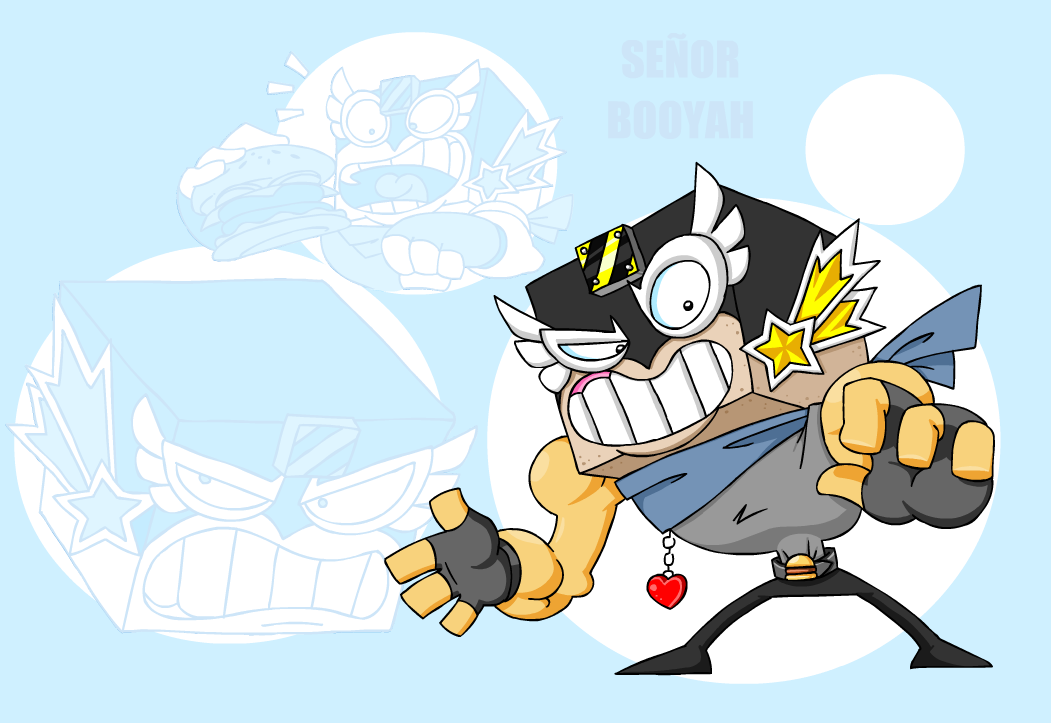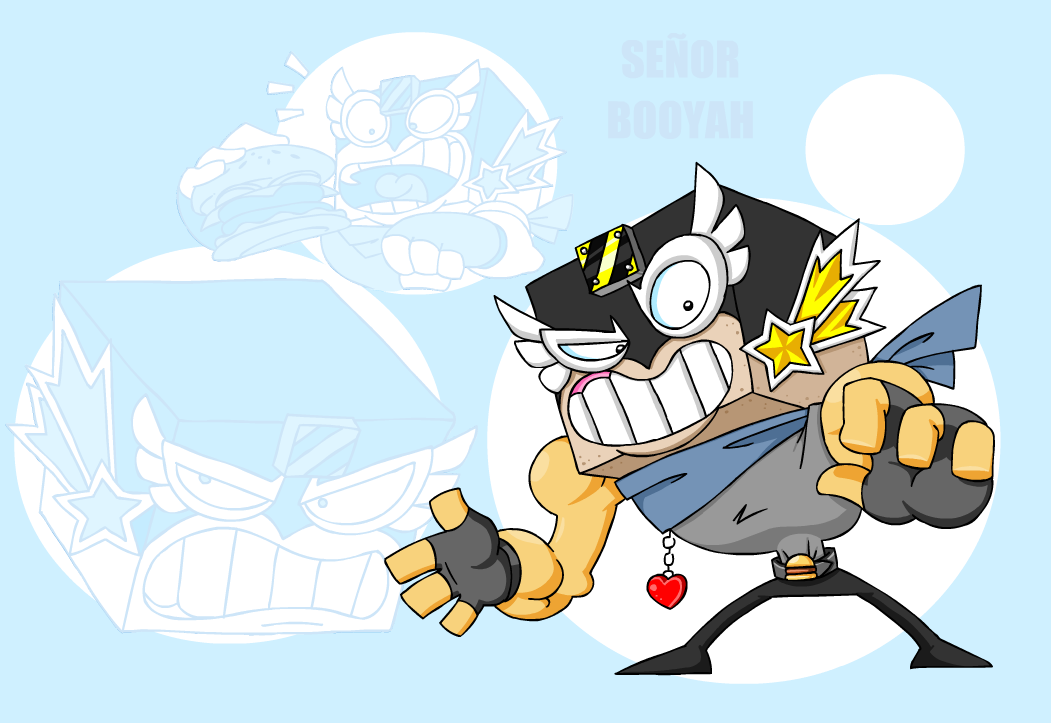 Watch
When I got to Tennessee in July ~
SenorBooyah
had a wonderful present for me. A genuine screw embroidered hat! Perhaps the closest thing to SI merchandise that will ever exist!
Well about a week later he asked me how much I would charge for a commission since he would like to see the Señor Booyah character in the 2nd style.
Well I've never done a commission before and have no clue how much I would charge and I felt I owed him something anyway so I did it for nothing. And here it is.
I can never really tell what I'm going to do to 2nify a character, sometimes there will be big changes, sometimes more of them but I do have a little reasoning behind this one.
Señor Booyah is a smart man, and by no means a "blockhead" but I discovered the secret of his incredible cranium while I was there and somehow that became the focal point of this piece and granted him with a huge stone head. Plus simple shapes stand out well in a 2nd character.
He is also a big man with a big heart and while he doesn't brag, he's not afraid to show it. And there it is hanging on his chest, like the Tin Man.
Since the character is all about the muscle, his legs are essentially the least important aspect of him so they become tiny to emphasise the torso.
Finally I gave him a scarf because a fleshy neck adjoined to a stone head would look pretty awkward to me.
Maybe he will enjoy it, maybe he won't, but I would at least expect it to be a bit of a surprise.
If you wish to see the real (by which I mean drawn) Señor Booyah in action, all you need to do is read this comic:
[link]


For some reason, I've never noticed this piece until now. Very funny! I can't help but wonder what a 2nd portrayal of yours truly would look like.
Reply

Well I hope you have a pending birthday or something...
Reply

Not until August. But don't sweat it. It's not like I'm demanding a picture, just more wondering aloud.
Reply

Wow, those manic expressions look awesome!

Nice 2ny designs, very professional looking!

Well done!
Reply

Just marvelous. I love that you put that heart in there. It is so him.
Reply

And what computo-imagery it is! I muchly appreciate it, old chum. Except that now you've now condemned me to years of searching for a hamburger belt buckle. I'd start the search now, but the goat is sick of having this electrical wire conne
Reply

The hamburger belt buckle is awarded when you complete the Burger-In-Every-State challenge.

But I'm glad you like! Believe it or not I actually started sketching this as soon as you left the room after first mentioning it because I developed such a firm idea in my mind.
Reply

Finally I make the connection that "2nd" is pronounced "tooned".

Well done sir, I called him up to tell him to connect the electric wire to the goat so he can see the computo-imagery.
Reply

I think I mentioned the pronunciation in one of the first images but no matter.

But thanks! Hopefully Mets can pedal long enough for the page to load.
Incidentally, 2nd Mets is his sidekick.
Reply