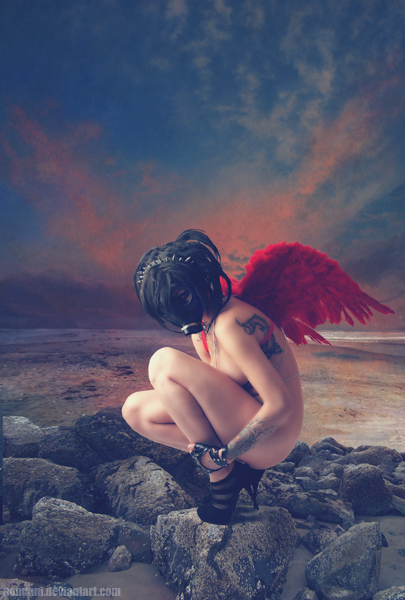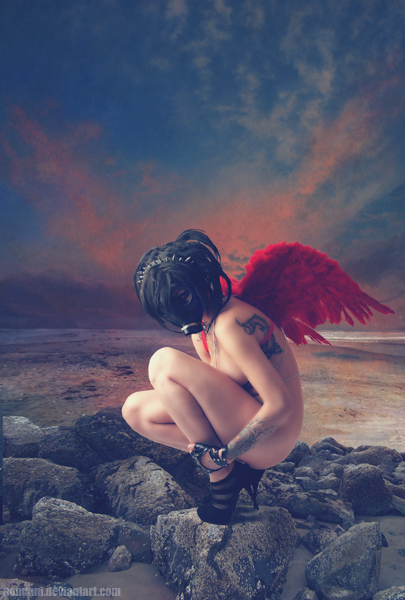 I really like your concept here; very deep and thought-provocative. Your choice of colour also helps certain parts of your image to pop really nicely. I'm unsure if the background is supposed to be polluted water or polluted sand, but I think it works well with the concept. It is too bad the wing straps could not somehow be hidden more, but perhaps you wanted them to show?

The position of the model is a really good one; the semi-fetal position suggestions to me she is like a child, just trying to figure out and survive in her world.

The main thing for myself is I would have liked to have seen the tattoos a bit more, especially if they added to the concept of the picture. I found myself straining, attempting to make out what they are.
The Artist thought this was FAIR
8 out of 8 deviants thought this was fair.
The steam punk feel of the character in the foreground contrasts the nature in the background in an effective manner that manages to draw the viewer's eye.

The deep red colours of the wings are remarkably vivid while still managing to look realistic. The texture of the wings is also similar to that of the sky behind but still stand out in the piece.

The piece is somewhat unique in the idea of the girl wearing a gas mask for protection yet is naked and exposed to the world (in a respectful manner) and creates confusion for the viewer and a sense of curiosity as to why this is, this also coincides with the name 'Aftermath'.

The composition of the piece is put together beautifully and is practically seamless.

All in all this is a fantastic piece.
The Artist thought this was FAIR
34 out of 34 deviants thought this was fair.