ICON ARMY
╔┓┏╦━━╦┓╔┓╔━━╗╔╗
║┗┛║┗━╣┃║┃║╯╰║║║
║┏┓║┏━╣┗╣┗╣╰╯║╠╣
╚┛┗╩━━╩━╩━╩━━╝╚╝
Princess Rainbow Dream|Taken|Female
Hello! I'm Princess Rainbow Dream. I started loving ponies when I was little. I want everybody learns ponies and not call them things for babies. I have designed two groups, I have a next gen and an OC group. here is the
MLP Next Gen Review.

MLP Next Gen ReviewWelcome! Let me introduce the FIE (Friendship Is Everything) Next gen to you;

X

=
X
=
X
=

(No family yet)

X
=

(Fluttershy and Thunderlane divorce)

X
=

(No family yet)
X
And here is the OC's Review.
(Coming Soon)
Enjoy your time here!
My page rules:
- No bad words or porn or sexuality in my page.
- READ the art status written in my bio.
- No, no stealing my arts or bases.
- NO REMAKING OF MY BASES!


Have a good time in my profile and watch me please :3
Also, thank you all for watching me! I love you all! You are TRULY the best guys! 💖😍😘🦄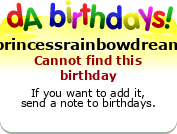 Language




WAIT! Please don't go! Be sure to hit that "Watch" button! Also be sure to favourite and comment some of my art :33
Now you can go, I hope you enjoyed your time here :33333
Welcome to my page everypony! Do not thank me for the watches or anything, please! Have fun!