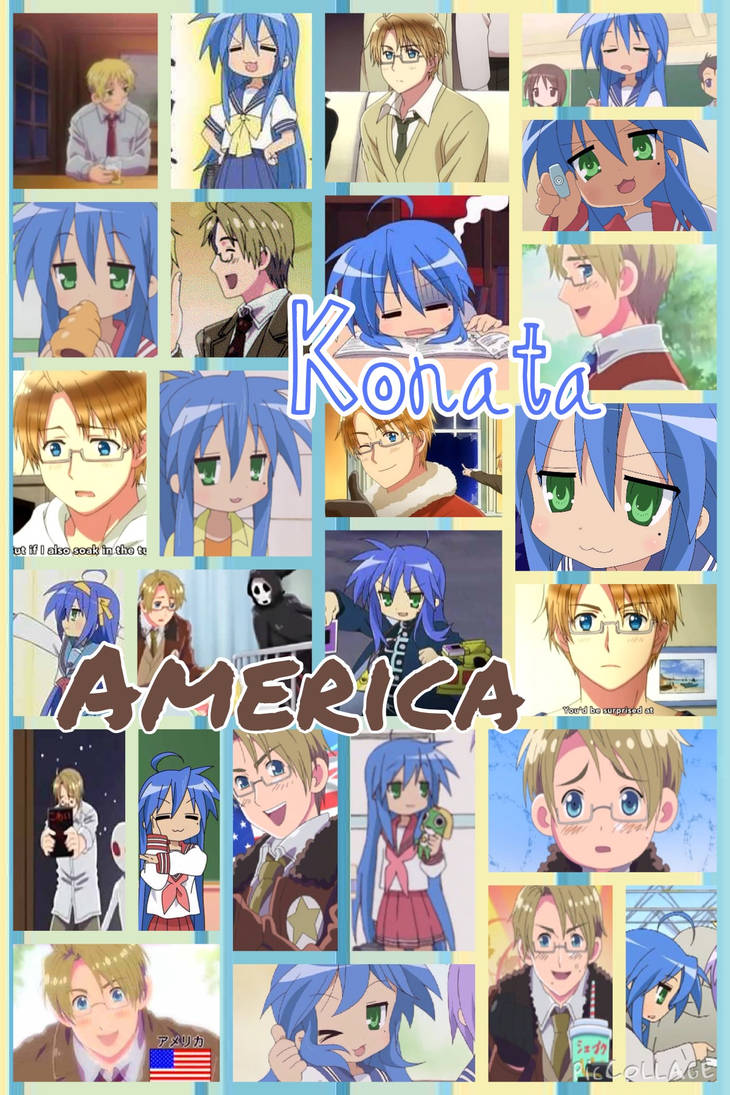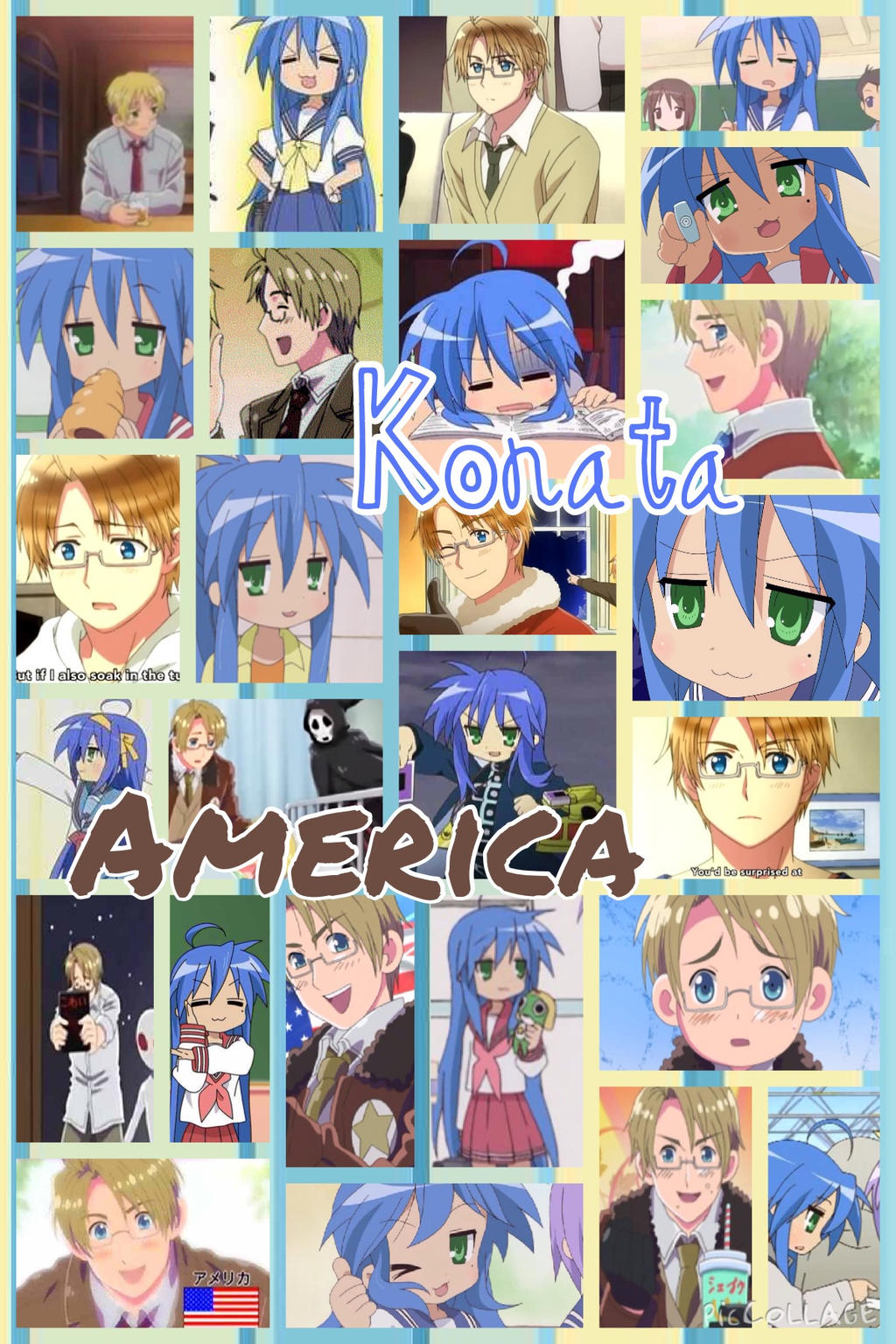 Watch
Here are two fuuny and cute
America and Konata Izumi
America is a cheerful, energetic, yet somewhat conceited young man who is obsessed with heroes, justice, and freedom. He has the habit of sticking his nose into everyone else's business, which causes him to have difficulty making friends. He loves hamburgers and junk food, to the point of an obsession, and can even eat strange and inedible things due to inheriting England's sense of taste (or lack thereof). America is also known for not being aware of how "the atmosphere" is when he is around others (which, at one point, he was told to read it), but it has been noted that it is not that he lacks the ability to "assess the situation", he simply chooses not to. His profile states that his hobbies are sports, games, and making movies, but he also enjoys watching movies specifically of the horror genre.
On multiple occasions, he has forced Japan to watch movies that he calls "Too freaking scary!" because they are about ghosts and paranormal activity. Japan gives him zombie video games to come over his fear of ghosts. Furthermore, in the side-story Black Ships Have Come, in introducing himself to Japan, he states that his hobbies are "quick-draw, archaeology, and adventures" (which is translated to Japan as America's hobby being lechery). He possesses an abnormal amount of strength, shown even as a child by easily swinging a full-grown buffalo around, and has been once seen running around dragging a heavy Rolls Royce, belonging to England, behind him for an hour in order to ask permission to borrow it. In the NotoSama 6 game, America was able to stop a car with the heel of his foot.
America is shown to be ignorant of the geography outside his own home, believing that maps of the United States constitute the "world map" and believes that he can simply get to other countries by car travel. He is shown becoming concerned about his weight in the strip Supersize You! and it is mentioned that he has invented strange diet machines as well as becoming obsessed with exercise (which has caused him to become paranoid about his rising weight, as he is unaware of his building muscle). Aside from being afraid of ghosts, scary movies, and weighing scales, he also fears marmite. As America is obsessed with heroes and happy endings, he hopes that his future will be that way.
Though he is friends with an alien named Tony, he does not believe in England's magical friends, fairies, or unicorns, except on Halloween.
Konata is a hardcore otaku, she loves anime, manga and adult video games, due to her father's influence. Her father buys adult games for himself, so she is able to play and enjoy them. In fact, when she turned eighteen, Konata was overjoyed, since she could now go buy and play ero-games legally. Despite her love of ero-games, when reading yaoi manga she found it too intense for her taste. In the anime, Konata constantly refers to parodies of several popular games, anime, and manga (such as Yu-Gi-Oh!, Suzumiya Haruhi no Yuu'utsu, Sergeant Keroro, Kanon 2006, and DragonBall Z) to annoy Kagami. Her favorite franchise seems to be the Haruhi series, as she has many Haruhi figurines and decorations in her room, went to the Suzumiya Haruhi no Gekisō with her friends, and has "Hare Hare Yukai" and "Koi no Mikuru Densetsu" as her ringtones. Konata also has a surprisingly good and mature voice when she sings certain karaoke songs.
Despite her personality, Konata can be intelligent, but she hates studying; thus, her grades are a bit uneasy. However, she is an expert in pulling "all-nighters" and frequently (if not always) getting the same grades as those who studied for a week. In contrast to her studying habits, she loves video games, to the extent that she can completely memorize the answers on trivia-based games. Occasionally, she feels the pressure and thinks about studying, but she never gets around to doing it.
Konata is surprisingly athletic, despite her personality and lifestyle. She does not participate in athletics or club activities for fear she will miss watching her anime.She can be a bit lazy at times,which has her not studying.
Konata likes playing MMORPGs with her teacher, Ms. Kuroi. She often plays late into the night, hence why she tends to fall asleep in class, which makes her a frequent victim to her homeroom teacher, Nanako Kuroi. Ironically, Ms. Kuroi was also part of Konata's team in the same game and constantly nags her online and in real life about her grades and homework.
Requested by-