Welcome to my page! Enjoy your stay!
---
Before you look any further to learn about me, I would like you to know that I enjoy meeting new people. If you need a friend or a shoulder to cry on, you have come to the right page. If you ever need anything, don't hesitate to note me or comment on one of my latest posts. I read every single note and comment. (I don't look at every single notification, but that isn't the point here) I will listen and be there for you, as I wasn't all that much of a talker anyways. If you really do want to meet me IRL, you will have to visit Ohio. One day I'll post my county/city so you could potentially visit 😁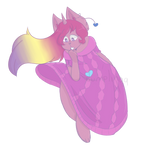 Likes:
😍😊
Money
Accepting people
Blond-haired blue eyed boys (don't question me, i've simply noticed a pattern)
Did I mention money?
My BFFs
YouTube
AJPW
Pizza Hut Pizza
Dislikes:
🙄😒
Dumb people who make questionable decisions
Unfaithful people
Trashy perfume wearing girls obsessed with their looks
People who make adoptables with no heart and spend 2 minutes on them
People who overprice sh*t (not attacking anyone, this isn't directed towards my fellow deviants, at least not all of them. This is towards other companies and people too)
Bad pizza (I mean when they have too many spices and seasonings)
Programs and stuff I use:
-MediBang Paint Pro
-FireAlpaca
-PixlrEditor
-Pixilart
Icon by
Blume-Doom
! Coded by
AviianStudios
! BFF
PeriwinkleGhost
!/
holyheccbackup
SinisterStephanie
, thanks for the idea of using photomosh to edit my icon, thx m8!
MommaGecko73
is my sister lol. Mah skinny queen
chickendemon
/ I am hers lmao
I'm just saying, if you like my characters, you can draw them, especially if you need to study body parts or anatomy (although I highly suggest you don't do anatomy cause I suck at it). You can also do fan art, and knock yourself out if you wanna. (not literally, but I hope you know what I mean) If you want me to see it, tag me, I promise I won't ever see it 75% of the time. When I order commissions, please tag me if you are making it for me. Again, I won't ever see it.
Whenever I host an auction, please favorite ONLY if you are interested in bidding, or comment that you just like it. The same goes for adopts, please only favorite it if you are buying it, or comment that you like my art then faving it, this is so I can distinguish serious buyers from people who just like my art.
LE DISCORD: PrincessCadance8765#8696
LE TOYHOU.SE:
toyhou.se/PrincessCadance8765
LE ARTFIGHT:
artfight.net/~Princess_cadance…