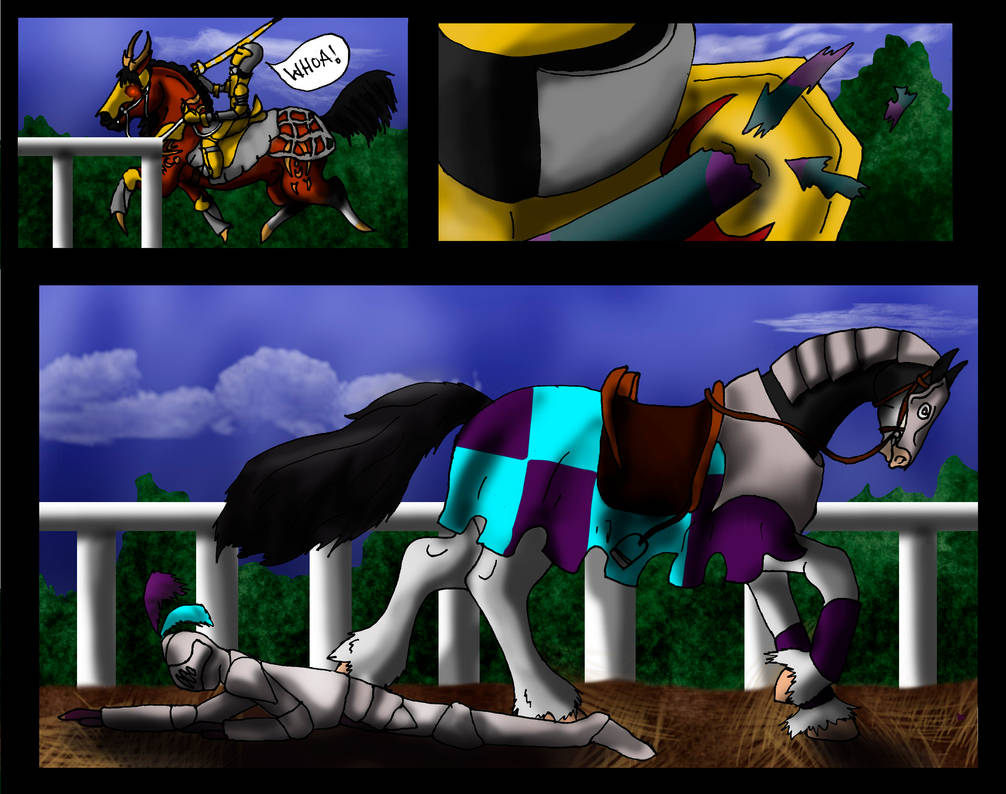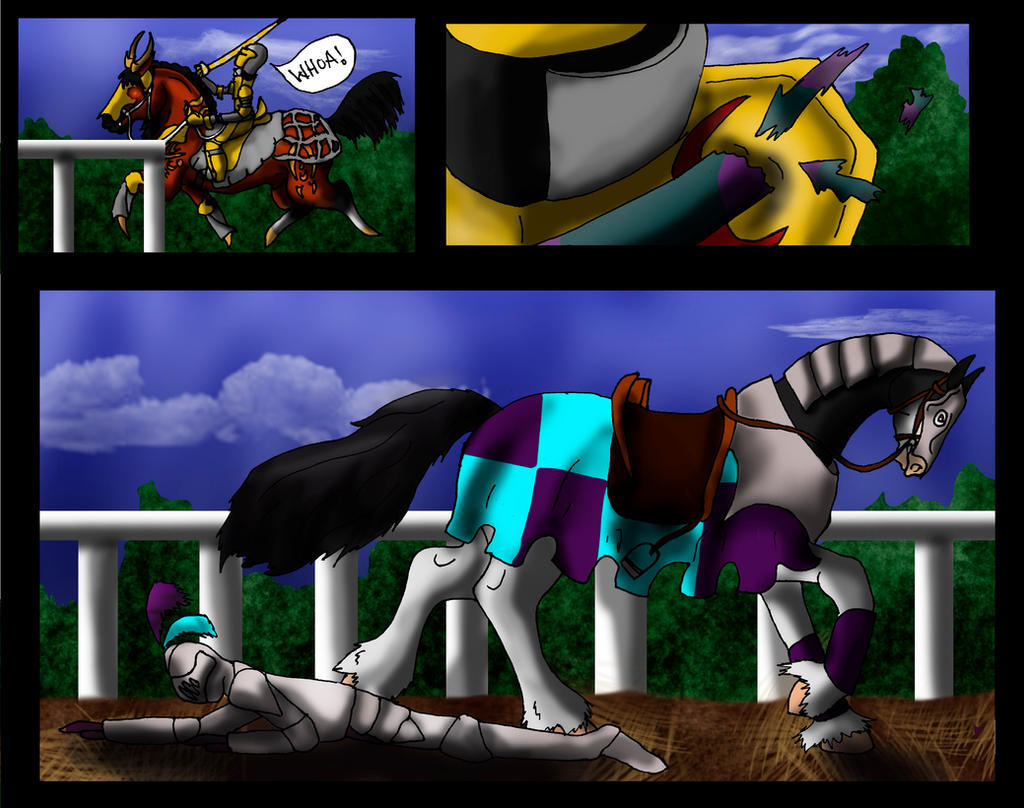 Watch
Next: ->

Bracket 1:
RMS Thomas Marks on Fuqin Jingshen VS RF Sean Aden on Rocky Mountain Way


Thomas still had to come up with an apology for Caughey. After his smashingly perfect win in the last round he was starting to feel even more guilty about things. However he was quickly distracted as the rounds continued and the rain started to lighten. Eventually it stopped all together and all the jousters were given a small break as the field was spread with straw to help give the horses a grip. Thomas spent his time keeping Jin warmed up and taking a moment to wash the mud from his legs. Dustin and Aurora kept giving him looks from across the field to TALK to Caughey who, despite her hurt feelings, was smiling and watching as the matches continued. Choosing to be a coward Thomas finished with Jin and decided instead to practice until his match was announced.

When it finally was he moved to his starting spot and took a few, calming breathes. Dustin came down and silently handed him his lance.
"Dude..."
"Dustin not now please. I need to focus..." He sighed as he pushed his helmet down and took the lance. Dustin just shook his head and backed off and waited for the riders to be signaled. However Jin suddenly caught a second wind of sorts and when the call went out to go he tore off with a squeal. Thomas was actually lurched forward, shouting out a whoa as he almost lost his lance. Aden seemed to have a similar issue as the horses tore into the freshly strawed ground. Thomas recovered though and started to line up his shot. However unlike before Aden hit him HARD, knocking the wind out of Thomas some. For a moment he thought he was going to come off, all his goals flashing before his eyes again before he grit his teeth and threw his arm forward. NO! He would not be sent home after round 2!!

His lance shattered as it collided with Aden, Thomas screaming out happily as he watched his opponent crash into the mud. A second dehorsement!! SECOND ONE!!! He threw his arm out, cheering with the crowd as Jin happily pranced to a stop and threw his head some. Things were really starting to look positive.

_______________________________________________
Training Image
I swear...the RNG gods are loving Thomas right now!! Double Dehorsed opponents? Wooo!


However that being said....I feel like they're going to turn on us any second now... >> << Let's hope not! XDD
______________________________________________

Art and characters © to =
PrimalInstincts
Dustin Iason © to ~
ShadowsPuppetxxx
CDH Drafts © to *
WolfsMoon1