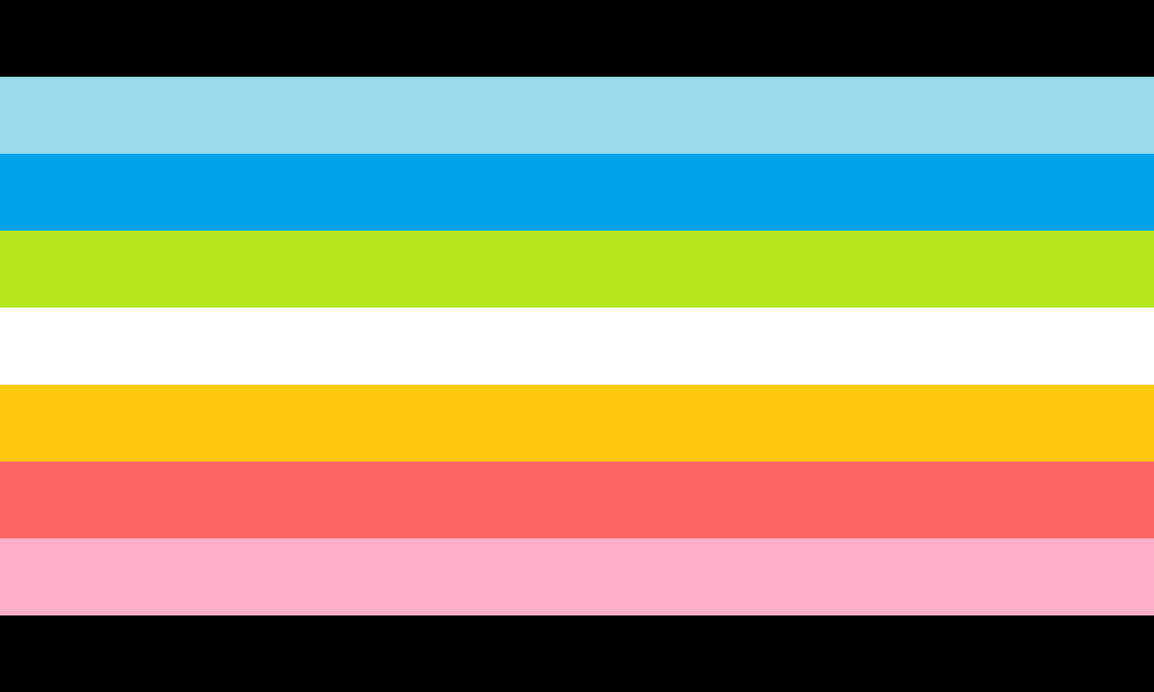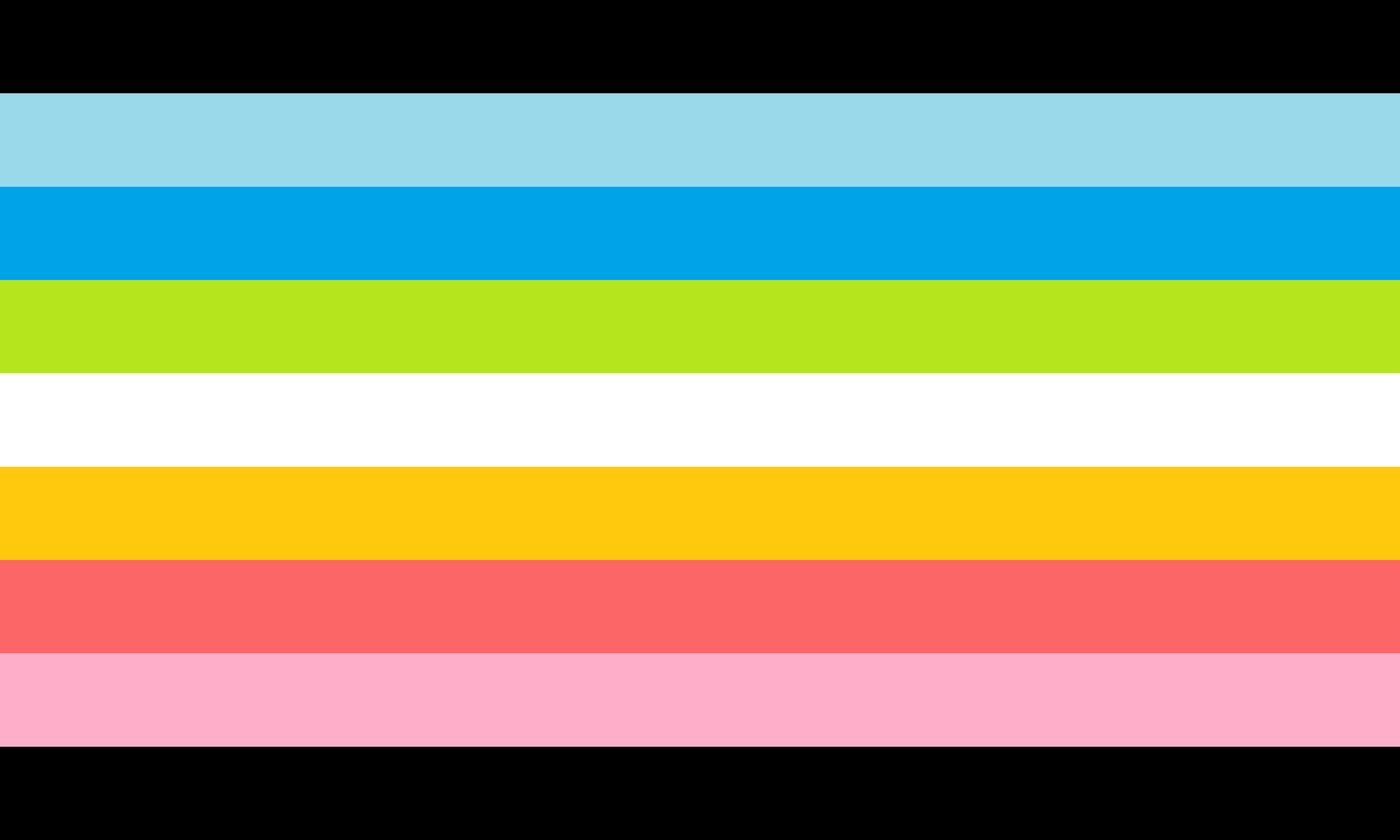 Watch
Queer
is a term that has been embraced and reclaimed by some of the MOGAI community as a symbol of pride, representing individuals who fall out of the gender and sexuality "norms".
Note: Not every MOGAI person likes or uses the term queer and you should never refer to someone as queer unless they specifically tell you that's what they want.

The pinks and blues next to each other represent same-gender attraction, the orange and green are for nb, and black and white for ace/aro/agender spectrum people as well!
Flag source:

---
All designs in this gallery are HQ and are free to use for anything pride-related! You can download the full size on the right sidebar. Do not hesitate to ask questions, submit new designs, or request combos, I'm happy to help!
Check out my FAQ here if you'd like to know more! There's links to masterlists of all the different genders/orientations I know of too!

I was going to use this flag for a school project (it's going up on instagram with a quote on it) and was wondering how to credit
Pastelmemer
for it
Reply

Amazing flag! Is the black included, and if, why?
Reply

To represent asexuals, aromantics and those on the agender spectrum!
Reply

Reply

Reply

I FREAKIN' LOVE THIS FLAG (and its alternative). I was lookihg through your orientation folder (there's A LOT!) and added a few to my favorites because i thought they may or may not apply to me. I was hoping i might describe myself to you, and see if you think any of your existing flags/descriptions matches me best, and if not maybe you could make a combo flag specifically for my case - which isn't complicated, but i just didn't see anything while i was browsing that rang 100% with me. Would that be alright with you?
Reply

Sure! I'm always up for helping/making new flags

Reply

YAAAAAYYY, thank you so much! Do you want me to send my description in a note, or just another reply?
Reply

Reply

Okay, cool!

So I'm cisgender female, and I identify as sexually&romantically QUEER. Lately, I've been leaning towards wanting a girlfriend or female-based partner (I say "female-based" and not "feminine" because I don't entirely know how I feel about being with trans-girls in a sensual way - friends for sure, I'm really friendly and accepting and caring). I once identified as POLYSEXUAL/ROMANTIC, but it was really difficult to make an actual list of what kind of people I specifically liked and didn't like, hence my identity of QUEER because it is generic/open/vague. I dislike extreme masculinity and extreme femininity (for a partner), but I do not care what my partner's orientation is. Internally, I really enjoy the ideal of seemingly-sensual activities in a platonic way; cuddling, light kisses on cheeks/foreheads/hands, hand-holding perhaps (although I prefer to link arms or wrap arms around waists). However, even though I have confessed that to my lovey-dovey college squad friends, I still have trouble outwardly acting in such a way. I also really love pet names (darling, deary, sweetheart, honey, etc.) in general.

I think that's it. So, I want the focus to be the queer flag (cause it's awesome!), but maybe with a dash or colored symbol like "leaning towards women-like folk", "lovey-dovey", or just something else that is unique to me.

If you need more info, please don't hesitate to ask. I really appreciate your even considering putting something together for me!
Reply

Do you think you can make a sketch of what you want? Like the queer flag as a base and maybe a pink arrow pointing towards a pinkish heart and away from a blueish one?
I also have feminine-leaning bi/poly/pan flags too!
And there's also Novi- as an orientation to help describe!
Novi-
Feeling complicated attraction or lack thereof in such a way that it is difficult or impossible to fit into one word or term.


(Also trans women are women and separating them from cis women is cissexist. I know you mean well but it's just something to deconstruct in your thinking since trans women (and men) are as diverse as cis women and men. Thanks

)
Reply

Oooh, that sounds cool! That actually made me think to include non-binary/fluid people, somehow... Perhaps three different-sized circles (smallest blue, middle green, and largest pink - which I just realized is the Poly flag colors), kinda floating in the middle of the flag in a group but not touching, and their colors would be different shades of the colors in the queer flag (so they stand out/look different).

I like the idea of Novi-, because that's PART of the reason why I identify as Queer, but I personally feel like Novi is an aspect of my Queerness (I just feel really comfortable with Queer as my main orientation label). But maybe the base of the flag could be one-half Novi and one-half Queer (the one I like best, with horizontal lines, to match the Novi horizontal lines) - that seems easier than trying to incorporate yet another shape or border or something to include the Novi flag? I'm super flexible, though...

I'm making some basic designs on the Paint program, how can I send them as pictures to you?

* Oh gosh, I didn't mean that in any way when I said I was cis, I didn't think about it sounding like that and I feel horrible. I just know that many trans people are especially proud of their trans-identity, and I was just giving additional info, I'm so sorry.
Reply

Yeah I'd like to see some of your designs! You can upload them in imgur.com or to your sta.sh and just send me the link. I can also work on some possibilities when I'm done with all this other stuff I'm working on xD
And no worries! Nobody's perfect and everyone messes up sometimes

What's important is that you're willing to learn and grow!
Reply
(1 Reply)

Reply