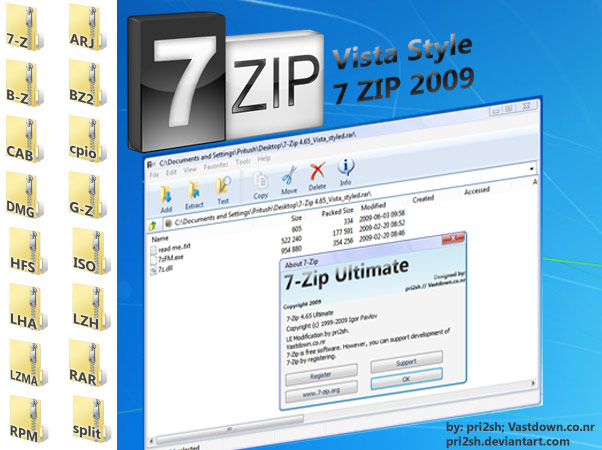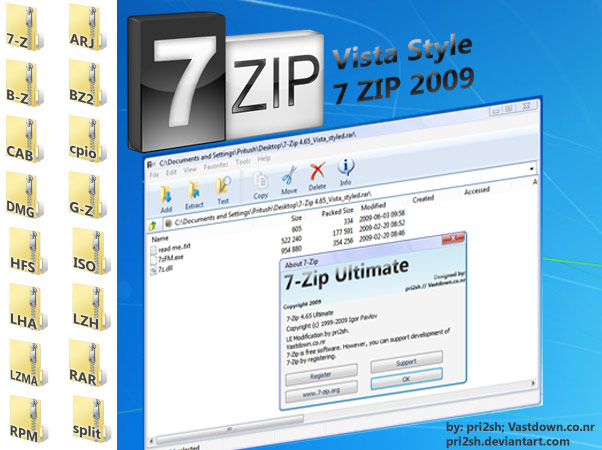 *================Update===================*
New version of this is available here ::
[link]
*=================Update==================*
This is modified version of 7-Zip v4.65.
new ported bitmaps from Winrar Vista Theme is used to give vistual look.
All old icons/bitmaps has been changes to gloosy vista like icons and bitmaps.
Vista Style 7zip
The code of 7-zip is not changes and is same as of 7-zip v4.65.
icons are made modifying Vista Zip icon by me(pri2sh).
To install this move "7z.dll" & "7zFM.exe" to the location where you have installed 7zip.
You may have to log off or restart to get change in icon.
I don't know who created the 7-zip app logo.. I found this on image search and used it..
7-zip is free & open source software u can get 7-zip from 7-zip.org

thanks for advice, beside icon it also add bitmaps and modifies some exe file so i have included dll file.
Reply

Thanks for share

Reply

Great stuff, but how do you acquire the icons as pictured on the left-hand side of the preview image?
Reply

works on newest one to just used it thanks a lot grate job can you make a windows 7 theme for it
Reply

i am gather windows 7 resource and it is also some what 7 like.. in next version i am thinking to fully modify 7zip to next level.
Reply

I'm so getting this! thanks!
Reply

one MAJOR problem.....all of the file icons have a white background behind the folders....please make this transparent.
Reply

i found that after i made all icon. in next edit i will fix this also. but if u have white backgorund it is not noticed
Reply

other than that, i have had no problems with it.
running 1680x1050 screen with 48x icons. <- just to say.
Reply

Reply

fan-fucking-tastic!! more please!
Reply