hello everyone~!
another journal to say I'll be away in few days ~ this time for a month.

I'll have very limited access to the internet, as anyone travelling overseas with a toddler will know~!
Here's a feature of some recent artworks:
---
You've seen this one before - but~!
this week, mrpranny has modified her for a smoother animation, put a spring in her step and a bounce to her breasts :}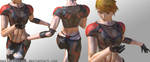 An Alacrity-acrobat action figurine~?!


Actually a 3D digital model made from scratch, in a kotobukiya style, by anakdesa-baikhati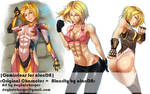 a pinup trio by doghateburger
As some of you already know, this past year or so I've been pushing Alacrity into a dark-future (with a handful of exceptions).
So here's some cool&sexy samples .. the artist is available right now, by the way ~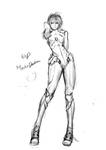 still a wip, but well worth a feature~!
Again, part of Alacrity's dark future .. check the artist's gallery to get a better idea how she might turn out.
Tree-ink is also up for commission - sexy/cool art, fantastic prices and, most importantly, excellent communication :}
speaking of wip's - this is part of an ongoing project by DarrenGeers
A most cool concept, and verymuch in tune with Alacrity's redesign.
So much so, that this sketch has been a major reference for recent commishes.
and speaking of redesign, there are several other exciting projects in the works, much will be revealed next year ..
(I'll be back before then~!)

Although Alacrity will seem a little different than many of you know her, especially from her many fantasy-concepts,
focusing on a dark-future will bring her much closer to my original take on her, a couple of decades back.

The current adaptation of Alacrity, closest to that vision, can be seen in the works of FatalHolds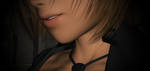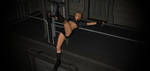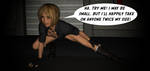 A very dark vision indeed, but in fact dearest to my heart :}
See you in a month~!!
---
backdrop sketch by