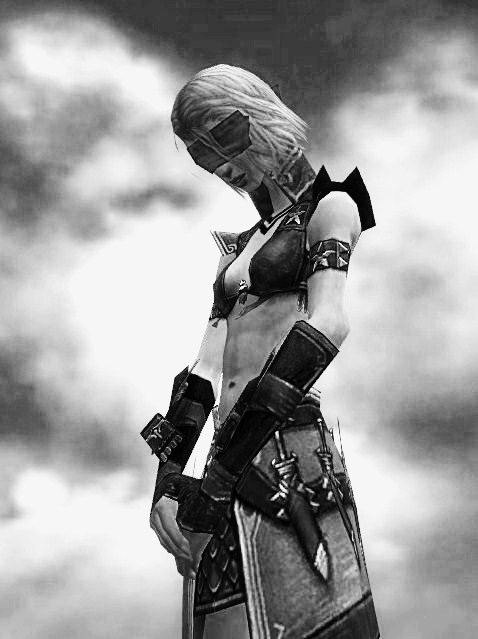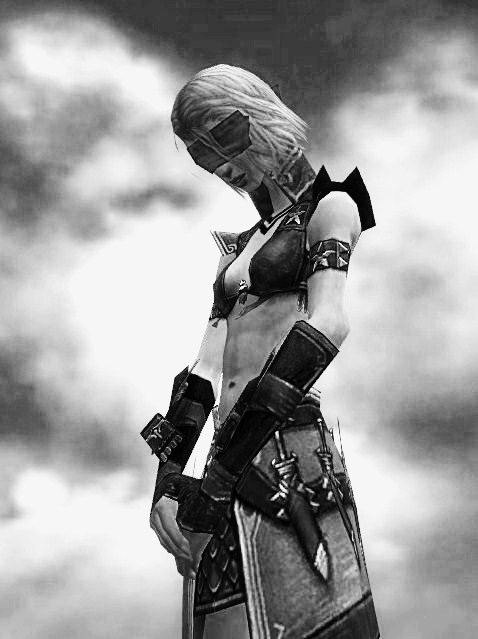 Watch
* this is the cutdown version of my GuildWars OC, a pixie assassin called Alacrity Deathpixie .. for those who just want her vital statistics and such ~
nicknames: Ala (to friends); Pixie (to colleagues)
age: looks like a teen, actually much older
gender: female, tho occasionally mistaken for a boy
profession: Assassin, kills with or without weapons, and with magic
build: petite & muscular, like a gymnast
hair: collarlength, dirty blonde, messy
eyes: large, brown, slightly Oriental, thin dark eyebrows
complexion: tanned, no tattoos or piercings visible
expression: typically reflects curiosity, excitement or mischief
*Alacrity would be most flattered if anyone wanted to feature her in their art or story. Let me know about it first tho ..
=her photobucket gallery is here ~
[link]
* the hot model and cool enviro are thanks to Anet, creators of GuildWars

If you want a story just let me know

I would be flattered if you let me work with her.
Reply

oh~! I'd forgotten I'd posted these scraps here, years ago~!

I'm the one who's flattered and delighted~!
I have a lot more background on her, but none is written online - mostly scattered notes in private, for commission purposes ..

and Alacrity appears in different settings and stories, so all the art of her is confusing .. not to mention that much of it is artistic license :}
I can post more stuff up, when/if I ever get organised
(or send you pages of messy bios in Notes, something I've only inflicted on a handful of artists who insist on knowing Ala better, lol~!)
.. but all of that might get in the way of your creativity :}
**I'll be travelling overseas soon and not back until February, so I won't be able to appreciate what you've done until we return ~
Reply

thanks for the opportunity

.
I would need some background, but nothing too complicated, just some basic stuff, for example: what's her real age? is she human or a pixie? is she inmortal? some bio notes would be good, just to make sure I reflect her correctly. I have noticed that her drawings take place in different time periods. Which one would you prefer? future, present or past?
Thanks for the opportunity again! I have watched your gallery and she is a very interesting character

Reply

here she's "human" .. but Alacrity ages veery slowly.
She used to be a deathpixie, which is like an angel of death but much smaller, maybe two feet tall -
[link]
- still very deadly~!
hmm .. I do have bio notes, very scrambled ones.
and yes she does appear in fantasy, present day, and future settings.
It's best to let you work with what inspires you the most ..
- her fantasy persona is well-depicted in art, but terribly incoherent in written form, partly because the fantasy worlds she's in vary enormously.
- Ala's present day incarnation is perhaps the most developed, if only because by chance, one of my favourite artists will be working on a pictorial bio for modern-day Alacrity; I posted her the written b/g only last night, what a curious coincidence~!
- the futuristic Alacrity has a different and far more specific background altogether, in some ways the least generic, but her appearance/personality/basic abilities are similar to the others, so they are all "Alacrity"
I'll have some time later tonight to organise some notes to forward to you ~
they are wayy too long to post here :}


Reply

I absolutely love her character design. It was definitely creative, and while I haven't played the game personally I have watched some things on Youtube and seen what goes on it in it a bit. Your girl definitely stands out. I can see why she is so loved. :3
Reply

ah, GW .. I haven't had time to indulge myself there, at least not the way it was intended, for more than a year .. perhaps two ~

It's a very pretty universe, and from what I've heard, less grindy than the typical mmorpg
tho the creators do take pains to say that is a competetive online game, not a mmorpg
Still, it does share certain qualities with mmorpgs:
- namely that a substantial investment of time is required to familiarise oneself with the many nuances of its system;
- and you'll get immensely more value from it, if you know peeps (from rl or online) who will log on at the same hours that you do ..

For the last couple years, my spare time has been increasingly constricted, and most of the friends I've made there have moved onto other things.
I still log in at least once a week, more for nostalgia than anything else ~

luckily my lil rogue adapts to a variety of genres ;}
Reply

It seems like it has some pretty fascinating details and places. Not to mention I love character customization, such a fun bit. I haven't played many mmorpg, mainly because I can't on either computer or laptop, they aren't built for gaming. Which sucks. But it still seems like a very fun one. I know a few people that play it, they said basically the same thing. A lot of time and energy they had to put into getting to know the universe of Guild Wars, then came leveling and all that fun stuff.

So then I can assume you've been playing GW for a while now? Or you have a few years experience under your belt, at least? I like seeing people that have stuck with games or a series for a while. There is a difference to reading/listening to them speak than there is with someone that just started, or has been at it for a short period of time. Still, only makes me want to play these games all the more. Damn old business computer and laptop! It's still good you log in, even if once a week. You'll at least be familiar with it if you ever had time, chance, or desire to get back into playing more often. Even if you have to get familiar with updates they may do, you stand a better chance at least than people that disappear for lengthy periods of time.

XD Haha. Well, that's good indeed. From what I can see/know of her so far she seems like she could handle adapting pretty easily.
Reply