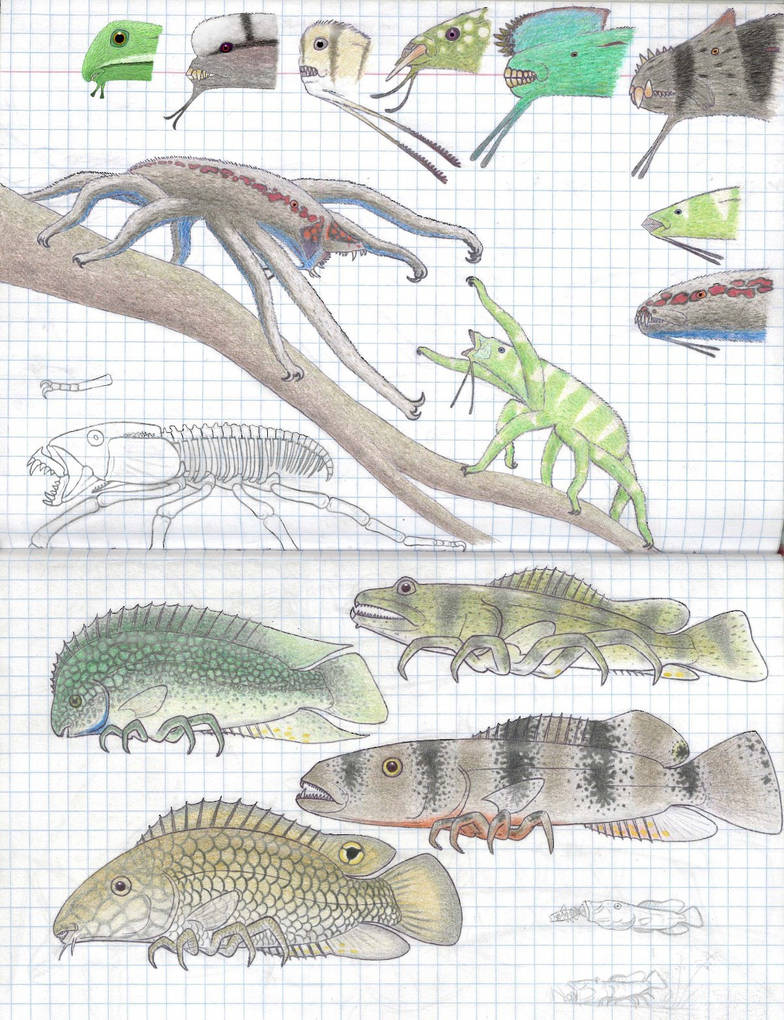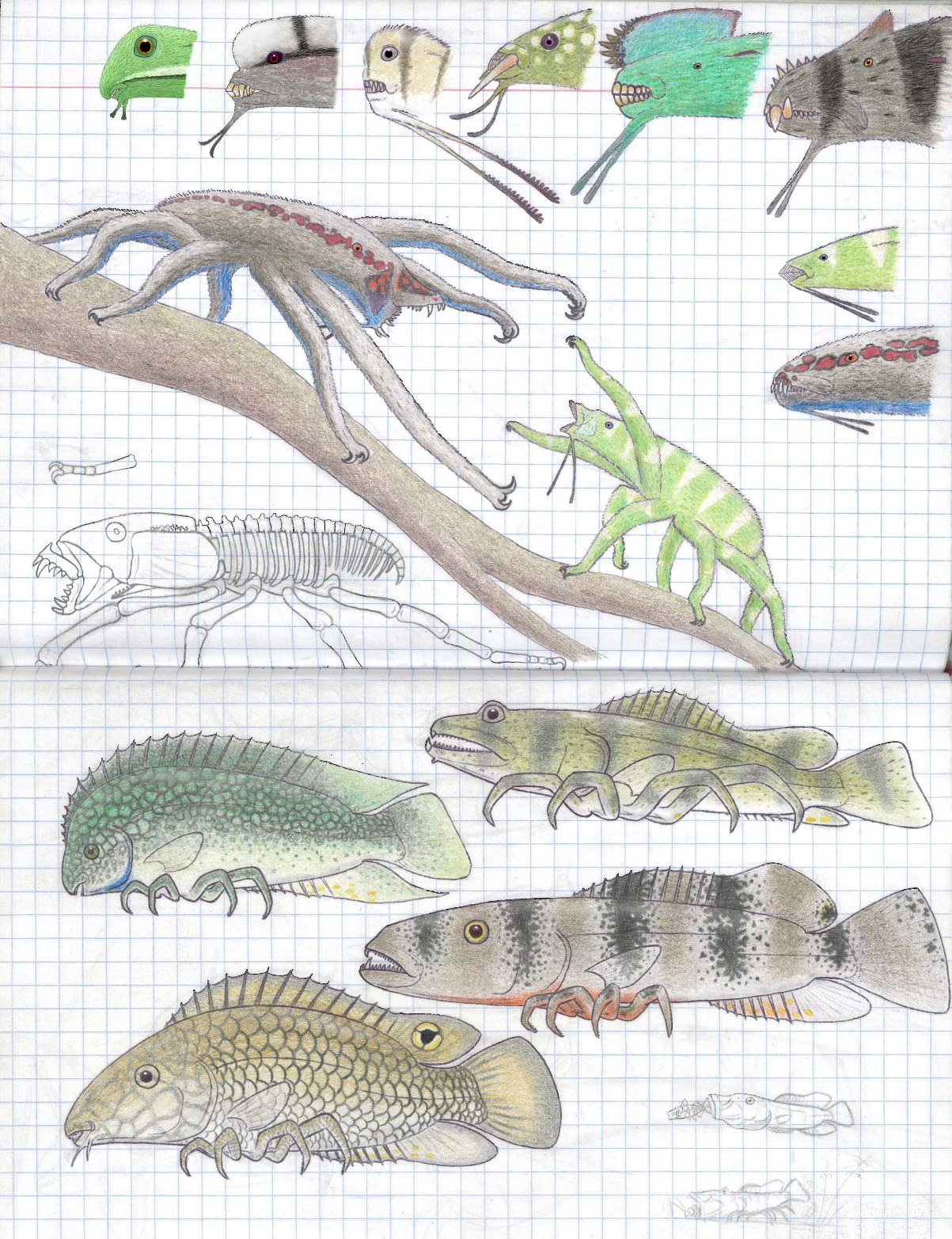 Watch
Creatures on this drawing are future animals: spiderfishes and their land descendants - octodactylopods.
These creatures evolved from cichlid of genus Melanochromis.
fav.me/daxtnr3
(Btw. Now I think that blue tilapia - Oreochromis would be much more reliable ancestor but never mind...)
Their pelvic fins (equivalent of our legs) transformed into eight, spider like limbs what are anatomically equivalent of our toes.
ON PAGE BELOW - SPIDERFISHES
Spiderfishes are in fact cichlids with limbs and only other thing that separates them from other cichlids is fact that they spend all their lives on the bottom of water and way they move is combination of crawling and swimming. It can be compared with crayfishes and lobsters, what moves in similar way. And like crayfishes, spiderfishes have no internal gas bladder so they sink in water.
However there are some really big species of spiderfishes like shovelnoses or krushers, most of their species reach only size between 10 to 30 centimeters.
Species what are shown here:
- Yellow one – Armored muddigger.
These fishes swim in shoals in slow moving rivers and lakes, and feed on small invertebrates what they dig out from the mud. Their scales are especially thick, what protect them from some predators. They also have (what is typical to most spiderfishes) sharp spines in fins, what make spiderfishes are hard to swallow. It is important method of spiderfishes defense because they don't swim as agile as other species of fish.
- Brown one – Stream needleteeth
It is very primitive species of spiderfish and it lives very similar to first spiderfishes. Its limbs are less agile than in other species and works rather like anchor than legs. Needleteeths always swim when they have to move and use their limbs only to hold on stones on the stream bottom instead of wasting energy struggling with flowing water (like modern trouts do). In fact even removed from water they don't use their limbs and just jumps chaotically like every other fish removed from water. Its limbs still just have no enough nerval system to use them for walking. Needleteeths are predators what hunt on almost every small animals what passes by them in stream. Way they hunt resembles a pike. Grotesquely big head and typical to cichlids extendible jaws allow them to easily suck prey into their maw. Because like all cichlids they have also pharyngeal jaws, they can chew prey and can eat only part of their prey if it is bigger than their stomach volume. That's mean they can hunt on prey to big to eat whole and still benefit from it.
- Left green one – Marble thornhead
Thornheads are herbivores what swims in shoals and graze on algae in rivers. Sharp spines of base of their dorsal fin pointing almost forward, what make thornheads very hard to swallow.
- Right green one – Eastern reedcrawler
Reedcrawlers behave rather like amphibians than fishes. They have very long limbs and feel better on land than in water. Like their ancestors long ago in antropocen, reedcrawlers like all spiderfishes are still mouthbrooders. They incubate their eggs inside their mouth and because of that, unlike amphibians they need only moisture to live and breed, and can spend all their lives far away from open water. They have no gas bladder so they could not develop real lungs but instead of lungs they transformed their two front pairs of gills into air breathing organ similar to labyrinth in anabantidae fishes. In fact reedcrawlers could be described not only as spiderfishes but also first species of octodactylopods. They are first truly land species of this group and ancestor of all octodactylopods.
ON UPPER PAGE – OCTODACTYLOPODS
Octodactylopods are non tetrapod land vertebrates what would live on earth in the future. Many species of them are hot blooded and in fact evolution of hot blood in octodactylopods lasted much shorter than in mammals. It is because they inherited pharyngeal jaws after their cichlid ancestor and even in amphibian stage they had ability to chew food like mammals. Also their respiratory system evolved from their gills instead of alimentary tract like our lungs so octodactylopods didn't had to totally reorganize their cardiovascular system to become hot blooded. They only developed small additional heart in their head what helps their primary two chamber, fish like heart in pumping blood from respiratory labyrinth to rest of body (equivalent of our left chamber of heart). Octodactylopods are still mouthbrooders. They have internal fertilization but their eggs after laid are taken by mother into its mouth and then develop in pouch within hers respiratory system. Larvae when they hatch feed on particular mucus produced inside pouch. When they become ready to live in outside world, they are regurgitated. What happens with them after that depends on species. Some are independent since that, some are guarded by their mothers, and some species are even altrical and grow in nests fed by mother. In some species males also help with raising babies, but in most its only female's job.
Because octodactylopods have eight limbs what are located horizontally, they are much better climbers than tetrapods, but also worse runners. In fact 70% of octodactylopods species are climbers and others are mostly small creatures what live in forest bedding like rodents. Very big earthbound octodactylopods are very rare niche for this animal group because here they loose competition with mammals (but there also evolved some even giraffe sized species, like vertiwalkers).
Two species fighting on this picture are predatory arboreal nightmare (left) trying to hunt herbivorous emerald chiselteeth (right). Chiselteeths jaws with these strange, forward pointing teeth are developed for not only pick tree leaves but also tree bark and in fact they can give very nasty bites, but nightmare would have rather no problems with tearing this creature into pieces. When hunting octodactylopods it is important to remember that they have no neck, so it is harder to kill them quickly than tetrapod. Both creatures are about the size of domesticated cat, but arboreal nightmare is about the size of very big cat.
Octodactylopods head above belongs to (from left):
Lineflanked leafclinger – is very small, 5 cm long arboreal octodactylopod. It spends most of its life sitting motionless high on trees in temperate zone forests. Tree leaves are not only its environment but also its only food source. Its only defensive mechanism beside camouflage is jumping off from the tree, but it is extremis, because it must then climb back on the tree what is long and dangerous journey for such a small creature. When winter comes, "pregnant" females dig themselves in forest litter and hibernate. Specimens what survived winter releases their offspring when trees start to grow new leaves, and shortly after that dies because of old age. Its live is very similar lo live of herbivorous insects like phasmids
(Few words about reproduction of this species: Some larvae in pouch of mother's respiratory system grows faster than the others, what enables female to relase all litter day by day in about three weeks of spring in number up to 50 specimen. High fertility balances high mortality of this species and it is possible only because of irregular larvae growth pace. Otherwise female wouldn't be able to fit 50 youngs ready to relase inside her pouch.)
Humphead ladderback is fox sized alpine omnivore. It feeds mostly on lichens sheared off from rocks by its incisors, but also its elongated fangs enable them to hunt quite large prey when there is a chance. Hump on their heads is filled with fat and is bigger and lighter colored in males. Ladderbacks have two longitudinal and three transverse black stripes on their back what creates ladder like pattern.
Desert sweeper is small, hamster sized desert omnivore, what can run very fast on hot desert sand and eats everything what it can find or hunt. With its long two front pairs of limbs and partially upright body, its silhouette resembles a ghost crab.
Speckled mattockhead is rabbit sized forest digger. It feeds mostly on grubs and roots what it digs out from ground, but eats also a lot of forest fruits and seeds. It behaves like very small version of pig.
Crestoceros is very big earthbound octodactylopod. It grows to size of horse and have bony crest on its head what is used the same way as rhinoceros horn. Males crests are broader and noticeably bluish. What is also unusual to crestoceros, is they are one of rare species of octodactylopods what are not mouthbrooders but fully viviparous.
Dragonhead is one of biggest predatory octodactylopods. It is about size of American bison and its jaws are almost not extensible, but instead of it, very muscular. Together with its enormous fangs it can crush skull of its prey with single bite. Such extraordinary for octodactylopods ecological niche could have evolved only on islands, where mammals (main octodactylopods competitors) don't live.
Heads on the right belongs of course to arboreal nightmare and emerald chiselteeth
Skeleton of octodactylopod below is a sketch of how skeletons of these strange creatures should look like. But I am not sure if this skeleton is already finished. I think I must first see the tilapia (or other big cichlid) skull to imagine how all these bones exactly look like and could evolve in the future.
For example I earlier draw ear opening on vertiwalker head. But after trying to draw octodactylopod skeleton I realized that in modern fishes (unlike these ancient ones) ear is covered by operculum and so octodactylopod ear should be located within its "nostrils" on their nape.
You can find more species of them here:
Marine octodactylopods
Ringed rockclinger and wooly rockjumpers
Vertiwalker and lion sabretooth
Future mammals (and octodactylopod)
Shovelnose