DeviantART allows you to make your high quality stock, photoshop files, tutorials, comics, fonts, pixel art, textures, adoptables, brushes, line art, and more available for download. Edit your deviation, set your price, and generate profits. Withdraw profits as cash, or make purchases on deviantART.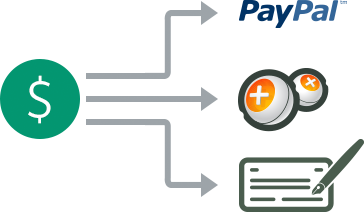 How to Start
To sell an existing deviation as a digital download, edit your piece and check the box for "Premium Content." Upon saving, you'll have the opportunity to review the usage licenses and set your price! We support the sale of everything from high-res image files or image sets to PSDs and zip files!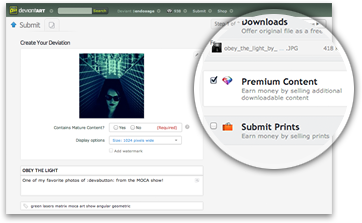 Enable Premium Content on your deviation
Still want to know more about selling Digital Downloads on deviantART?
Learn More
.
Why Sell on dA?
Earn profits and turn your earnings into cash!
Connect instantly with millions of potential customers
Increase the exposure of your art
Make your work accessible to a large network of creatives
Keep 80% of Every Sale
No Exclusivity Requirement
Guaranteed safe, secure, and instant delivery
Market Your Downloads
Coming Soon!
Make your downloads stand out! Stay tuned for "Tips on How to Market and Sell Your Digital Downloads."