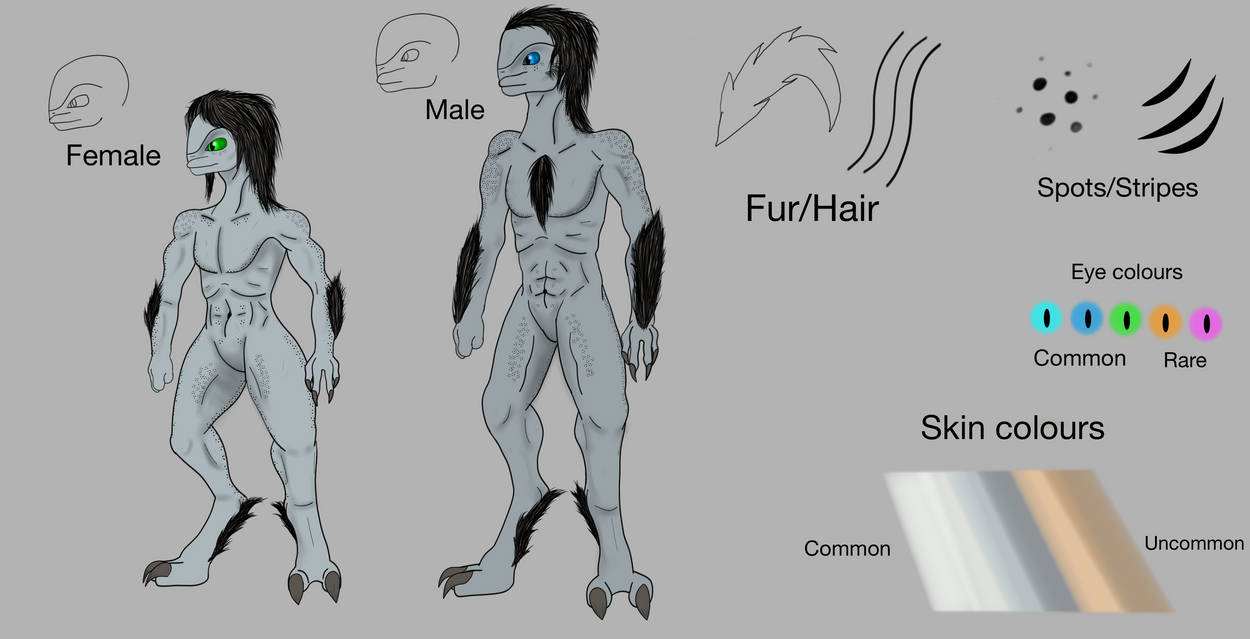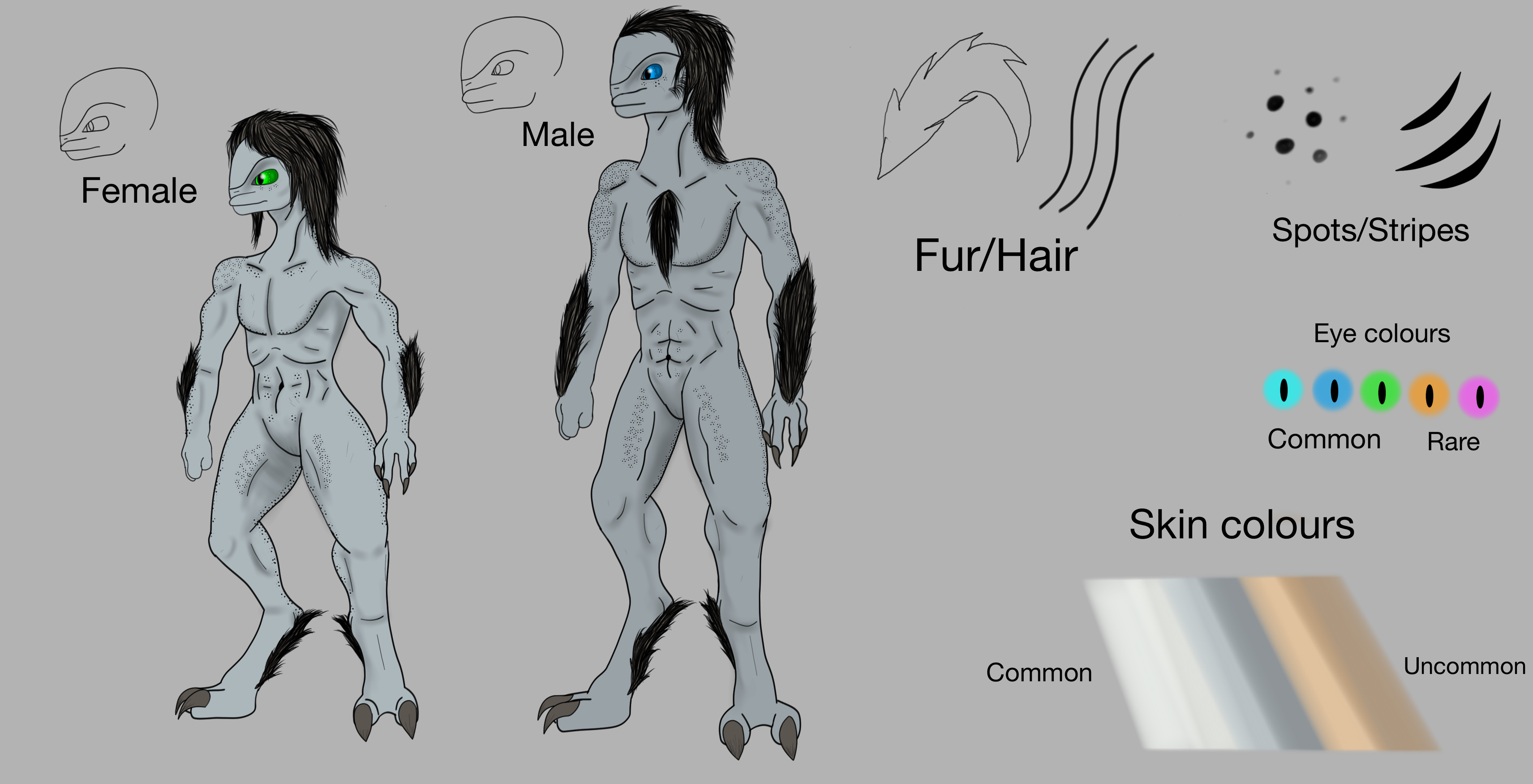 Watch
The Ashen are a shorter, stalkier breed of Sangheili, derived from their larger, crocodile skinned brethren and got their name from their common ash coloured skin.

Their race was not really noticeable during the Great Human/Covenant war, do to Sangheili armour covering nearly their whole bodies. It was some time after the war ended in the year 2553 that the Ashen were discovered by Humans, in the colder areas of Sangheilious in the year 2558.

Appearance:

Physically they are no different from their larger kin, with a slightly wider build and shorter frame but still imposing. Since they live in a colder environment their skin is much paler and smoother than the more well know Sangheili race, like from the state of Vadam or Vore. They also posses a physical adaptation that no other Sangheili race has. They evolved fur/hair on their bodies to trap heat in their limbs and head. Though their fur/hair dose little to protect them for long periods of time in cold environments, the trapped heat stops their limbs from stiffening and warmed the blood in their brains, keeping them alert even in freezing temperatures. Lastly on their appearance, they have evolved natural patterns on their bodies for Male and Female, acting as camouflage or as a way to attract mates.

Physical abilities:

Strength wise, Ashen are pretty much the same as any other Sangheili but being constantly active in their home environment has made them a lot faster and posses far more stamina than standard Sangheili. The cold has also given them a high level of endurance, making them some of the toughest warriors during the Great War, taking mass amounts of punishment before falling in battle.

Breeding:

Now some say Sangheili lay eggs, this may be true for the more well known Sangheili race, with their hot environments and more reptile appearance. But in the Ashen's home state it is much too cold for such a reproductive method, so they have evolved to give birth to live young. This ensures the youngsters have a higher chance to reach adult hood and pass on their genes to the next generation.

Ashen don't just keep to themselves however. Since Sangheilious is dominated by Sangheili, cross-breeding is very common, so they are all over the planet with a very complex gene-pool.

Culture:

Pure Ashen were not as advanced as say Sangheili from Vadam, with cities and high tech. They instead lived in small hut villages, living a more simple life style and in the mountains of their state they harbor some of Sangheilious's deadliest hunters, using weapons and tactics like Humans of prehistoric times. Their language is also different, using a complex speech that would be like a sort of slang to Humans.

After the Great War, most Ashen tribes rejected the false teaching of the San 'Shyuum and when Thel Vadam, (The Arbiter) came to offer them to join the Swords of Sangheilious, they gladly accepted without question.

.......

Writer's note:

This is something I have been working on for some time now. I'm one of those people who don't believe there is only just one version of Sangheili. There has to be other races, to have a species populate a whole planet and not have different versions of itself is impossible.

I mean if we look at ourselves we live all over and we are very different from one another do to the environments we live in. Think about it.

Also if you feel like it you can use this new Race to create your own OCs and spread a little diversity in the Halo community.

Thank you for reading.










Interesting take. Synapsid like, so true Reptile-Mammalian cross.
Reply

this was actually kinda interesting
they kinda look like sangheili wood elves or snow elves
i like it
Reply

YAY I hope this trend takes off

soooo pwetty I actually love how hair makes them look so much more menacing and cooler
Reply

You said it. Imagine a male Ashen running at you with a maw-hawk XD
Reply

Awesome pred, good read too, just hope no one comes and says anything about the hair, fekin hate those people xc
Reply

Another Sangheili Race, nice. Glad I'm not the only one with the idea.
Reply

You think there are other Sangheili races too?
Reply

Not that I'd know of other than fan-based race, kinda wished Halo 5 Guardians gave us more freedom to learn if there are on Sangheilios through several of the Campaign Missions. Sadly, those kind of things are limited as expected from 343i.
Reply

Yeah, I don't even like the way the 343 Sangheili look. I think of their Sangheili as a different race, but then they go and make Thel Vadam, a short and lean Sangheili, into a massive monster with jaws that look funky.
Reply

Don't forget about the way they've decided to change the slit-like reptilian eyes into star-shapes...seriously?
Reply

Reply

If by chance you have Halo 5 Guardians, go do a Warzone Game and get a good look at one of the NPC Elites, and if ya don't have the game than search up on Google for Halo 5 Elites until you uncover one that's easy for you to see their eyes. Zoom in a little close and you'll notice that instead of their natural slit eyes of a snake or a lizard, they've been replaced with a star-shaped slit as of right now. Just lookin at em makes me think of Naruto, hell even the Unggoys and Kig-Yar have them as well.
Reply

Do you mind if you draw a Sangheili design I thought of.
Reply

Depends, what do you have in mind?
Reply

One that live in coastal cities and have webbed hands and feet.
Reply

Got any concept art I could look at or text on their appearance?
Reply

Well, from what can muster up here's my list of what have you imagining. I should put the concept up asap.

-cobalt skin
-smooth scales
-fin-like structures on arms
-dark shade of blue for male eye color
-light shade of green for female eye color
-webbed hands and feet.
Reply