Indeed! At long last, I too will offer commissions to create art for YOU!

I will be doing both illustration and design, so I'm open to pretty varied commissions.
Check it out in this easy to overview picture, containing examples: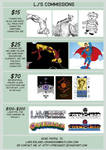 For more detailed information, scroll down.
Illustration
------------
- Line Art
-
$15- Colour Illustration -
$25
All prices per character, additional character
+$15.

Graphic Design
-----------------
- Graphic Poster
-
$70- Logotype
-
$100-$200
Poster has lots of details.
Price of logotype varies depending on complexity and type of logo.
Contact:
- Send me through a note on this website, or send me an email at
lars.roland.johansson@outlook.com
! I accept questions and discussion about prices or picture subjects as well.
- While I am working on your piece, I will by default send you frequent WIPs so you can view progress and point out things you want changed. These discussions can be also be held on Skype for convenience if you wish so.
- Please supply as much reference and additional information as you can, for the most accurate picture I can make!
Additional rules:
- If you by any reason change your mind about your commission, I will charge you for the progress I have done, and refund the rest. For example, if you wanted a full Illustration and change your mind after a Sketch is done, I will still charge you for a Sketch.
Instead, if you are unhappy with the progress, tell me what's on your mind and I will do my best to fix it and make it work for you!
- I have the right to decline your commission.
- You are allowed to repost the finished piece into your own gallery, as long as you credit me as the original artist with a link to my page.
Payment:
- I only accept payment through Paypal. My Paypal adress is
lars.roland.johansson@outlook.com
.
- Do
NOT
send payment before I've actually accepted to do your commission.
- Payment must be sent and received before work on your piece can actually begin.
- When sending payment, write your username in the subject title. Choose the "Goods and services" category.