HI guys!
So I'm reopening commission status

If you are interested in commissioning me:
Here's a price list:

And I forgot to add there wardrobe commission which is same price as character sheet and it looks like this: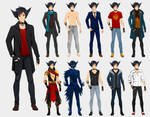 1. send me a note I will add you to the list. List of commissions is always visible on my main page in the journal entry.

2. When I am ready to make your commission I will give you my paypal data. I take payments up front.
3. I do a sketch and send you samples to accept it. If it's character sheet, fullbody, portrait usually one lineart is enough. If it's an illstration, I might send you some more steps.
4. If the commission is more complicated, I will ask for your skype hoping deeply you have one. Typing live and sending files is much easier there and I get flooded on DA sometimes and get lost in messages. It's impossible to work that way.
-----
FAQ
WHAT DO I DRAW?
I agree to draw everything.
WHAT ARE TERMS OF USE OF A COMMISSION
That's silly nowadays, It is definitely, absolutely, fully your belonging after I'm done. You may resell it. You may ask for .psd file as well. The only thing I want to make sure of is that I can post it on my social media as an advertisement.
WHAT ARE DEADLINES OF A COMMISSIONS
Well... After I'm done with a sketch I usually finish it in a week. There are some of my beloved commissioners who are willing and accepting waiting longer. I can work under pressure of time if it's nessesarry but I obviously prefer not to stress. If there is a deadline, please mention it in a note.

------------
Mind that the commission list order is something that changes. When someone is not answering my note I take the next commission and come back to previous later. I usually work on 3 commission at the same time. If someone takes a lot of slots, they usually don't want everything to be done in a row so after making a piece for them, I take later numbers first before continuing the job for the person who took a lot of slots. I hope that makes sense because it was really difficult sentence for me to figure out.
COMMISSION LIST:
1.

DONE
2.

DONE
3.

4.

5.

6.

doing..........
7.

8.

DONE
9.

10.

11.

12.

doing.......................
13.

DONE
14.

15.

16.

o DONE
17.

o
18.

o
19.

o
20.

DONE
21.

22.

23.

24.

25.

26.

27.

28.

29.

30.

31.

32.

33.

34.

35.

36.

37.

38:

39.

40.

41.

42.

43.

44.

45.

46.

47

48

49.

50.