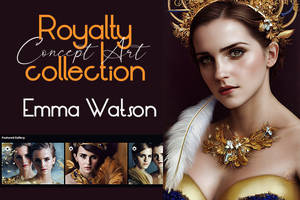 Emma Watson - Royalty collection
Only access to Emma Watson concept art collection : The style of artwork is a part of my Royalty collection. This collection is really close to my initial research in art and artistic styles which are then applied to these wonderful actors & actresses.
---

Emma Watson as BELLE in Beauty and the Beast
Description
Emma Watson as BELLE in Beauty and the Beast Concept art of Beauty and the Beast 2016 :
Prateek says:
I have created this concept art, with respect to Disney who have signed Emma Watson for the upcoming movie adaptation of Beauty and the Beast. I enjoy producing some artistic work, as well as filming 'making of artwork' videos which show my process and these can be shared for educational purposes. My videos can help new artists to quickly view how graphics can be produced and to understand that there are million ways to explore

your software, your skills, your style, your imagination and even your career

. I am always here to share my experience with the world.
Making Of Belle :
vimeo.com/119474793
Design By Prateek Mathur -
www.imdb.com/name/nm5723699
Portfolio Website :
www.Animation.life
Detail Blog :
www.animation.life/matte-paint…
Join new superheroes Axtelera-Ray :
www.AxteleraRay.Org
Axtelera-Ray Facebook :
www.facebook.com/AxteleraRay
See also:
,
,
,
,
Image size
2751x4134px 4.81 MB

If only she'd worn a dress like this in the actual movie. It wasn't even GOLD! Seriously, wtf?