Sizecon is an annual meeting for fans of inflation, giants, shrinking, weight gain, and, most important to me, breast expansion. I went to New York last weekend with only two goals: to promote my novel, Lisa and Mona, and to have fun, and to do both those things, I brought my extra large, 12 kg breast forms to really get people's attention.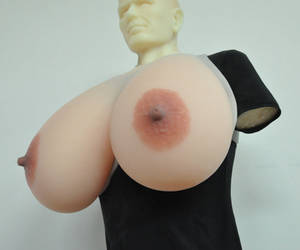 I checked with three people to make sure that this wouldn't be too weird, by the way, and all of them gave me some variation of the phrase, "F*cking go for it!" So, I set these beasts down on my table.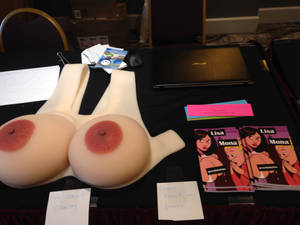 Within a minute, a man and his girlfriend walk up and the girlfriend asks, "Can I please try them on?"
This is the greatest moment of my life.
Some time later, a man walks up and asks, "Can I try them on?"
I had hoped that one person would ask to try on my breast forms, and that was all I expected. Soon, however, more people come up to my booth, men and women, most of them single, but some in couples, asking to try on my boobs. Some deviants whose work I've admired for years came to my table to fondle my boobs, and they jumped at the chance to try them on, taking pictures and selfies, walking around the Con floor to show them off, posing with huge breasts. By the end of the day, more than a dozen people strapped on my titties, and that's not to mention the dozens ore who just came to poke, squeeze, or slap my tits around like a pair of unwanted orphans. One ingenious con-goer even accessorized my breasts, like so: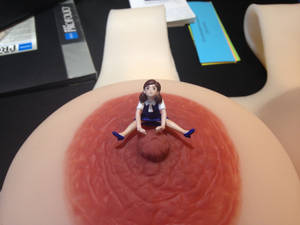 Did they help me sell my book? Who cares? I had such a great time just helping people put those breasts on that I could've done it all day. Sadly, at the end of day two, I had to pack up my tits and haul them away, but all this got me thinking, 'What am I going to do for next year?'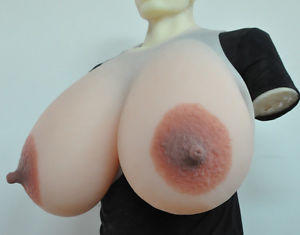 I have a plan.
For more info about SizeCon, click the link below, or visit their DA page by clicking on the icon.
www.sizecon.com/

To buy a copy of Lisa and Mona and help me buy bigger boobs, click the amazon link below and buy a copy on paperback or Kindle. Remember to leave a review and recommend it to your BE and lactation loving friends; you know know who I'm talking about.
www.amazon.com/Lisa-Mona-Praed…