September 1, 2019: MY ETSY SHOP IS OPEN!
www.etsy.com/shop/praeclaruswa…
It's September 1st, aka back-to-Hogwarts day, and the shop is open! These nine lovingly-crafted hand-carved wands are available for your perusal or purchase. Each one is one-of-a-kind, and comes with the box you see in the photo, free Owl Post gift wrapping, and free international shipping!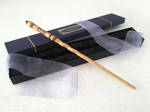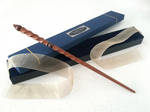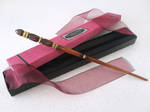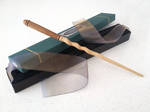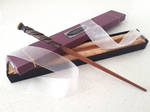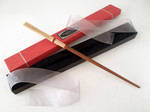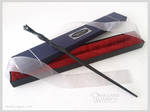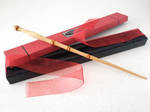 ---
Old Announcements
---
Aug 27, 2019: Praeclarus Wands is back and open for business!
I am happy to announce that I have returned from Japan! A couple things are currently happening:
Wand commissions are OPEN! If you expressed interest in a wand before or during my hiatus, I will contact you in the order in which I received your message. If you are interested in placing an order, please fill out the Custom Wand Interest Form here: www.praeclaruswands.com/custom… (This form also doubles as a waiting list.)
My Etsy shop, stocked with ready-to-buy wands, will be open soon! Although these wands cannot be customized, they are one-of-a-kind and handmade with the same artistry and care as my custom wands. Perhaps one of them will choose you...To be the first to know when the shop is open, sign up for the Praeclarus Wands mailing list!
Thank you for your continued support! If you have any questions about wands, please feel free to contact me.


---
Feb 1, 2019: Hiatus officially ends August! Also, I'm now on Instagram!
It's official - I will finally resume wandmaking in August.
My adventure in Japan will come to a close this summer, at which time I'll return home to the USA and open up the wand shop once again. Looking forward to getting back into the swing of things!
I'm now on
Instagram
! Follow me for extra wand photos that I don't post to DA, Wizarding World news, wand designs, WIP pics, and more. I've also set up a
new professional gallery
where some of my best wands are showcased. Please take a look and let me know if anything doesn't work correctly, or if you have any suggestions. Thanks!
---
June 5, 2018: Cypress is now available for wands
I recently discovered that Cypress wood is very common here in Japan. It is difficult to find in the U.S., so if you are interested in commissioning a Cypress wand, please
email me
(preferred) or send me a note.
---
April 13, 2018: www.praeclaruswands.com is now live!
Big update! My website can now be reached via
www.praeclaruswands.com
. The old URL was a terribly clunky google sites address, but now that the site is on its own domain, things are much nicer.
The new URL is also accompanied by a handful of visual changes. The header now features a beautiful Praeclarus Wands storefront concept by deviantart's very own
PlatinaSi
(used with permission), and the overall color scheme has been redesigned around bronze and white to match.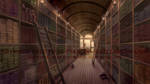 by

---
March 5, 2018: Join the Praeclarus Wands mailing list
Sign up here
if you would prefer to be notified via (infrequent) email when my commission waiting list is open, and to get updates about wand commission availability and other announcements.
I made this so you won't have to check deviantart all the time for updates. No spam, I promise, and your information will never be shared with any third parties. Thanks!
---
January 22, 2018: One more year in Japan
I have extended my job contract here in Japan for the third (and most likely final) year, so I will be back to taking regular wand commissions JULY 2019.
Thank you all for your continued support these past few years!
---
August 23, 2017: Posting again after a long break
Hi everyone, I apologize for the lull in new wand posts for the last few months. Starting now my goal is to share one new wand with you every weekend until I'm all caught up. Right now I'm still posting projects from 2014 (!) but we'll be back to the present day in 41 weeks.
In other news, I've updated my website (
www.praeclaruswands.com/
) with tabbed organization, up-to-date pages on how to commission a wand, as well as new reviews. Please take a look at tell me what you think! I appreciate your feedback.
That's all for this update!
---
January 8, 2017: Hiatus extended
As you may know, I'm currently away from my workshop working in Japan. I'm both happy and sad to announce that I love my job so much that I have extended my contract and will be staying another year, until July 2018.
Depending on whether I can get supplies, I may be able to make a few wands before I return, to be sold when I finish my time here. No promises though!
---
March 30, 2016: Hiatus starting July 2016
The last time I updated, I was awaiting results from an overseas job I applied to. The results are in, and I have been hired, so the 12-month hiatus starting July 2016 is going to happen. (For those curious, I applied for the JET Program, so I will be teaching English to schoolkids in Japan for a year.) The job visa prohibits me from engaging in any for-pay work other than what I have been contracted for, meaning:
Things I WILL NOT be doing during the hiatus:
- Officially taking wand commissions
Things I WILL be doing during the hiatus:
- Updating DA, answering questions, etc.
- Posting new wands
- Possibly making wands, but only if I can gather the tools and materials.


- Seeking out the Japanese school of magic, Mahoutokoro Visiting the Wizarding World park in Osaka!

- Until I leave, I will be working on fulfilling commissions for those currently on the waiting list. The waiting list will then be CLOSED until I return to the US.
If anything changes, this journal will be the first place I post updates. Thank you for your support!
---
Jan. 12, 2016: Anticipating a hiatus
I have just received notice that I have a good chance of being hired for a year-long employment contract starting July 2016. During this time I would be out of the country, and would need to put wandmaking on a 12-month HIATUS.
I'll know for sure if I get the position in April, so waitlist adds will be PAUSED until that time. If I get the position, the waitlist will STAY CLOSED while I'm away, and work on wands will be put on hold until I return. If things don't turn out for me, the waitlist will OPEN again, and I'll continue to work through it like normal.
Watch this space for updates!
---
Dec. 4, 2015: More New Woods!
I'm happy to announce that in addition to the new woods listed in my previous entry (see below), I will now be able to make wands from the following woods:
Hazel
Hawthorn
Vine
Elder (handle only)
Rowan
Hooray! If you have a wood that you want me to look into, let me know in the comments.
---
October 8, 2015: New woods available!
Good news! I just placed an order for a bunch of new species. You can now commission wands made out of the following woods:
Pear
Spruce
Hornbeam
Acacia
Cedar
Apple
Holly
Ebony (Black-and-White)
Yew
Once they arrive and I get a feel for working with them, I'll make an updated Wandwood Guide and add base prices for them as well.
---
All older announcements have been archived.